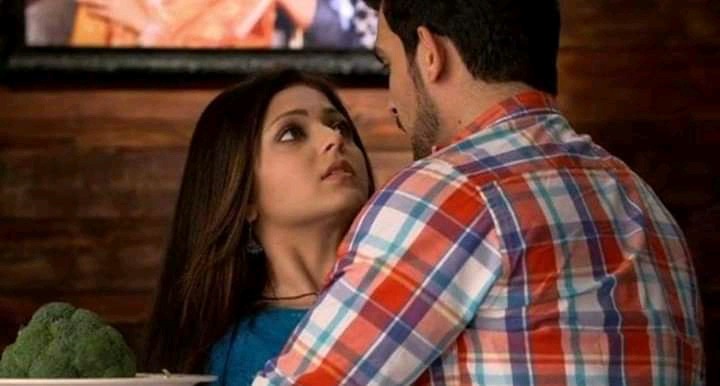 This episode starts with Harjeet crying. Khurana asks her not to worry. He says I just pandit to have a talk, I don't believe in all this spirit thing, you think Naina is getting someone's spirit, no truth is something else, till I find truth, I will not sit in peace. Sudha talks to Dadi and says Harjeet told me that Naina insulted you, you are still silent. Dadi says Naina is going through weak phase, baby is ill, Naina is worried. Sudha says you are coming with me right now, did Naina think she can insult you, you had a lovely relation with her, you will come with me now, this is not done. Naina comes and asks where are you taking Dadi. She asks Dadi to see baby laughing.
Sudha scolds Naina for insulting Dadi. Naina asks when did I insult her. Sudha says you are asking what you
did, do you have any shame. Naina says Dadi knows I can never insult her. Sudha calls her big liar. Naina apologizes to Dadi. Sudha says you are great actress, you are not saying sorry, tell me what's this drama. Naina says please don't blame me, I can never insult Dadi.
Khurana apologizes to Ira for Armaan's doings. He asks did you have any work here. She says my friend called me here, don't know why. He says my lawyer called me here, don't know why. Armaan comes and says I called you two. Ira and Khurana get leaving. Armaan says I had no option, I need one chance, I need to talk. He apologizes to them. Ira says let me go. Khurana asks Armaan how much will he lie. Armaan says its setup to frame me, Naina hates me, I think she has done this, she roams like ghost in home. Khurana says shut up, do you have any proof. Armaan says once I get that girl, truth will come out, give me 24 hours time. He says Ira I will get proof, I just love you, I don't know that girl, please. Khurana says fine, I give you a last chance. Armaan says thanks, I will prove this plan is of Naina.
Sudha packs Dadi's bag. Naina begs to Dadi to forgive her, not go anywhere. Dadi says stop crying, can I go anywhere. She hugs Naina. Sudha says its limit, so much happened. She goes out and hears them. Naina says I can't believe I can do this, I felt there is some spirit inside me, it was not a good feeling, if I insult you again, no we will not stay here, we will leave. Sudha goes. Dadi says no, we will not leave. She gets the diary and says we can't move back now, you remind yourself what's our motive, we have to end our work and then leave. Naina says I don't trust myself. Dadi says I trust you, for Raghav's sake, you have to do this. Naina says I can give life for Raghav, I will not move away. She sees the list and cuts family from it.
Armaan finds Rina. She asks him to leave else she will shout. He says I know you trapped me on someone's saying. She says so you have come here to know that person's name. She keeps the phone and starts recording. She says I m getting much money for this. He asks her what's her price, she could have come to him for money, he would have given her money. She calls him smart. He asks her to tell Khurana and Ira who gave her money to defame him. She says as you say. He hugs her.
Sudha comes to Harjeet and says I know why you called me here, to create misunderstanding between Naina and Dadi, bad news is Dadi decided she will stay here. Harjeet says I feel there can't b anything good. Sudha says I heard Naina talking to Dadi, she was much tensed, she said she feels like things are not in control. Harjeet says well done, its good news, we will use Naina's madness, I will kill baby and blame Naina, even Dadi will go away as she believes Naina's behavior is not fine, Naina and that child will be away from my life, Naina be ready for this game.
Khurana comes to Naina and asks why do I think you have trapped Armaan. Naina says you think so, what will I get by framing your brother, Ira is marrying Armaan, she is Raghav's sister, Raghav wants Ira to be happy, Raghav and I were not happy before, but Ira is an adult and can take her decision, I m this house bahu, now your house respect is my respect, if I harm you, fingers will point to me as well, maybe you are asking this as your heart knows your brother is wrong, Armaan can do anything. Khurana says he is spoiled, but his character is not bad, he really loves Ira, you can't fill doubt in my mind, you can't spoil our relations, if you are involved in this, none can save you from me. She smiles and wishes him all the best to find truth. He thanks her and goes.
Armaan gets Rina and asks her to say truth. Rina says yes, I was paid money to lie. Khurana asks who gave money. Rina asks him to see. She shows the video. Khurana and Ira get shocked. Armaan checks video and gets shocked. He asks what is she showing, tell truth. Rina says you paid me money to lie to them, you already fooled me, I wanted to teach you a lesson, how dare you do this, I don't lie for money, you are a liar. She asks Ira to see Armaan, he is a cheap man, he was flirting with me. Armaan says she is lying. Khurana says shut up, its my mistake to give you a chance. Ira returns ring and asks Armaan not to show his face again. She leaves.
Armaan asking Khurana to listen. Khurana slaps him and asks him to manage his life on own, Armaan is dead now. Harjeet gets angry seeing Armaan's wound. Armaan says Khurana threatened me that he will disown me, I don't know how that girl changed. She says Khurana does not know what I can do for my son. She hurts herself. Armaan asks her to stop it. She says now this state will be shown, warriors drop blood before war, if I have to flow my blood to win, I accept. Sudha comes and asks Harjeet why did she call her urgently.
She gets shocked and asks what's all this. Armaan says mum is not explaining me anything. Harjeet says whatever I m doing is for your future, enemy has laid trap, now its my turn, I want my army to win this war, if I have to take revenge from Khurana, I want my army.
Armaan says you just move Khurana from my way, then I will support you, I just hate him. She says then swear to support me. Sudha and Armaan hold her hand. Sudha goes to Dadi. She says I want your advice, Ira locked herself in room, I m worried, just you can explain her, please come. Dadi says I heard Ira's voice in morning, there is nothing to worry. Sudha says yes, after losing Veer, I got fear in heart, you know children overreact. Dadi says fine, I will come and talk to Ira. Sudha thanks her and messages Harjeet.
Khurana talks on phone. He says funds won't be released for Armaan, I will decide what Armaan gets, he has wasted much money. Harjeet comes to him. He gets shocked seeing her wounds. He asks what's all this. She says Naina…. He gets shocked. She says Naina did this. He asks did Naina do this. She says yes. He makes her sit. She says Naina does not like me, I was thinking to meet baby and then give prasad, my aarti ended, I went to met Ahaan. He does the aid. She says Naina came there, she was angry. He asks did she go mad. She says no, she came and snatched Ahaan from me, I love Ahaan, Naina does not let me be with him, she has thrown my aarti plate and beaten me, she pulled my hair, she was getting glad seeing me, if you saw in her eyes, you would have known she was getting peace seeing my pain. He says enough, I can't hear more, Naina has crossed limits, she has raised hand on my mum, she has to pay price for this. She says I m worried for you, Naina can do something to Ahaan, if anything happens to him, I can't bear it, Naina is dangerous, save Ahaan, you said Naina won't hurt Ahaan, but she goes out of control, no…. keep her away from Ahaan. He consoles her and says I was quiet for Ahaan, she has given birth to Ahaan, it does not mean she will do anything. He goes. She smiles.
Khurana goes to Naina and scolds her. Naina says I did not do anything. He asks really, I will do and show now. He drags her. Harjeet says Sudha and Dadi are not here, we will kill the baby now, Naina's feathers will get cut, Khurana will not leave Naina. Naina says let me go, baby is alone. She shouts. Khurana ties her to the chair. She shouts for help. He says none will come to help, shout more.
Armaan says I did not do anything being your son, you are planning my future, better late than never, I will do your work, I will kill that baby. Harjeet asks why. He says Khurana thinks he will disown me, won't I do anything, I will take revenge from Khurana and Naina, I will snatch everything from them. She smiles. Naina says baby needs me, leave me. She shouts. Khurana says this injection will help me in controlling you, stay calm. Khurana injects Naina. She faints.
Harjeet says we will call psychiatrist home, we have to get Naina treated for mental illness. He says we will call him home, what's the need to go. She says yes I forgot in tension. He says I will meet doctor. She says no, I can't stay, Naina dislikes me, she won't listen to me, I will talk to Dadi, she will control Naina. He says fine, I will call Armaan to keep an eye on Naina. She says he is not at home, he can't come, we will meet doctor once. Khurana and Harjeet leave. Armaan looks on and smiles. He sees Naina and says I can do my work, everyone will think Naina killed her baby, Khurana did not tie her well. He ties Naina well. He fills water in bathtub. He takes the baby and asks baby to say bye bye to Naina.
Armaan taking baby to bathroom. He asks baby to keep quiet now. Naina gets conscious and calls out baby. She sees Armaan with the baby. She gets shocked. He says how did she wake up. She asks him what is he doing there with baby. He says I m going to sink him in water, shall I kill him. She says no, don't be mad, leave him. She shouts for help. He says I want to kill him. She says its your brother's son, don't do this. He says once I kill him, I will kill you too. She says please give him to me. He shuts the bathroom door and says now baby's voice will end. Spirit enters Naina. She breaks the ropes and goes to bathroom. She takes the baby and smiles.
Armaan asks how did you come here. Naina says how dare you touch my baby. She pushes him. He tries to
run. She holds his neck and makes him fall. She stops him from running out. He falls and says forgive me, I will never show my face, please. She drags him. She says a mum begged you for her baby, did you listen to her. He apologizes. She says you will go, but won't you wish to say bye to your mum. She holds his neck and lifts him. She says a mum can go to any extent to save her son, remember. She drops him. Harjeet and Khurana come with doctor. Armaan runs to them and complains. Khurana asks what were you doing. Naina says don't listen to him, he tried to take my baby's life.
Armaan asks why will I do, its a big lie. Doctor checks Naina. Armaan says Naina was going to sink Ahaan in water, I stopped her so she tried to kill me, she got mad, keep Ahaan away from her. Naina takes the baby and says you call yourself this baby's father, then do something of Armaan, I tried to kill him, I will do this again. Armaan says she is mad. Khurana asks Naina what happened here after he left. Spirit leaves.
Naina says you tied me and left, why are you asking me, you will not believe me, you made me faint and risked my son's life. Harjeet says she is liar. Naina asks her to ask Armaan, why was he sinking baby in bathtub, I got strength seeing my baby in danger, my baby was crying, this man tried to take my baby's life, I love baby a lot, I sacrificed my life by marrying you, I forgot you are my husband's murderer, you really think I will kill baby. Doctor asks Naina to calm down, her BP is high, she has hurt herself and saved her baby, just a mum can do this. Naina asks Khurana did he hear doctor.
Khurana looks at Armaan. Harjeet comes in between. Khurana asks her to move. He asks Armaan how dare he touch his baby. He scolds Armaan and beats him. Armaan says this did not get over and runs. Khurana says I will not leave him. Harjeet says I promise I will get Armaan punished.
Dadi sees baby. She says how can they fall so low. Naina says what's there to be surprised, we know they can fall so low. Dadi says I got careless, I did not think I m leaving you alone here, forgive me. Naina asks how long will you be my shadow, I was losing baby today, I will face any problem for my baby. She gets diary and strikes off family word half. She says Khurana just lost his half family, very soon his entire family will get away from him.
Naina worries for baby. Khurana sees the baby crying. Naina taunts him. He thinks he can't be angry on her, as she saved baby. He says he is my son also, we can fight some other day. He gets a call. He asks commissioner to arrest Armaan, don't hesitate, what if he is my brother, he should be punished, thanks. He sees her hurt and asks her to give Ahaan to him. She says you have tied me to the chair, now my son's pain is imp than my pain, don't disturb me. He says sorry, you saved my son's life, I m indebted to you, trust me. She says you aren't, I did this for Raghav, not you, I m fulfilling his wish, please go. He says I want to make a request, we have namesake marriage, we can try to be friends, we both love this baby. Dadi comes to ask about baby. Naina apologizes and makes Dadi sit.
Dadi asks Naina to take rest. Naina says I will manage. Dadi says we will keep baby's things at one place. Naina reminds Raghav's words that he will make cabinet for baby's needs, he started making that cabinet. They cry. Khurana hears them. Dadi says he used to talk about baby day and night, we will get that cabinet. Khurana says no need, I m his father, I will get things for baby. He goes.
Khurana sees Ira and asks ou here….. Ira says I came to meet Naina. Dadi asks Ira what's the matter. Ira says I came to talk to Naina, not you. Naina says I know you are annoyed. Ira says no, I came to congratulate you, you got everything what you wanted, you ruined my life by framing Armaan. Naina says you don't want to see his true face, love is blind. Ira argues. Dadi asks Ira to stop it. Ira says Naina framed Armaan, he can't harm any baby. Spirit enters Naina. Naina says you are right, I can go to any extent to save my child.
Content created and supplied by: Basoah (via Opera News )
Opera News is a free to use platform and the views and opinions expressed herein are solely those of the author and do not represent, reflect or express the views of Opera News. Any/all written content and images displayed are provided by the blogger/author, appear herein as submitted by the blogger/author and are unedited by Opera News. Opera News does not consent to nor does it condone the posting of any content that violates the rights (including the copyrights) of any third party, nor content that may malign, inter alia, any religion, ethnic group, organization, gender, company, or individual. Opera News furthermore does not condone the use of our platform for the purposes encouraging/endorsing hate speech, violation of human rights and/or utterances of a defamatory nature. If the content contained herein violates any of your rights, including those of copyright, and/or violates any the above mentioned factors, you are requested to immediately notify us using via the following email address operanews-external(at)opera.com and/or report the article using the available reporting functionality built into our Platform See More