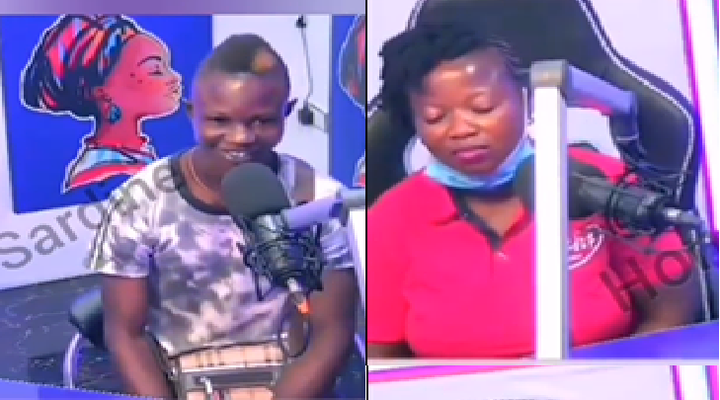 Drama as a Ghanaian woman believe to be her 45year old from Kuwait demanding her GHc5000 from Dada Awu.
According to the woman, they find themselves online which they started dating, but after some months of chatting each other, they fix a date to meet which come off. but after spending time together, Dada Awu becomes some happiness into her life so she decided to help him in his learning.
But per the boy action after several time of helping him, she find out the love was not there which Dada Awu never seems to be serious so she wanted her money.
presenter of the program then ask the boy some few question and Dada Awu, said at the time of blind dating the woman edited her pictures and told him she was 28 but He saw her as old woman so I have to run away.
  She edited her pictures and told me she was 28 but I saw her as old woman so I have run away; Says the boy. 
The presenter then ask the woman if she allow the young man to sleep with her and she said yes, Dada Awu also give same responds for making love to the old lady.
This is really sad woman who can also be called a sugar mummy was let down online by her boy friend after the boy was not able to pay the woman the demanded money.
Watch The Video Below….
In other news also, Some single rich women better known as sugar mummies have revealed that the men don't propose to them anymore.
In an interview with, they women further disclosed that all they want to love because they have worked hard to create a fortune for themselves.
"All we need is you love. we want the young men to approach us and love us. We have all the monies to take care of them".
They also pleaded with this portal to get them hooked up with cute and strong young men who can last in bed.
"We want to use this platform to send our message to all young Ghanaian men out there. Don't be scared to approach. we can change your lives in a moment"
Content created and supplied by: Dailynews24\7 (via Opera News )