10) Come True
The conscious and unconscious, and the organic and mechanical, coalesce in Come True, Anthony Scott Burns' hypnotic sci-fi thriller about an 18-year-old named Sarah (Julia Sarah Stone) who participates in a mysterious sleep study. The doctor running this inquiry is, in fact, watching his subjects' dreams on grainy black-and-white monitors via wired contraptions and devices, and what he sees are gliding visions through misty, murky landscapes populated by crumbling structures, abyss-like doorways and spectral figures with glowing red eyes. Inspired by the works of David Cronenberg, Philip K. Dick, Stanley Kubrick and Wes Craven (among others), Burns' sleep paralysis-steeped saga descends into a dark subconscious realm whose inhabitants appear to seek entry into our reality. Whether riding her bike Donnie Darko-style through tranquil suburban neighborhoods, or freaking out while wearing a patch to cover her bleeding eye, Stone embodies Sarah as a loner who's equally empathetic and enigmatic. The same might be said of the film itself – an oblique, atmospheric tale about the terrors that bind and plague us, and the difficulty of truly understanding the nature, and limits, of our minds and world.
9) 17 Blocks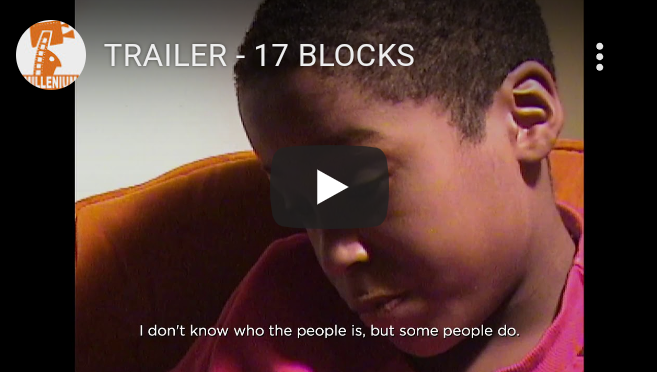 17 Blocks is awash in trauma, wrought not only from gun violence and addiction, but from individuals' knowledge that they're partly to blame for the tragedies that befell them. Davy Rothbart's immensely moving documentary charts twenty years in the life of the Sanford family, comprised of narcotics-abusing mom Cheryl, her dealer son Smurf, daughter Denise and youngest Emmanuel, all of whom help shoot this self-portrait with video cameras. Drugs are a destructive scourge on this Washington, DC household, culminating with the senseless murder of Emmanuel, an infectiously cheery kid and good student who seemed destined to transcend his difficult circumstances. In the aftermath of that heartbreaking calamity, his relatives struggle to cope with guilt over their own roles in Emmanuel's fate, all while attempting to right their wayward courses and not repeat the sins of the past – both for themselves and for their clan's youngest members, including Emmanuel's nephew Justin, who in many ways is his spitting image. Rothbart's film is a deeply empathetic study of hardship, loss, and the way that change often comes from finally taking responsibility for one's self and loved ones.
8) Riders of Justice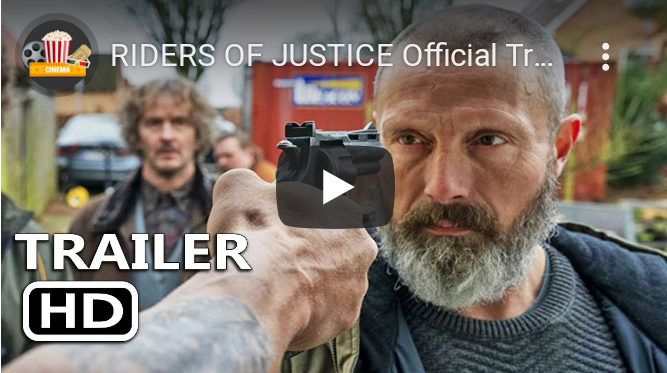 After losing his wife in a train accident, atheist soldier Markus (Mads Mikkelsen) is informed by Otto (Nikolaj Lie Kaas)—a statistical analyst who survived the same crash, and who believes he can predict the future through math—that the calamity was no accident; rather, it was a hit carried out by a biker gang known as the Riders of Justice, who wanted to take out a snitch. The ensuing story is many things at once: a violent revenge saga in which Markus, Otto and Otto's weirdo friends Lennart (Lars Brygmann) and Emmanthaler (Nicolas Bro) plot to execute the Riders; a drama in which Markus and his teen daughter Mathilde (Andrea Heick Gadeberg) try to come to grips with senseless tragedy (and mend their own damaged relationship, while creating a new surrogate clan); and a comedy about the push-pull between destiny and the randomness of life. Writer/director Anders Thomas Jensen's film straddles those modes with aplomb, wringing humor and pathos from its motley characters' quests to overcome regret, attain peace, and forge bonds of familial togetherness. It strikes just the right oddball-moving tone, led by Mikkelsen in a masterful turn that's at once deadpan and deadly serious.
7) Saint Maud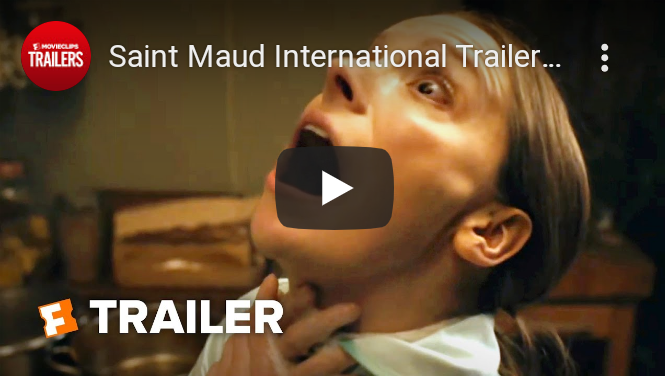 Hell hath no fury like a religious zealot scorned, as demonstrated by writer/director Rose Glass' feature debut, which concerns a young hospice nurse named Maud (Morfydd Clark) who comes to believe that her mission from God – with whom she speaks, and feels inside her body – is to save the soul of her terminally ill new patient, famous dancer Amanda (Jennifer Ehle). What begins as a noble attempt to share pious belief and provide comfort for the sick swiftly turns deranged, as Maud is possessed by a mania impervious to reason, and enflamed by both the slights she receives from Amanda and others, and by her own mortal failings. The sacred and the profane are knotted up inside this young woman, whom Clark embodies with a scary intensity that's matched by Glass' unsettling aesthetics, marked by topsy-turvy imagery and pulsating, crashing soundtrack strings. A horrorshow about the relationship between devoutness and insanity, it's a nerve-rattling thriller that doubles as a sharp critique, punctuated by an incendiary final edit that won't soon be forgotten.
6) In the Earth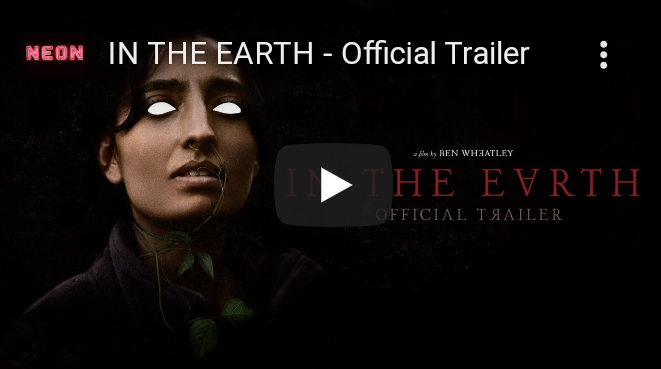 A spiritual companion piece to his 2013 psychotronic freak-out A Field in England (not to mention Alex Garland's Annihilation), writer/director Ben Wheatley's In the Earth is a beguiling supernatural thriller fit for our pandemic-wracked times. In a world grappling with a viral outbreak that requires quarantine zones and sanitation protocols, researcher Martin (Joel Fry) is accompanied by park ranger Alma (Ellora Torchia) into a forbidden forest in order to rendezvous with scientist Olivia (Hayley Squires). That trip is complicated by a run-in with a dangerous hermit (Reece Shearsmith) with ulterior motives, and primal forces—emanating from a giant stone monolith with a hole near its peak—that may be related to an ancient god known as Parnag Fegg. Aided by a soundscape of sinister electronic tones, unnatural bird squawking and heavy breathing, Wheatley's direction proves oppressive and hypnotic, whiplashing between ominous calm and hallucinatory madness. A journey into a deep, dark abyss of violence and corruption, it's a story about nature's unstoppable, inhuman power—and mankind's helplessness in the face of it—that taps directly into present-day anxieties about infection, isolation and insanity.
5) A Glitch in the Matrix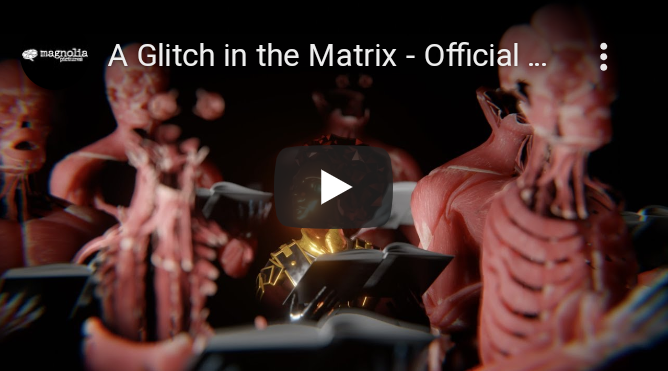 What if reality wasn't actually real? That's the question plumbed by A Glitch in the Matrix, Rodney Ascher's latest documentary to traverse unreal terrain in search of answers about human existence, alternate realms, and our conscious and unconscious connections to our celluloid dreams. Like his prior Room 237 and The Nightmare, Ascher's film features a chorus of out-there voices, who articulate opinions about the likelihood that we're all cogs in a program about which we're unaware, and which is operated by higher beings we can't understand. Ascher chats with these individuals via Skype, recreates their stories with computer animation, complements their hypotheses with movie clips, and conceals their identities through the use of digital avatars, creating a seamless (and playful) marriage of form and content that speaks to the material's issues of self, truth, alienation and loneliness. Simulation theory comes across as a fantasy of both enslavement and escape, and Ascher's amusing and critical inquiry posits it as a reflection of timeless human impulses to explain the inexplicable. Via the patricidal story of Joshua Cooke, it also exposes this Matrix-inspired idea's capacity for catastrophic chaos.
4) State Funeral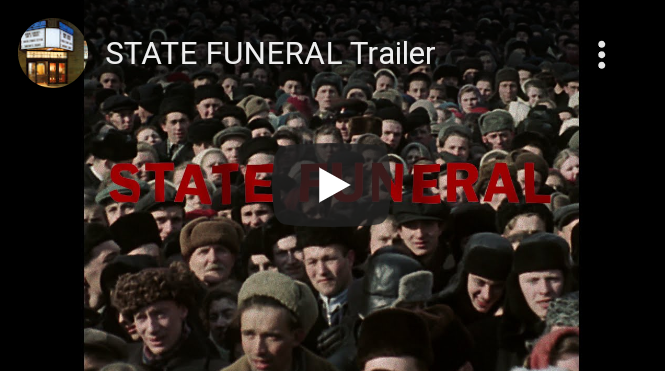 Stalin's March 5, 1953 death rocked the Soviet Union, and Sergei Loznitsa's State Funeral revisits the days immediately following his momentous demise via forty hours of archival black-and-white and color footage shot by over 200 cameramen. Far from just a reconstructed historical record, this magnificent documentary re-visits its state-produced material for its own ironic ends. Fixating its gaze on recurring sights and sounds—of processions of citizens shuffling through outdoor and indoor spaces to pay tribute to their fallen leader, and of speeches lionizing his accomplishments and the country's bright future—it presents a stinging critique of the delusion and desperation of totalitarian societies. In thrall to a cult of personality, these Soviet men and women reverently bow their heads and weep for a man who's incessantly praised as a beacon of hope, but the drab, miserable reality of the nation's situation is plain for all to see, and underscored by the hypnotic uniformity of both the film's images and formal structure. Until its stinging textual coda, there's no overt censure made by Loznitsa's film, but as with all great cinematic works, its images speak—loudly, and damningly—for themselves.
3) Quo Vadis, Aida?
Quo Vadis, Aida? is a historical nightmare of unrelenting agony, charting the efforts of UN translator Aida (Jasna Đuričić) to save her husband and two sons at a camp in Srebrenica (in eastern Bosnia) where innocent civilians have taken shelter from the murderous Bosnian Serb army. Aida's job affords her a voice but she's nonetheless powerless to affect this mounting crisis, which is destined to end with the July 1995 Srebrenica massacre of 8,372 men, women, and children. With harrowing immediacy, writer/director Jasmila Žbanić thrusts us into the chaos and madness of this situation by sticking closely to Aida, whose efforts to enable communication between Dutch UN commanders and Bosnian-Serb General Ratko Mladić (Boris Isaković) are doomed to fail. In a towering performance, Đuričić's frantic, desperate countenance conveys the unthinkable tragedy faced by Aida and her compatriots, which was facilitated by United Nations officers who knew full well that a genocide was taking place, and yet failed to maintain the "safe area" they were tasked with overseeing. A damning account of active and passive war crimes, the film – as evoked by its final moments – forces us to witness that which many didn't want seen.
2) Identifying Features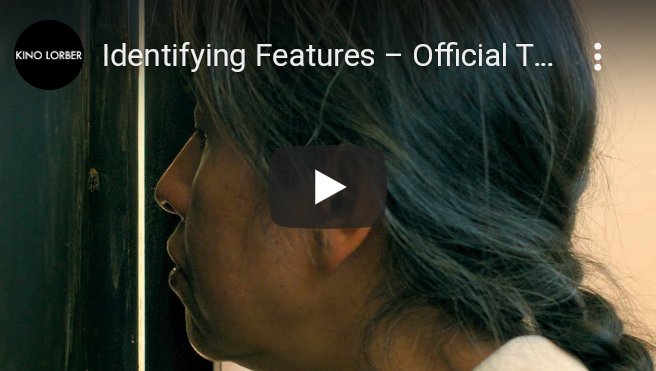 Whether seen in agonized close-ups or at an alienated remove, director Fernanda Veladez's characters are alone—and forlorn—in Identifying Features, a masterful Mexican drama of grief, guilt and dislocation. Consumed with finding her son, who's gone missing while trying to cross the Mexican-American border, single mother Magdalena (Mercedes Hernández) embarks on an investigative journey through a dusty, dangerous country of migrant shelters, remote gas stations, vacant homes and wide open plains that echo their inhabitants' lonely sorrow. Her path eventually crosses with Miguel (David Illescas), a young man who, having been deported by the U.S., now seeks to reunite with his long-abandoned clan—one of many lyrical parallels found in this haunting descent into a national heart of darkness. Though dialogue is minimal, Hernández and Illescas' pained-yet-resolved countenances speak volumes about the anguish and terror of a people plagued by separation and yearning. The film's stunning formal beauty enhances its unholy nightmarishness, as Veladez alternately frames his protagonists amidst expansive landscapes and constricting structures in order to highlight their simultaneously lost and trapped condition. And in an unforgettable late sequence set to an indigenous speaker's un-translated recollection, the filmmaker presents a vision of demonic cruelty so horrifying, it can barely be comprehended.
1) About Endlessness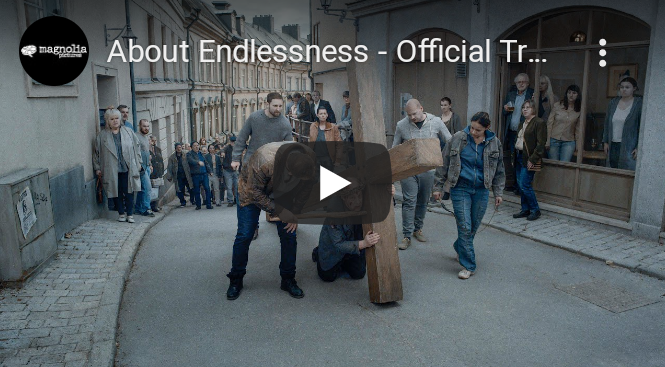 Roy Andersson is cinema's drollest dramatist of the anguished human condition, and About Endlessness is a more sorrowful extension of the inquiries he began with Songs from the Second Floor (2000), You, the Living (2007) and A Pigeon Sat on a Branch Reflecting on Existence (2014). A collection of vignettes marked by static single-take compositions full of muted hues and inviting diagonal visual lines, the film tackles the question of what awaits us on the other side—and what that means for our current Earthly predicaments—with a placid solemnity that's only occasionally alleviated by his trademark humor. Grief, longing, regret, guilt and shame are all ever-present in this rumination on spiritual and literal loneliness, which Andersson executes with the aid of his typically manicured, static aesthetics. High above its many forlorn and adrift characters, an embracing couple soars through the cloudy sky, a vision of togetherness sought by so many and yet achieved by so few. Andersson doesn't shy away from such despair, examining his wayward souls (and encouraging us to do likewise) with deep empathy, along the way finding—at unexpected moments—brief glimmers of hope for solace from the storm
Content created and supplied by: AaronSelase (via Opera News )
Opera News is a free to use platform and the views and opinions expressed herein are solely those of the author and do not represent, reflect or express the views of Opera News. Any/all written content and images displayed are provided by the blogger/author, appear herein as submitted by the blogger/author and are unedited by Opera News. Opera News does not consent to nor does it condone the posting of any content that violates the rights (including the copyrights) of any third party, nor content that may malign, inter alia, any religion, ethnic group, organization, gender, company, or individual. Opera News furthermore does not condone the use of our platform for the purposes encouraging/endorsing hate speech, violation of human rights and/or utterances of a defamatory nature. If the content contained herein violates any of your rights, including those of copyright, and/or violates any the above mentioned factors, you are requested to immediately notify us using via the following email address operanews-external(at)opera.com and/or report the article using the available reporting functionality built into our Platform See More