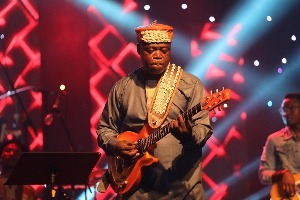 On the habyba show early this morning was one of the famous guitarist in Ghana Ackah Blay and his band. They were been interviewed by habyba on the show and this was what went on. Habyba asked Ackah Blay that has he ever recieved any royalties from GHAMRO. He replied by saying yes about once or twice. But Ackah Blay furthered explained that the people in charge of the royalities knows nothing about that.
Ackah Blay said the leaders think you having so many albums and songs means that you should get so many money in your royalties, it shouldn't be so but rather the person who song is used most should rather get more of the royalties.
The famous guitarist who own's the song we are taking the girls away said in Ghana when you want to be a doctor, you would have to go to a medical school, if you would want to be a teacher you would have to be in a teacher's training school before you can become a teacher. But unfortunately for us in Ghana it only Artist managers who do not go into any Artist management school but rather are being able to manage an Artiste. Ackah Blay said he see all those Artist managers as errand boys and even added that even Bulldog is one of them.
He added up saying the leaders in GHAMRO should try and do their best to put up correct measure in place, which will suite every musicians.
You can follow this link to watch the interview "https://youtu.be/iVQtoLSjEmk"
Please don't forget to follow me, just click on the + symbol on the right top corner of your screen. And also comment and like on my post thank you
Content created and supplied by: Alexnart (via Opera News )