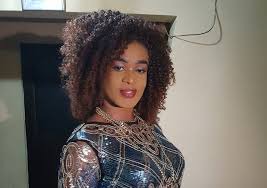 Look at this picture carefully. What do you see? A man or woman? Have a closer look again. Naturally, that was a man but thanks to technology, this is now the picture of a woman. He was born Maxwell Okyere Opoku but now 'she' is called Angel Maxine after undergoing sexual transformation.
Growing up, Maxwell, sorry Maxine said she knew herself as a boy until age 12 when she started identifying with females. She said her behaviour, tone and expressions were that of a girl. As a result, she was called names which made (him then) embarrassed. Maxine said she even attempted taking her own life at one time.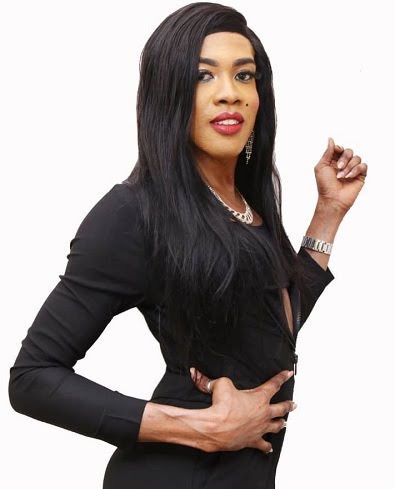 After completing university, she felt the urge to go for sexual transformation to what she termed ''her real self" now. The 'beautiful Maxine' said she was comfortable with her current state on hormonal therapy.
Speaking to Times Weekend newspaper during interview, the first Ghanaian transgender musician said her mother had been her motivation. Unfortunately, her father on the other hand was yet to come to terms with her female gender. To him, he gave birth to a baby boy and that boy must remain a boy.
The musician said sometimes when she was performing on stage, her audience will be throwing bottles and stone on her all because she was a transgender. She also complained of difficulty in getting sponsors because her sponsors were scared to be tagged. Maxine confessed she was not safe in Ghana and wanted to travel to a safer country in the near future.
We hereby reproduce excepts of her interview with Times Weekend for the perusal of readers
Read on;
TW: How are you doing Angel Maxine?
Angel Maxine: I am doing very well by God's grace.
TW: Share with us how you first found out you were different from your colleagues.
Angel Maxine: I never felt different when I was growing up until when I was 12 years old. I lot of things started changing in my body. I also felt very different from my friends. As the years went by I started feeling and thinking there was something wrong with me. I used to get teased and called all sort of names from "Kojo besia" to other horrible names. It was very heartbreaking. I was also confused and the only thing I knew as a child growing up was that I was a woman, with masculine features but how do I express this. I got depressed as a result and even attempted suicide. Growing up was not pleasant at all. I tried hard to be lively to please society but deep down I was dying slowly, I bounced back to life and took control of myself a few years ago. I decided to do what makes me happy, I feel like a woman and that is exactly how I will present myself irrespective of what anyone thinks and that was when I got freedom. Since I started living like the woman I know and feel I am, I have become happier and never contemplated suicide again.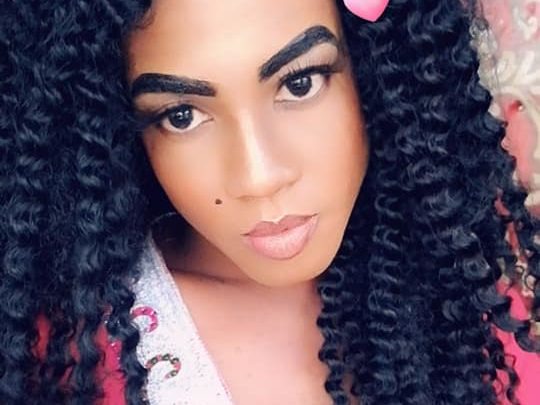 TW: How did your parents take it when you finally decided to be Angel Maxine instead of the Maxwell Okyere Opoku they knew.
Angel Maxine: It wasn't easy for them to accept the new me because they believed they had a male child. They did not understand why I should change to a female. But as time went on, they began to understand me gradually. My mother is my greatest support and pillar, my dad is still trying to adjust to the new me. But I hope as time goes on they will fully understand me.
TW: You sound and act like a woman. In fact everything about your actions , are you on any hormonal drugs?
Angel Maxine: Yes I am but as I said earlier, I have never hidden my feelings from childhood, I have always been feminine, my friends, siblings, family and everybody knows this is how I have always been so I have never planned to stop being who I am. The only difference is we never got education about transitioning in Africa or taking hormonal medications, I have researched and learned all about it and I am using it to make my life better.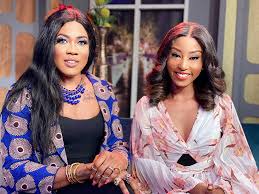 TW: Do you get the hormonal drugs here?
Angel Maxine: Yes.
TW: Are they affordable?
Angel Maxine: No they are not.
TW: Wow! Have you removed your manhood?
Angel Maxine: Changing my sex organ is something I want to keep private but all I can say for now is that I am taking my drugs for my hormones.
TW: Do you know Madina Broni? She is the most popular transgender in Ghana.
Angel Maxine: Yes I do
TW: Apart from Madina Broni, do you know or have any friends who are also transgender.
Angel Maxine: Yes I do. There are many people like that here in Ghana. Very amazing people doing a lot of good stuff but are scared to come out because of the fear of being discriminated against.
TW: This should not come as a surprise to you at all, you go out there and perform, some people know that you were not born a female, do they try to harm or insult you in public?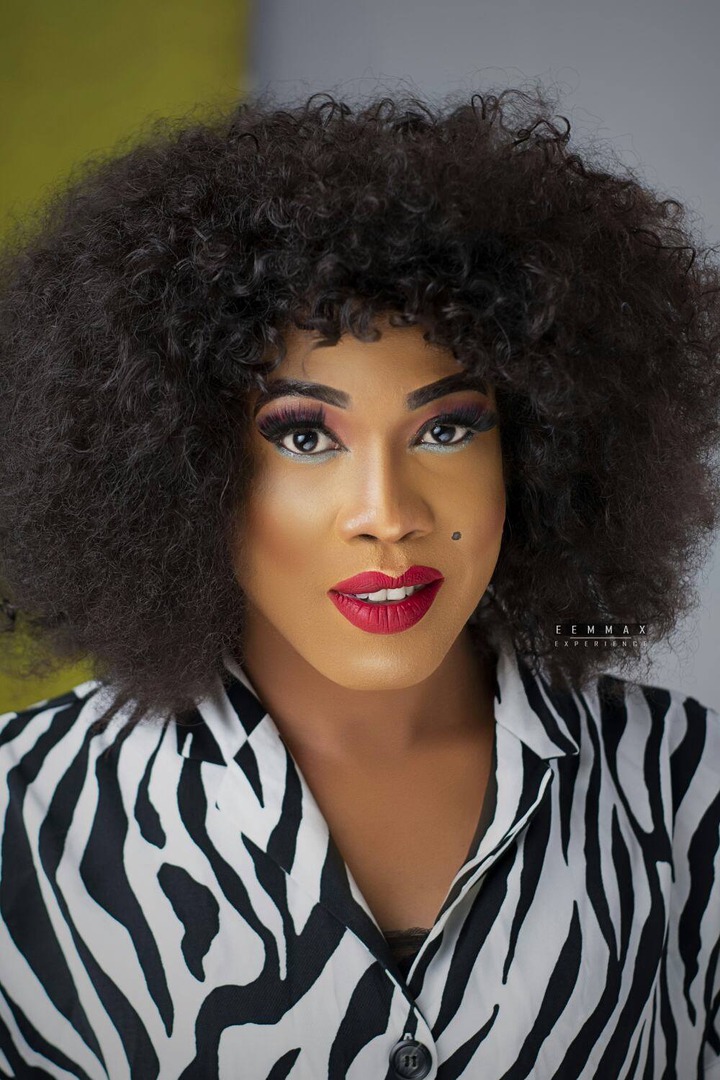 Angel Maxine: To be sincere, I don't feel okay in Ghana. I feel threatened, I receive anonymous messages from people expressing how they hate me, how they wish I was dead, how they are going to wipe me from the surface of this earth, how they going to set me up and lynch me, harsh comments on social media, people making fun of me. People passing harsh comments, bullying me, throwing stones, bottles, sachet water at me while I perform etc, forgetting l am human and I feel hurt and pain. I don't know how people feel when they discriminate against their fellow humans just because of their sexuality or their gender. As humans we should be respected. There are places I do not go to for my own safety and I move around with people who can protect me, which I think is fundamental for my own wellbeing till I have the opportunity to leave the country to live in a safer place.
TW: This is sad. So you feel Ghana is not safe for people like you.
Angel Maxine: Yes.
TW: Let us talk about music. You have been doing music for years now and you used to be called Sexy Lagazee before your transition, how has the journey been so far and how many songs do you have now?
Angel Maxine: It has not been easy at all but I am here today feeling much better and energised to take my place in the industry. I have written and composed about 15 songs so far, which are still gaining massive airplay as you know and there is more to come this year. My fans should keep supporting me. This is my passion and I am not giving up any time soon. My aim is to create more awareness for transgender people, that is my number one goal and priority, I want to see a society where everybody is accepted and treated as equals despite their sexuality because we are all humans and we deserve to be treated equally. Despite the number of years I have spent in this industry, I don't get support from anyone because of my sexuality. They are all afraid to be tagged and get their brands "tinted". Those who also believe in me do not have the finances to support and push my music career, I have worked with many popular artistes, sung their choruses , backed up their songs, performed in life band shows, performed in many events, composed songs for many people but they sideline me because they do not want to be tagged as working with a transgender woman because they believe it will end their career.
TW: Just keep thriving, you can make it with or without any popular artiste.
Angel Maxine: Thank you.
TW: Share with us the titles of some of your songs.
Angel Maxine: I have "She is a boy, "I'm in love", "Don't judge me," "Let the lion out", "Tonight", "Kafumgbe", "Emaa gbemi" and many more others. I have also done commercials that have been aired on TV and radio and I also help people to promote their products and services including cosmetics, hair lines, make up, nail extensions amongst others but if given the opportunity to do a commercial on TV again, it will be a hit and talk of town. I am open to anyone who is ready to work with me in the music industry, movies, advertisement, modelling, brand influencing and every other field related to TV and entertainment.
TW: Okay, let us talk about your love life, are you in any amorous relationship. Your fans are curious to know.
Angel Maxine: (smiles) No, I am single. My full concentration is on my career now.
TW: Please share with us your educational background.
Angel Maxine: I attended Ghana Secondary School in Koforidua where I did visual arts, proceeded to Koforidua Polytechnic where I studied hospitality and continued to the University of Ghana legon, where I studied food safety and nutrition and also went to Regional Maritime University where I did some courses that qualifies me to be a chef on any ship. Aside music I am a cook and I cater for events such as parties, weddings, funerals etc. I'm also a makeup artiste, a designer, event organiser/manager and a promoter.
I have an entertainment company dubbed Angels Entertainment set to nurture young talents and help people like me.
TW: Wow, that is good to know, finally, what is your message to your fans, considering the fact that we are in an election year.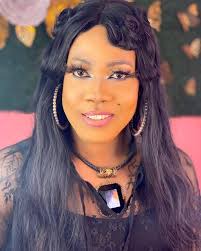 Angel Maxine: We want change and progress in our nation and society so people should vote with their hearts and vote for the candidate whom they think deserves it. A candidate who can make us excel as a country. Let us all come together and vote for the person who is capable of changing our lives and the society at large.
I conclude as a confused person. Should Angel Maxine die, will she die as a man or woman? As readers, I believe you to help me deal with this confusion by way of comments.
CitizenOne, OperaNewsHub
Credit: Raissa Sambou, Times Weekend
Content created and supplied by: CitizenOne (via Opera News )
Opera News is a free to use platform and the views and opinions expressed herein are solely those of the author and do not represent, reflect or express the views of Opera News. Any/all written content and images displayed are provided by the blogger/author, appear herein as submitted by the blogger/author and are unedited by Opera News. Opera News does not consent to nor does it condone the posting of any content that violates the rights (including the copyrights) of any third party, nor content that may malign, inter alia, any religion, ethnic group, organization, gender, company, or individual. Opera News furthermore does not condone the use of our platform for the purposes encouraging/endorsing hate speech, violation of human rights and/or utterances of a defamatory nature. If the content contained herein violates any of your rights, including those of copyright, and/or violates any the above mentioned factors, you are requested to immediately notify us using via the following email address operanews-external(at)opera.com and/or report the article using the available reporting functionality built into our Platform See More