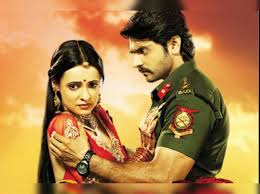 Scene 1
Sumer says that child means happiness in home, we will al play with him, Maithili says we have sing lullaby too for child, shtabdi says I am very bad singer, you will sing, mohini taunts Maithili, sumer comes and ask Maithili for a sweet, Maithili gives and goes from there, mohini says you are eating sweets for rudra's child, he will have child and I will only wait for my heir, he says what are you saying maasa, I can't think about shtabdi and child, we cant even give birth to insect forget the child, mohinis says I don't know anything, I want my heir and you have to give, go to shtabdi now, sumer is tensed.
Aman is distributing sweets in bsd, shantanu is in lock-up, he says to aman will not give me sweets? Aman goes to him and says that these sweets are for rudra becoming father and your chapter is over, your story will rudra tell to his children in old age, shantanu thinks that why so hurry, this story is not over, only one chapter is over, rest are remaining.
Sumer puts frame in his room, shtabdi ask what is this? He says I thought to put our picture together, shtabdi sees the picture and sumer is tied in it, sumer tries to hug shtabdi but she doesn't let him, light goes off, then it comes back, shtabdi sees sumer trying to kiss her, she shouts and ask whats all this? He gets frustrated and says that 1st I got married to you forcefully, samrat saved himself and ran away from marriage and because of maasa I was forcefully married to you and now maasa thinks that rudra's child will get whole property and he will get everything so she wants me to have a child with you, shtabdi looks on, she sits beside him and says that you look like a fool when you keep running behind your mother otherwise you are cute, sumer gets happy and goes close to kiss shtabdi, shtabdi moves back, they get awkward and goes from the room.
Scene 2
In morning, rudra gives paro laados to eat, she makes face but then eats it, rudra shows paro painting of her, she smiles happily, the ritual for paro's pregnancy is about to start, sumer and shtabdi comes there and tells mohini that they are going to be parents too, mohini and all are happy. Mohini cant stop laughing, all does ritual and makes paro eat the sweets. The days passes by and happiness is on ranawat house. after some months, paro sees the bump in her belly, rudra sees it too and they smile. otherside shantanu is fuming in jail.
After nine months, paro has given birth to baby boy, rudra is happy, he goes in to meet paro, he comes to paro and says that we will have only child, I cant see you in pain, paro says its bhollenath's blessing.
Rudra brings big toys for child, paro says to child that your father thinks that you will become one month old in one day so he brought bug toys, she says now father will take you in his arms, rudra says no, you know I cant lift him, paro gives him, he takes him, paro says that child is mine, paro says you are his, she says we didn't only give child birth but he gave birth to parents, you have given me most beautiful gift, you are my raja(king) and he is rajkumar(prince), I would be happy even if I die today, rudra says don't say this. Sumer comes to rudra and says shtabdi is having labour pain but she not fine, we have to rush to the hospital, rudra sasy ok, paro says to rudra that you go with him, don't worry about me, rudra says ok, take care, he leaves with him, paro says to dhruv(they have given child the name dhruv) papa will come then we will play.
Scene 3
In hospital, all are waiting for news, mohini says I will give food to god all days but please give the child, rudra says I will go home, paro is alone there, doctor comes out and informs that the child is born, sumer ask how is shtabdi? Mohini says leave him, tell me about boy, doctor says boy? Baby girl has born, mohini doesn't like it, sumer goes in to see shtabdi, he smiles seeing child, mohini comes and says that this was the last thing to happen, now this child will sit on our heads, sumer says maasa. She leaves from there, sumer says this child is more cute.
Rudra calls paro and tells that sumer has become father of baby girl, paro is happy, he ask about her, paro says that she and his child are fine but dhruv is saying that he will seep only when papa will come, paro says the storm has come, she says bye and ends the call.
Aman calls rudra and informs that shantanu has run away from jail, rudra ask what, he says paro and runs from there to save paro.
The light goes off in haveli, paro says to dhruv that are you afraid? You know what that your mother used to be more afraid than you, in darkness the rat even looks like loin, but now I am not afraid as my dhruv is with me.
Paro sees the silhouette of some man in house and sees that its none other than shantanu, she is stunned, she runs from there, she hides in one room and protects dhruv from him, shantanu comes there, paro tries to run but couldn't, shantanu says that I promised I will comeback, ranawat did mistake by leaving me alive and you will pay for his mistake, he points gun at paro, paro runs from there and hides in one room, she sees the child and cries, she prays to god to protect my child, she hugs the child and cries, she puts the child on bed and tries to call rudra, shantanu comes there and says enough, you must be tired of running, now relax your feet and your breath too, he points gun at paro and gives an evil smile.
PRECAP- Rudra comes in haveli, dhruv is crying, rudra takes him in his arms and says where is paro, he looks on floor and sees paro lying in pool of blood, dead. He is shocked.
Content created and supplied by: Rowdyrans (via Opera News )
Opera News is a free to use platform and the views and opinions expressed herein are solely those of the author and do not represent, reflect or express the views of Opera News. Any/all written content and images displayed are provided by the blogger/author, appear herein as submitted by the blogger/author and are unedited by Opera News. Opera News does not consent to nor does it condone the posting of any content that violates the rights (including the copyrights) of any third party, nor content that may malign, inter alia, any religion, ethnic group, organization, gender, company, or individual. Opera News furthermore does not condone the use of our platform for the purposes encouraging/endorsing hate speech, violation of human rights and/or utterances of a defamatory nature. If the content contained herein violates any of your rights, including those of copyright, and/or violates any the above mentioned factors, you are requested to immediately notify us using via the following email address operanews-external(at)opera.com and/or report the article using the available reporting functionality built into our Platform See More