I was feeling strange for this Uber driver because seems his caring is very charming and delightful. I was at the party but my mind was divided asking plenty questions to myself.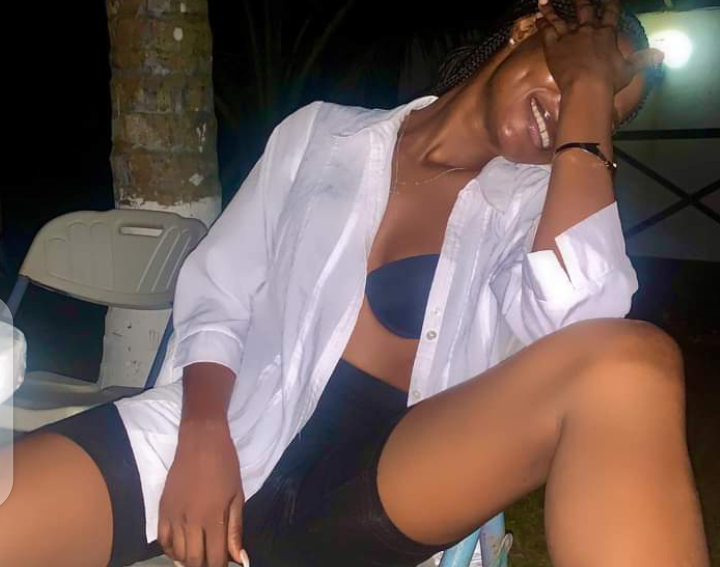 It was evening time when mum told me she is going for women's fellowship and for that she will keep long at church. Dad has already packed her suitcase and the driver is waiting at the forecourt of the house. Ben my cousin called me and said we are keeping late for the party and he won't wait for me again because of what his friends are telling him.
I hurriedly got inside my room took shower and selected a dress which will fit the event. I was happy though because siidad is traveling abroad, I will have my freedom and leave of mind. When it comes to mum, I know my way out. "MUM'S ARE ALWAYS THE BEST".
After I finished I ordered an Uber because I cannot wait for the driver to go and drop my dad before he comes for me. The Uber arrived in a jiffy and I was amazed. He asked me where am going and I said Osu Oxford street.
The driver said seems he knows me somewhere and he enen knows the school am attending currently. Are you not attending University of Ghana? I said yes in a surprising manner. How do you know me Mr. Man?
The moment he smiled, I liked him that moment because they way I asked the question, everyone will be angry or won't talk again. Don't worry such is life. I have drove you to the school before and you guys were three but you were different among them so I was very impressed about it. Such a nice girl l, you are still a virgin and listen to your mum and dad perfectly. Bravo! This was from the driver.
I didn't utter a word because I hate it when guys applauds me especially someone I don't know. Alright thanks. How much is the fare I asked because we have reached my destiny. I paid the driver and surprisingly asked my active line. I was very upset but didn't want to show because if how he was impressed about me.
I went to where the dinner is happening and it was amazing. I was feeling shy to be there and was confused about my steps to where Ben is. I called but due to the music interlude he couldn't answer so I tested him and then ask where am standing. He then came for me.
As I was taken to the place I will sit, I saw a test from an unknown number. "Hello Angel, have you arrived safely? Enjoy to the fullest!
Who could be this? I asked myself. I was introduced by a couple of dignitaries and Ben told me to have fun because the party is about to start. I thought you guys started around 8pm. Yes I know but it's now 11pm and we are leaving around 4am. He answered.
I saw my phone ringing I picked and behold it was the Uber driver. Please can you come and pick me around 2am? I asked the driver. He said sure he's staying around so no problem.
I was feeling strange for this Uber driver because seems his caring is very charming and delightful. I was at the party but my mind was divided asking plenty questions to myself.
It was 2am and the Uber driver was there already. He called me and said Angel it's time for me to take you to your destination. I called Ben my cousin to give me a helping hand. When we reached where the car has packed, Ben shouted hey Lobby what are you doing here. I know you are not the outing type and you are always on your work plugging money. To my surprise it was the Uber driver.
Oh so this guy is Lobby a name I love most. I said it to myself. I then smiled back at him after he said hi Angel are you ready. Ben said take care of her for me she's all I got in my big family. Ok sir I'll do as you say. The Uber driver replied.
Are you ready for us to go? He asked in a fragile way. Oh yes I am let's go. I replied him by smiling back. We start the journey and I was very comfortable with him because my cousin knows him and he seems to be respectful and a guy I can be his friend forever.
We had a lot of chats and I asked him we need to go and sit somewhere so we can have full discussion because I feel like knowing him more. We turned back and searched for a place to be. You know in Osu there are always nice joint places you can sit till day break. We had a lovely chat for an hour and he said if I can't go he can take me to his house. I watched his face and I replied is that how it's going to Start. I hate those naughty mind and besides am cool with you sake of my cousin.
He apologized and said he was just teasing me so I should not take it serious. I was very tired and weak so I slept in the car whiles we were on the road. When we arrived, he woke me up and said I should go because we have reached I looked at him and smiled and said thanks a lot but please help me to get inside.
The gate was locked and know one wasn't around to open the gate. I told him seems no one is there he said he can do it for me. I believed his words and gave Hime the go ahead. After trying to open severally it failed so he Forcedly Pushed it and I cried because it was my First time seeing that actions from a man.
As it worked I thanked him and we say goodbye to ourselves and the next morning when I woke up, there was fifteen missed calls from Lobby the Uber driver and five missed calls from Ben.
To be continued.....
Content created and supplied by: GhNational_News (via Opera News )