Volta Region is one the sixteen regions in Ghana . The region is in the east of the country. It was recently split into two. The southern part remains the Volta Region and the Northern part is now the Oti Region. The two regions, the Volta and the Oti take their name from rivers that flow through them. These are the Volta and the Oti rivers respectively.
There are several languages spoken in these two regions. These languages include ewe, lelemi, krachi, Adele,  Ntsumuru, Buem and the Guan among others. The ewe language is predominant in these two region even though the native speakers are found in the southern part now the Volta region. The ewe language has several dialects. These are the Anlo, the Gbi, the awate, the akpeni, the danyi, the sonume, the agave, the tornu and many others.
Agbadza is one of the popular music and dance  of the ewes especially the Anlos and the Tornus who are found along the coastal part of the region and along the Volta lake respectively. The music and dance is recreational. It is performed mostly at funerals and can be performed at durbars and outdooring as well.
Invitation to  the world. Any time you come to Ghana visit the Volta Region and enjoy the beautiful environment and the Agbadza music and dance. It a dance for warriors.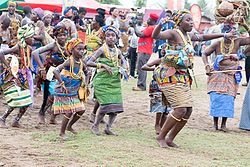 Content created and supplied by: Wartyjay (via Opera News )