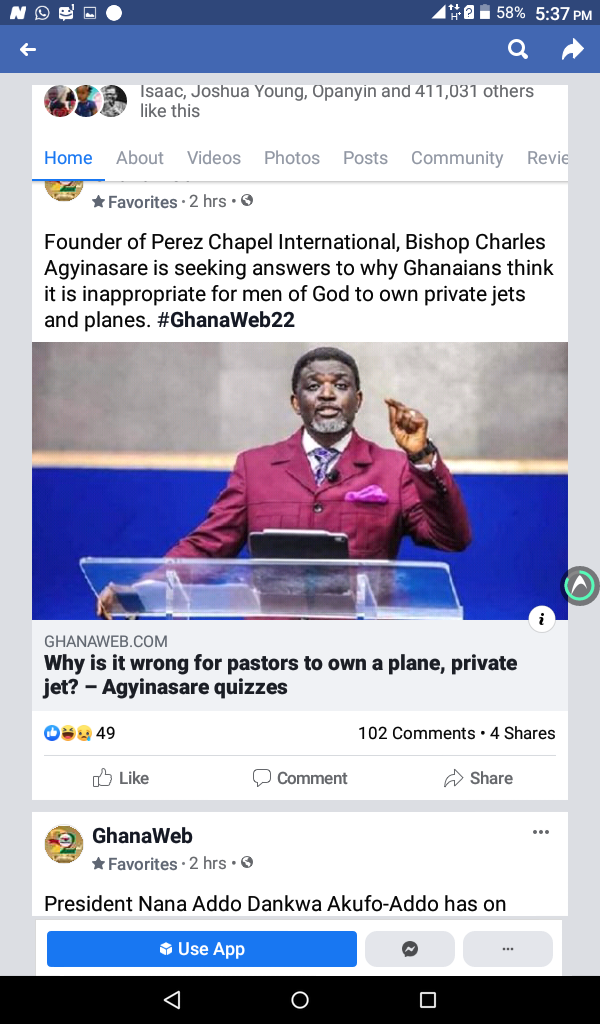 When Jesus Christ was on Earth, he didn't even own a donkey and he entreated his followers not to love the world or things in the world. The Holy Scriptures is very clear when it comes to acquiring too much properties on earth. It is written that, "Lay up not your treasures upon the earth where moth and rust corrupt but lay up your treasures in heaven where moth and rust cannot destroy it" - Mathew 6:19-20.
It is also written in James 1:27 that, "Religion that God our Father accepts as pure and faultless is this: to look after orphans and widows in their distress and keep oneself from being polluted by the world". This is what Jesus Christ want his followers to live including his servants called into the vineyard.
The Founder of Perez Chapel International, Bishop Charles Agyinasare has made a comment which seems to baffle the mind of some Christians in the country. In an interview with Joy FM, he said that, "I don't own a private jet yet but if I get one, it can assists me to propagate the gospel to different country with ease". And Bishop Agyinasare was asking why some Ghanaians think it is inappropriate for men of God to own private jets and planes.
He added that if businessmen can purchase private jets to assist their businesses, why can't men of God do same to help the Kingdom business. But most netizens reacted that, it is wrong for the man of God to compare businessmen with servants of God. They suggested that, bothering a normal plane to foreign countries will be better because the cost that comes with Private Jet can create numerous jobs for his unemployed Church members.
Before a true and concern man of God decides to purchase private jet, he can do us a favor by answering these questions: Is the money from the hard working congregants of the Church? Could the money be used to build up most of the congregants money issues like accommodation, medical bills, school fees among others? Are there cheapest and legitimate means for pastors to travel outside the country to propagate the gospel?
Social media users did not agree with Bishop Charles Agyinasare that, it is appropriate for men of God to acquire private jets whiles some members always having serious pending issues. Check out some comments below: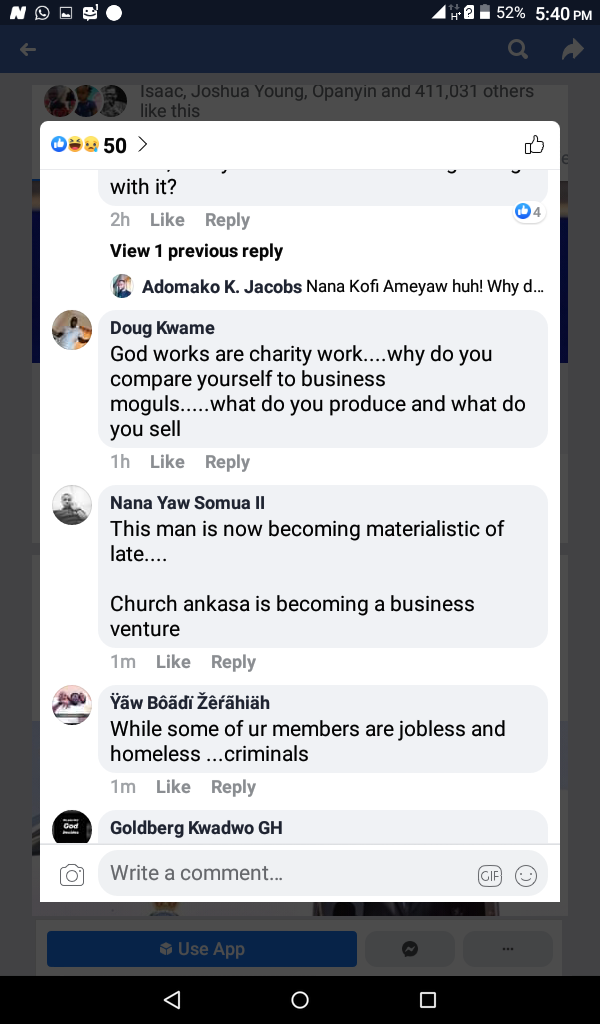 A Facebook user know as Kwame Boahen said that, "As a pastor, you are to serve not to be served. How can you own a private jet while some of your members are unemployed? The welfare of your members is more important than owning a private jet"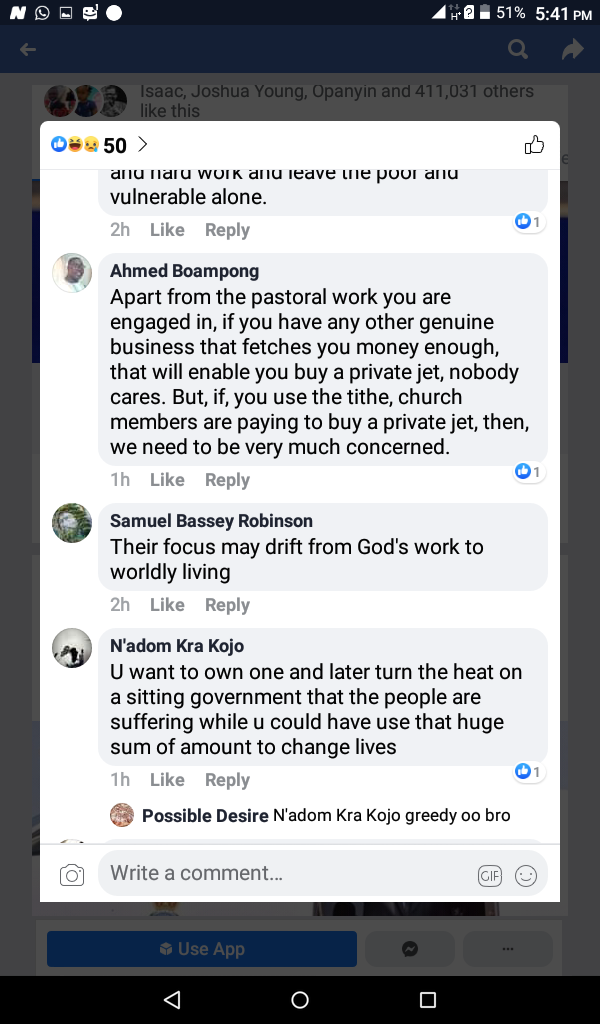 Another Facebook user known as Nadom Kra Kojo also reacted that, "You want to own one and later turn the heat on a sitting government that the people are suffering whiles you could have use that huge money to change lives".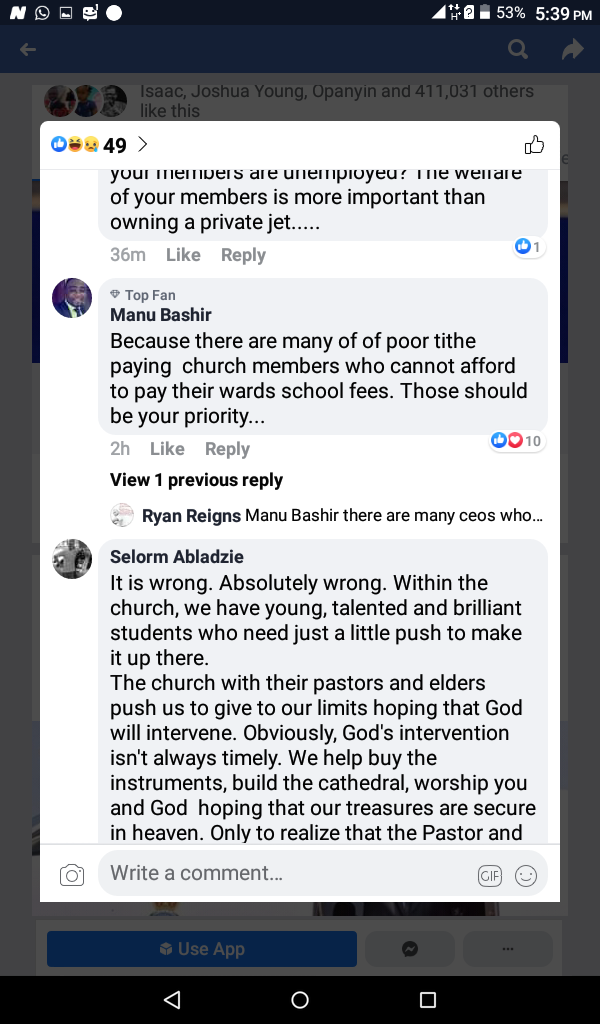 A Facebook user known as Jenny Kumah said that, "When Jesus Christ was on earth, He did not own a common Donkey. For that matter it is very wrong for a Pastor who is the follower of Jesus Christ to a private jet. The money for the private jet should be use for charity work".
Content created and supplied by: Ferdinandnews (via Opera News )