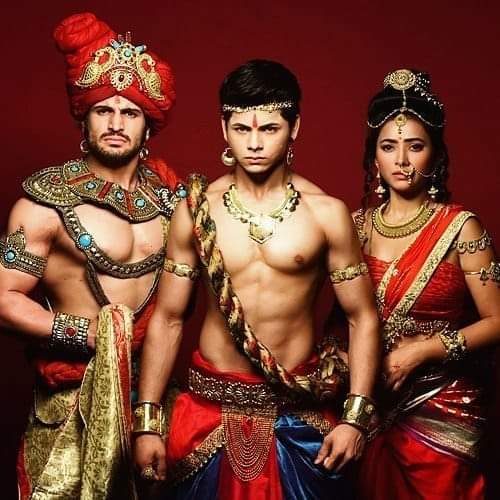 Nandini in her room,drop the curtains and is pain and then thinks about moras words, Chandra walks in and says see I'm very tired and don't expect me to look after binudsara I'm very sleepy let me talk to bindusara and ask him if he has problem if I sleep,where is he,Nandini says he will sleep with rajmata,Chandra says nice opportunity,let's use this time,let's play,Nandini says but you were sleepy and tried,Chandra says now I'm not,Nandini says but I'm very sleepy and tired,Chandra thinks stop her and you have to tell about how you feel about her.
Pandugan walks in and says narrate me a story and also I missed you today all day,Chandra thinks this was only thing remaining, I guess in my life I will never have the opportunity to spend quality time with her,Nandini says I will come to your room and then narrate,pandugan says no I shall sleep with Chandra,Chandra says it's fine,Nandini says okay once upon a time,pandugan says tell me about today,let me tell you,there was a big mahal like us and beautiful queen like Nandini and pandugan narrates today's episode inform of story of how bindusara was in danger and then says how was it, actually this isn't a story this happened in mahal,someone took binudsara away,Chandra says what I have to talk to acharya,pandugan says Nandini your turn,Nandini says not now,Chandra I shall go look after bindusara,pandugan thinks this will soon turn to a truth and i kill your son and you and Magad will be mine Chandra.
Pandugan with a toy and looks at mora walking in corridor and remembers how Chandra killed his father and brothers and gets very angry and throws the toy at mora,she dodges it,pandugan starts dancing mora saved oh no I wanted to harm her,Mora says son this isn't good,anyone could be hurt,pandugan says but mora didn't get hurt I know my father killed your husband and now I will kill you,mora says pandugan behave yourself,stop this madness,pandugan says you mad your husband mad,I know my father killed your husband and behead him and tied his head in mahal mora gets angry and slaps him,Nandini sees this and says don't worry she didn't meant to and says ma why did you do this he isn't in senses, mora says he questioned my principles and made fun of my dead husband,Nandini says ma ,bhaiya isn't in senses and I'm sorry on his behalf ,mora says I'm rajmata and I won't tolerate anything against my husband and it's unsafe to leave him alone,lock him in some room if you are so worried about him,pandugan says no locking,Nandini says ma please,mora says he is just the son of Nand who had torchered and harassed me and never ever respected women,Nandini says and ma even I'm nands daughter,do you hate me too,please say something,pandugan sees Chandra and runs to him and says she slapped me bad mora punish her.
Chandra walks to mora and says ma why did you do this,mora says yes I did and I don't regret it, if anyone misbehaves he has to go through this,and how could you forget your mothers tears,those old memories still prick me like thrones and so it's tough to deal with all this.
Nandini in tears,Chandra says calm down,ma was angry,Nandini says Chandra I'm upset because pandugan bhaiya he said so many bad things it was ma so she took it lightly and if it was someone else and they behaved other way,let's send bhaiya somewhere else,Chandra says Nandini he needs you,your love,and I promise I will take care of him.
Helina says dasi this is special alcohol to maharaj and get in when I ask you too,he will be very happy.Chandra says Nandini you are my friend and as promised I will take care of him now and even later,no one in mahal and outside will harm him i will fight for him,as promised I shall do this,Helina listens to all this and says if this happens Nandini and Chandra will be back to get and now I shall inform ma about this.
Chandra says Nandini stop crying, I can't see you cry,my heart stops beating and there's weird feeling,Nandini asks what happens,Chandra says I can't explain,now wipe your tears,Chandra looks at her and thinks I can never see you in tears,dasi walks in and says acharya is waiting for you in Sabha and leaves,Chandra says I shall come,Nandini asks first tell me what happens,Chandra says I shall tell tonight.
Apma says really a promise,Helina says now Nandini will be back with Chandra and soon the patrani and she forgot about the lover too,Apma starts laughing,Helina says ma what,Apma says you laugh too,may be then dust in your Brain goes, this is the best news,see why does no one know about it,Helina says because Chandra told Nandini in their room,Apma says the fun begins now,no one in mahal knows about this,the difference between Chandra and mora will be widened because of Nandini,Chanakya wants to kill pandugan and mora hates him and Chandra promised to save him and now when Chandra will break his acharyas oath the whole mahal will be in mess and all because of Nandini,the mahal will be in two parts fighting and accusations and Nandini will be the reason.
Chandra was informed about the retailers,Chandra says as acharya finds good,Chanakya says okay mantriji call them tomorrow and later asks why were you so absent,Chandra says acharya ma and Nandini,their difference is widening day by day,Chanakya says never fall into women matters, they will find a way themselves,but we have a bigger problem,there's someone in mahal behind bindusara and always attacks him,even yesterday this happened and it was good I sensed it and made plans beforehand,Chandra says yes pandugan told me some medicines from your room were stolen and used it to divert the soldiers,Chanakya says but I didn't put the matter in front of anyone that medicines from my room are lost,is he the one,Chandra says not possible,Chanakya says find it from him and make sure he shouldn't find it,be careful.
Apma tells Malayketu about the promise Chandra gave to save pandugan and says now you just use this information to create differences between Chanakya and Chandra,do as I say , Malayketu says soon your work will be done,
Chandra whispers Nandini,Nandini asks why are you whispering,Chandra says bindusara is Asleep right,Nandini says no he is with ma,Chandra says but you can't sleep when he isn't around,Nandini says it's fine I will manage,Chandra says let me get him,Nandini says Chandra I said it's ok,Chandra says did ma something,Nandini says no no let him stay with her,she is his grandmother and needs her love too.
Pandugan thinks now I have no weapon hidden,in toys because of Chanakya now this last toy has a pointer and I will use it,and says look my horse won,Chandra remembers Chanakya asked him to inspect pandugan and asks pandugan can you narrate the story again I liked it a lot,give me my toy now,Chandra says first story,pandugan says Acharya Chanakya told me story now give me toy, Chandra says only when you narrate me the story,pandugan narrates the story and says so that attacker when to acharyas room and stole medicines.chandra says did Acharya tell you this as well,pandugan thinks so this is the trick I have to somehow get rid of it.
Pandugan says no no I saw it some man stole that medicine from acharyas room,I don't want that toy and runs away,Nandini says Chandra why Did you,let me go give him this toy, Chandra says pandugan saw it he isn't involved,Acharya was suspicious because he is worried.
Nandini says bhaiya look your toy and come let me narrate you the story,pandugan says tomorrow now i will play,Nandini says okay but sleep on time,a man as soon as Nandini leaves attacks pandugan,its Malayketu,pandugan sees him, dasi doesn't see Malayketu but sees pandugan being attacked and rushes to Chandra and Nandini and informs them.
Chandra says acharya who it is who is always behind our family even with this amount of security he can dare do this,Chanakya looks at Malayketu says yes this is surely someone from mahal or someone who acts as our own but helping enemy.
Mora says who it must be and who would advantage pandugans death,Chanakya says I think the same and Chandra we need to arrange a Sabha quickly.
Chandra thinks I will find that man who is behind my family,Nandini Walks in tears,Chandra asks how he is,Nandini says he is on painkillers and so asleep,Nandini says bhaiya was favourite amongst all us siblings, I always tied him rakhi first but now I can't help him get rid of his pain,Chandra hugs Nandini,Chandra says I will always be with you,your friend will always be with you,Nandini says I want something from maharaj,Chandra says you are queen tell me,Nandini says send him away I can't see him in pain,Chandra says Nandini again,I promised,Nandini says I agree but it's a sisters request please send him away I can stay without him but not see him in pain,Chandra says I'm sorry I can't do this,but I can do something that will relieve you.
WE ARE NOT REQUESTING MUCH, ALL WE WANT IS PLEASE LIKE, COMMENT AND SHARE
Content created and supplied by: Bannor (via Opera News )
Opera News is a free to use platform and the views and opinions expressed herein are solely those of the author and do not represent, reflect or express the views of Opera News. Any/all written content and images displayed are provided by the blogger/author, appear herein as submitted by the blogger/author and are unedited by Opera News. Opera News does not consent to nor does it condone the posting of any content that violates the rights (including the copyrights) of any third party, nor content that may malign, inter alia, any religion, ethnic group, organization, gender, company, or individual. Opera News furthermore does not condone the use of our platform for the purposes encouraging/endorsing hate speech, violation of human rights and/or utterances of a defamatory nature. If the content contained herein violates any of your rights, including those of copyright, and/or violates any the above mentioned factors, you are requested to immediately notify us using via the following email address operanews-external(at)opera.com and/or report the article using the available reporting functionality built into our Platform See More