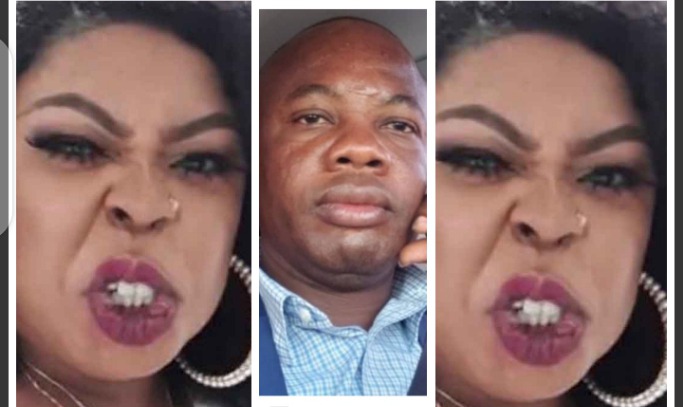 The ever ready woman extraordinaire, and mouth Afia Shwar seems not to have limits or reservations, as she has now gone after the boss of National Security in the country.
Taking to her social media handles ie her Instagram page, which has over the months become her forum of attacking and waging war at all and sundry, the comediene chose to come public with some private marital issues, of Frank Amoah and his wife.
Posting a seeming quiet and innocent looking picture on her handle, Afia Shwar captioned her post with a large attack revealing that one Frank Kwasi Amoah, has dared to do the unthinkable against his own wife which is getting even worse by the day.
The actress stated that, one particular individual is part of the men that have chosen to do evil against the incumbent President Nana Addo Dankwa Akuffo Addo, by tarnishing his name and laying claim that, they are untouchables for the sheer privilege of their positions in governance of the country.
Afia Shwar further questioned the boss of national security, to find out from the said individual Frank Kwasi Amoah who she claims has recorded nude images of his own wife, and keeps threatening her with.
Even worse the said individual has told his girlfriend about his wife's naked tap, as a way to team against her.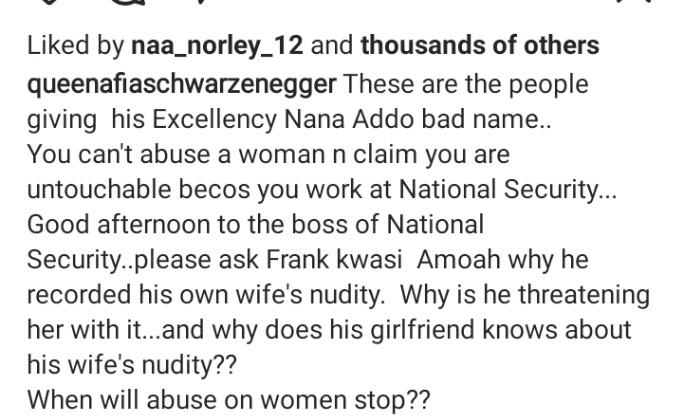 Content created and supplied by: Dan-Vee (via Opera News )