Popular controversial Ghanaian comedian and social media personality, Mr. Kwame A-plus has finally reacted to the ongoing LGBTQ saga in the country. Everyone knows that our African tradition and culture does not support the lifestyle of the LGBT community and anyone caught in the act will be jailed for a period of time.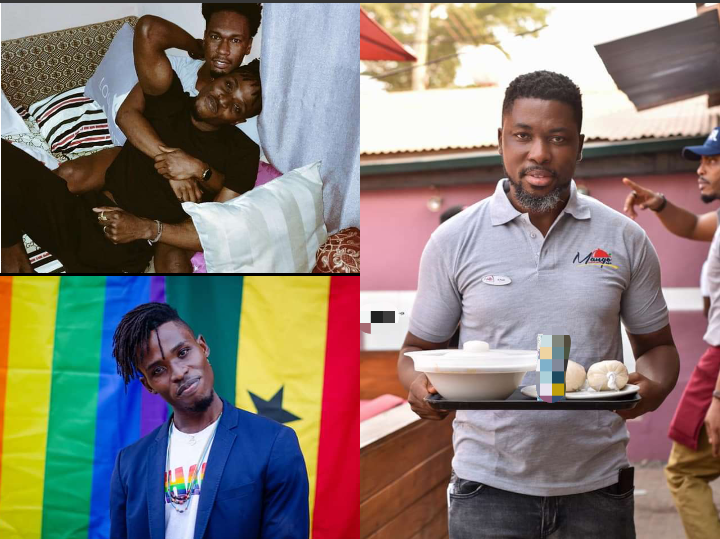 While most people frown at individuals who engage in the act of homosexuality,lesbianism and bisexuality, there are still people out there who are in support of them and people who don't really care about what two grown up men or women do in their bedrooms and Kwame A-plus is one of those who don't care.
Kwame A-plus stated clearly that he personally don't care about what two grown up men do in their bedrooms. In his own words;
𝙒𝙝𝙮 𝙢𝙪𝙨𝙩 𝙥𝙤𝙡𝙞𝙘𝙚 𝙖𝙧𝙧𝙚𝙨𝙩 𝙩𝙬𝙤 𝙢𝙚𝙣 𝙞𝙣 𝙖 𝙧𝙤𝙤𝙢 𝙨𝙪𝙨𝙥𝙚𝙘𝙩𝙚𝙙 𝙤𝙛 𝙝𝙖𝙫𝙞𝙣𝙜 𝙨𝙚𝙭? 𝙒𝙝𝙮 𝙬𝙞𝙡𝙡 𝙖𝙣𝙮𝙤𝙣𝙚 𝙨𝙥𝙚𝙣𝙙 𝙖 𝙨𝙚𝙘𝙤𝙣𝙙 𝙤𝙛 𝙩𝙝𝙚𝙞𝙧 𝙡𝙞𝙫𝙚𝙨 𝙩𝙝𝙞𝙣𝙠𝙞𝙣𝙜 𝙖𝙗𝙤𝙪𝙩 𝙬𝙝𝙮 𝙩𝙬𝙤 𝙢𝙚𝙣 𝙖𝙧𝙚 𝙞𝙣 𝙖 𝙧𝙤𝙤𝙢? 𝙃𝙤𝙣𝙚𝙨𝙩𝙡𝙮, 𝙄𝙛 𝙩𝙝𝙖𝙩 𝙞𝙨 𝙬𝙝𝙖𝙩 𝙩𝙝𝙚𝙮 𝙬𝙖𝙣𝙩 𝙩𝙤 𝙙𝙤, 𝙄 𝙥𝙚𝙧𝙨𝙤𝙣𝙖𝙡𝙡𝙮 𝙙𝙤𝙣'𝙩 𝙘𝙖𝙧𝙚!!! 𝙒𝙝𝙖𝙩 𝙖𝙗𝙤𝙪𝙩 𝙮𝙤𝙪?
Here is a screenshot of his post and some comments from his followers: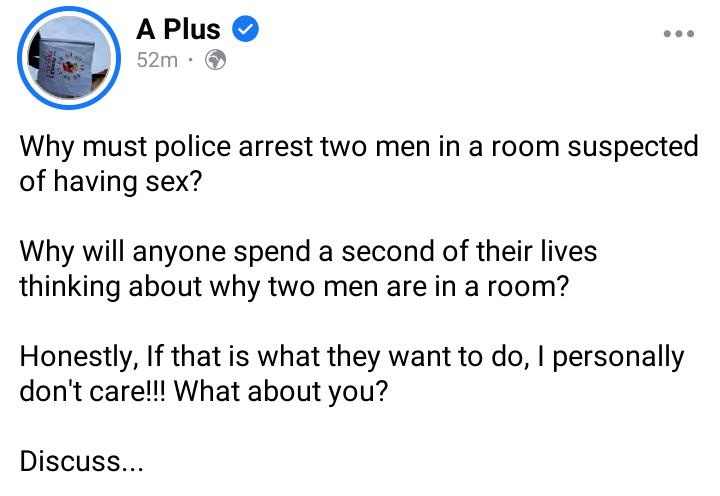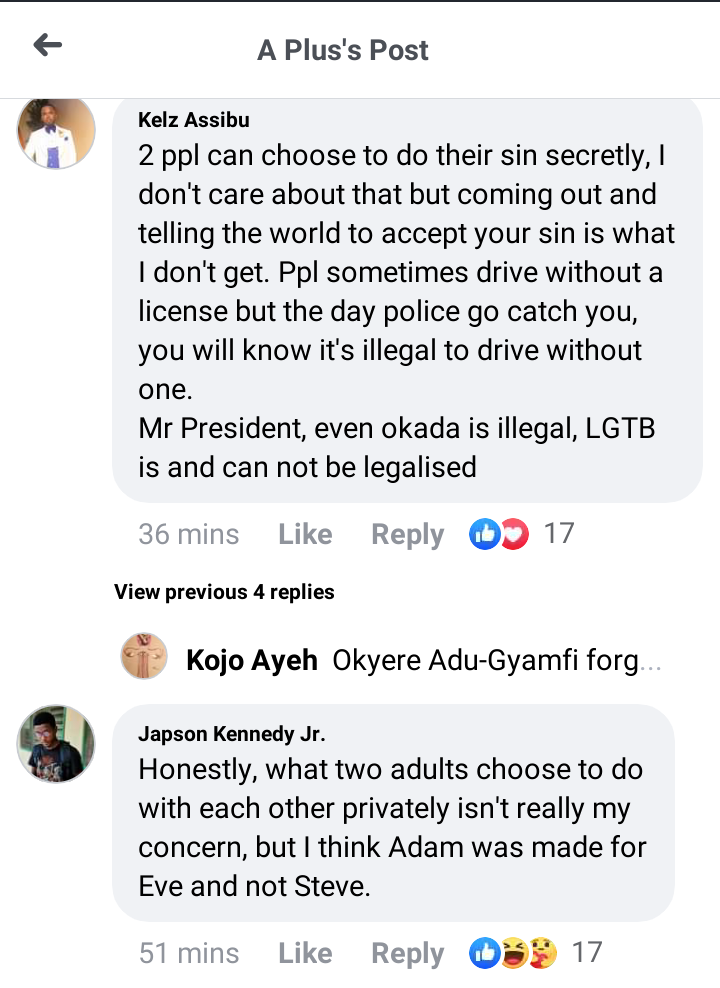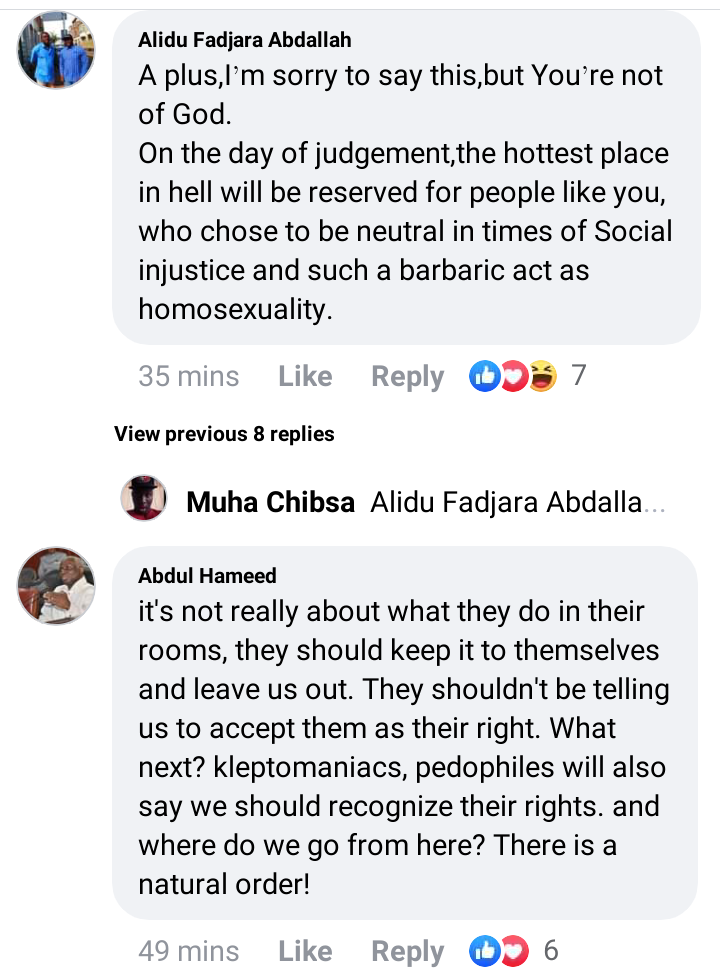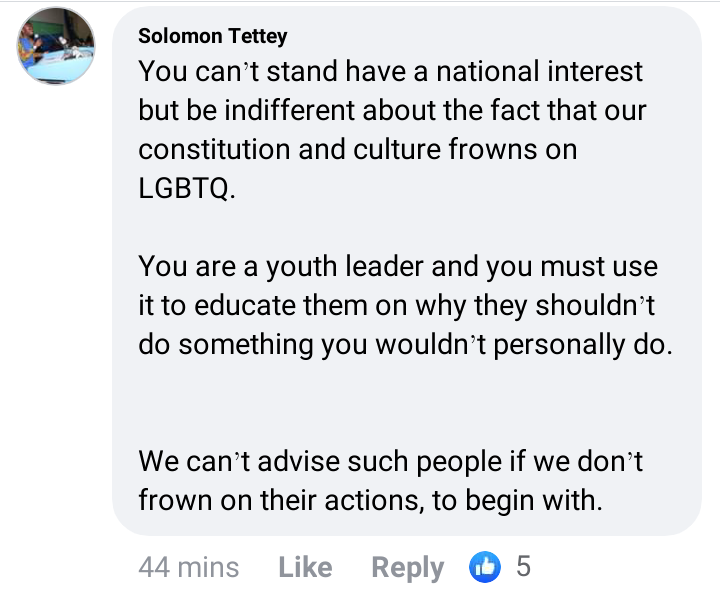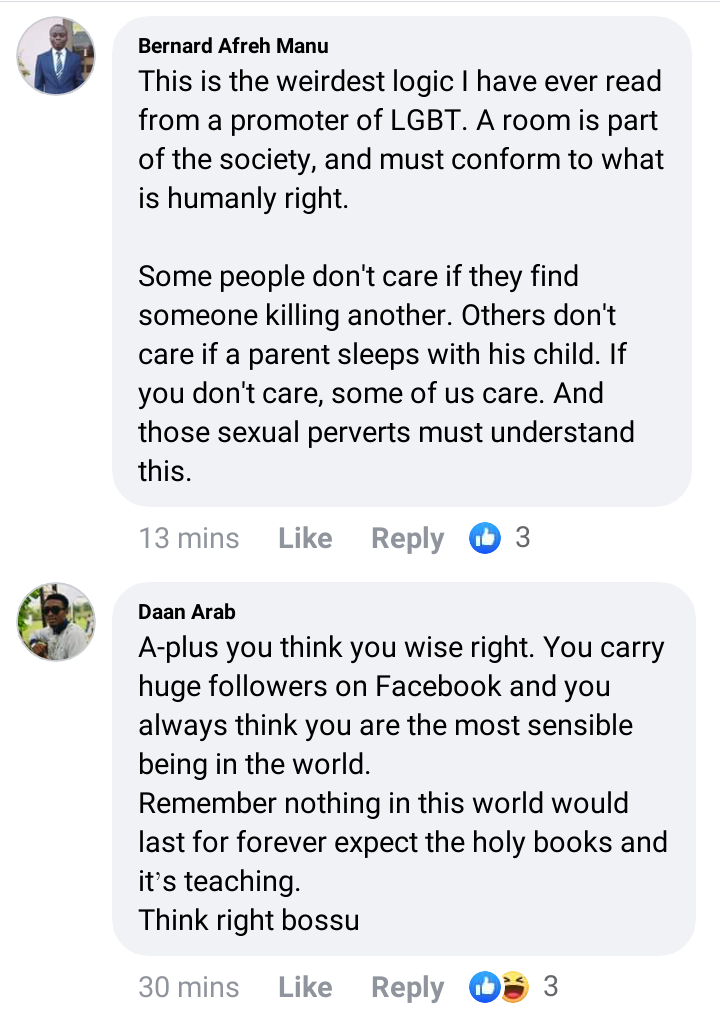 Thanks alot for reading, kindly hit the like and follow button to get more interesting gists and valid news updates from my page and also do not forget to share your thoughts in the comments section below.
Content created and supplied by: TheExecutives (via Opera News )