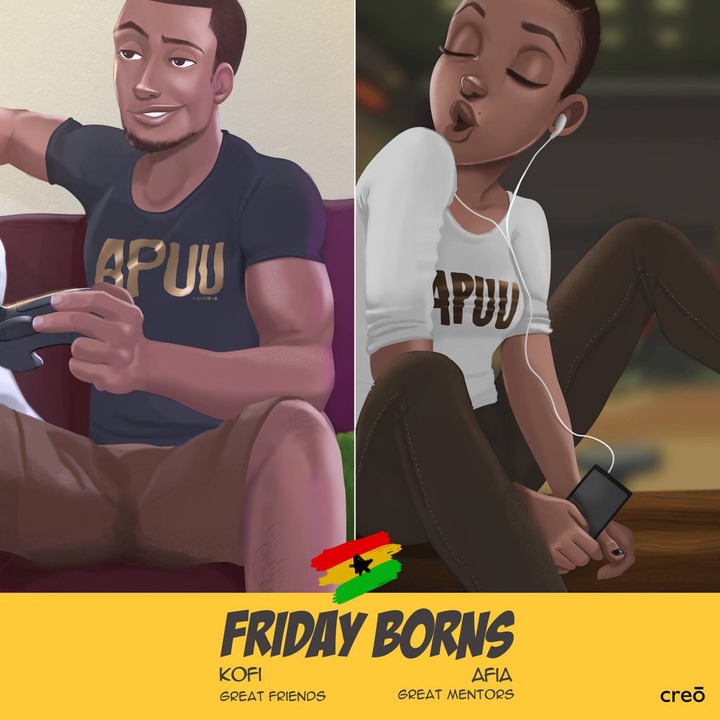 There are seven days in a week, everybody and the day he or she likes, but one of the famous days most people cherished is friday. It is a day that most people enjoys alot. Same applies to friday borns , friday borns are of unique characters .Below are some qualities of Friday borns.
1,THEY ARE RESPECTFUL;people do say that friday borns are stubborn and disobedient but bet me most friday borns are respectful and understandable, what ever you tell them to do they obey and does it according to what you said. They are greatful for what ever you do for them.
2,FUNNY; most friday born are funny weather being a guy or a lady, they can crack jokes for you to laugh even if you are sad. They are one type of people that can really make your day. Due to this every friday born is famous in his or her community.
3,HANDSOME AND BEAUTIFUL; every guy born on Friday is handsome and cute while a lady born on friday is very pretty. They are always looking smart and neat in appearance. I think this is what makes them more special and unique.
4,THEY ARE HELPFUL;they do not look at your personality before they do something for you, they are eager to help each and everyone they meet in life. They are such a wonderful people you can ever trust.
5,CREATIVE AND INTELLIGENT ;friday borns are with the ability to creating new things into existance. They are smart and good in academics and also good in sports activities.
Content created and supplied by: jb.studio.opera.com (via Opera News )