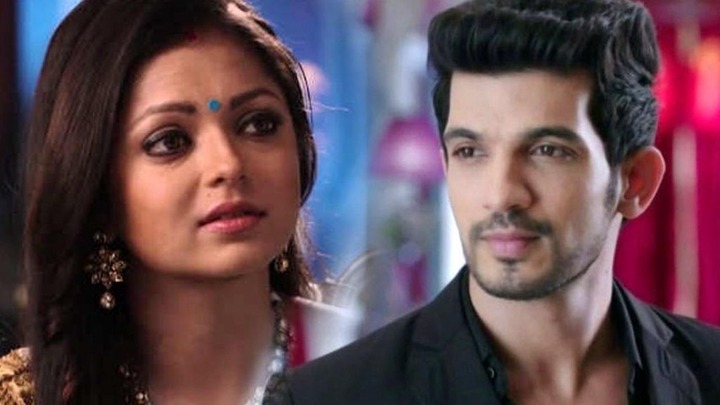 TUESDAY 18TH AUGUST, 2020 #BLASTERSOFFICIAL ON CHASING MY HEART ON TV3 @6:00PM
(TUESDAY - FRIDAY)
The First Episode starts with Naina thinking they control emotions, but there is one place where emotions turn to tears and are seen, its airport, people are happy and sad, some people come back to loved ones and some leave loved ones and go to new country, there are prayers and tears seen more than in any religious place, someone's journey begins and someone's journey ends here.
Naina asks her mum not to miss medicines. Her mum asks her to keep Gangajal, laddoo and other things. Naina asks her to listen. Naina goes. Naina's mum looks for her. Naina cries and rushes to hug her mum. She thinks airport prepares for future life.
Naina's mum says I would have come if we had money for two tickets. Naina says yes, I know, else who would have married. Naina asks her to take care. Naina hugs her. She thinks airports are strange, people leave loved ones to reach destination, I m first girl of Batra family, some people don't know what they are leaving, what will be written in their fate, what will Pardes give them.
She sits and a lady is beside her. Naina gets her mum's call and says you called many times, yes I was allowed to take food. The lady calls her liar. Naina asks lady do you want something. Lady says no, I m not going for the first time, you are lying to mum and going, I have seen your food was thrown.
Naina says sorry, you don't me and my mum. Lady says I know you are going to marry, your mum is old, you did not think what will she go through, you arranged money and leaving for marriage.
Naina says you know me in 5mins. Lady says I went through this, my daughter also did this. Naina says you mixed your story in mine and did not listen to me. Lady says everyone is same. Naina asks her to listen her story and then know.
Lady asks her to say her story. Naina smiles and says I m Naina Batra, I m from Punjab, and settled in Mumbai, I m going Tirol, my brother stays there. After Papa left, mum and I used to manage expenses by dad's pension, but then I started working, I teach in college, it was raining that day.
FB shows Naina talking to her friend in college. The girls ask Naina to help them, its valentines' day and they have to gift cards to boyfriends. Her friend asks do they have boyfriends in 16-17 years of age.
The girl says yes, else we can be single till 30 years. Naina asks them to sit. She thinks how to define love in 2 lines. She tells about love, it gives happiness by the first call made to lover, when you can tell your biggest fear to someone, its called love, every feeling, every weather and things have same emotion, love.
They all clap for her, and ask which weather is going on for her, distance or union. Neelu asks them not to ask questions and leave. The students/girls tell that Naina is 27 year old, she is single and did not get anything, so she came to teach them.
Naina cries hearing the students and thinks how can they say easily that she is loser if she does not have love in her life, maybe she met someone and have a love story. She boards the bus with her friend Zeenu. Zeenu asks her why did she define love.
Naina asks her to see that couple, accepting each other without any condition is love, I want someone who understands me, my likes and dislikes, without saying. Zeenu says I promise, you will fall in love with someone again, just keep smiling.
Naina shops and thinks to buy Gulab jamun mix for her mum. A guy helps her. She sees him and gets shocked. She recalls dating that guy. FB shows where do I stand in my love, its just your mum in your life, sorry, I m done Naina. He leaves from her life. FB ends. Naina cries seeing him.
The lady comes to him. Naina sees that pregnant lady with him and assumes its his wife. Naina rushes from there and thinks I have hidden my first love in my heart, today all wounds came out seeing him after 2 years, I have lost him and today seeing him between strangers, I could not bear it.
The guy calls her out. She walks on the road alone and cries. Naina's mum bargains. Naina says this is my mum, saving each rupee to make my future and dreams, how to tell mumma about my broken heart, my heart broke and mumma will be hurt.
Naina's mum asks her why did she not take umbrella, cable man was asking for more 50rs, I asked him to cut channels. Naina asks why are you cooking, Manju will come. Her mum says she makes unhealthy food, sit, I have to show you something. Naina says I will see later and goes. Her mum smiles.
Naina counts the money in the box and shouts to her mum. She says theft happened, 15000rs are missing, I will call police. Her mum stops her and says you went on me, first you do drama and listen.
She says I took the money, it did not get stolen. She shows the gold ring and says pandit ji said you should wear ruby ring. Naina asks did you waste money on pandit ji's saying, I m saving money for your operation, this is not done.
Naina's mum says listen, now I got this, wear it, if you want me to get fine, don't give me tension my heart is already weak, wear this, everything will get fine in your life, see this, it looks so nice. Naina says you bargain and save money always and got this ring for me. She hugs her mum. Her mum says this is investment.
Naina says yes, for pandit ji's children. She says everything will be fine, my dream prince will come at door anytime. Someone knocks the door. Naina goes to check and sees her ex boyfriend at the door. He greets her and says please don't shut the door, no shut doors will come between us.
He shows her the ring. Naina thinks my life changed again to end distance of 2 years, he left me as I had just my mum in my heart, he has place for me in his heart again, we got engaged and our union time started. Shagun things are kept.
Naina smiles seeing the ring and asks Zeenu is this nice. Zeenu says yes, its my choice. Naina gets ready in a beautiful dress. Zeenu says you assumed this lady as Amit's wife, she is his Bhabhi, so funny. Amit and his mum argue outside.
Naina's mum is very happy and gets emotional. Naina cries and hugs her. Naina hopes everything goes on fine. Amit and his mum argue outside. She drops the garlands and says nothing is fine, you got the job and want to go Tirol.
Amit asks her not to do this, its just 2 hours for engagement, don't make this issue. She asks are you getting respect by marrying Naina. Naina's mum is very happy and gets emotional. Naina cries and hugs her.
Amit's mum says you got job abroad, will Naina leave her mum and come to you. Amit says I will talk to her, we have love between us. His mum says she can't leave her mum and you can't leave your career. Naina's mum hears them.
Amit's mum says when you tell Naina to come along, she will ask you to take her mum, she has weak heart but will not die. Naina's mum holds her heart and falls down. Amit asks his mum to stop it now. Naina and Zeenu come that way and get shocked seeing Naina's mum.
They all rush to her. FB ends. Lady asks what did you decide then, how can you marry there where your mum got insulted. Naina recalls her mum asking her to get engaged, as they are each other's strength.
Lady asks what is your story. Naina says see you got interest in my story, even when we are strangers, I broke relation with Amit and still going Tirol, you maybe thinking why I m going there, I will tell my entire story, what I have in Pardes, maybe Pardes Mein Hai Mera Dil.
lady asking Naina what happened, that she left her mum. Naina says my story was changing, I broke the engagement. Lady asks what did you do, whom did you choose between past and future. FB shows Naina is in hospital and talks to her brother.
He says you should have sent me pics of engagement. She says Maa got heart attack. He asks what, if you there, I m not worried. She asks for money for treatment. He lies that his life is tough, he got a small car, his wife is pregnant, and he has much expenses.
He has a big car and cleans it. She tells doctorabout the Mehra trust. He asks her to fill papers and send on email, get donation from them, I have work, I will talk later. He ends call.
Naina cries and hugs Zeenu. She says she will apply for loan, marriage is not in her fate, she will spend all money in Maa's treatment, not marriage. Zeenu asks her to write to Mehra trust.
Naina says don't know when will donation come, if it gets late. Zeenu says try and see, sometimes strangers help more than dear ones. Naina runs. FB ends.
Lady asks what did you do, did you send mail to charity trust. Naina says my angel was in Pardes. Raghav is shown in Tirole. Naina says I got the number, who knew one ISD call will decide between life and death.
Raghav is super rich and meets people. Naina says why will he care for my problem, why will he think of people here, still I had a belief, my heart said everything will be fine, just this call should be answered.
Lady asks what happened then. Naina says I called on the number, it was ringing, no one answered. FB shows Naina finding alternate number for Mehra trust. She calls on that. She prays Lord to make her prayers reach that side, who can help her mum.
Raghav's family is shown. A guy Shaurya tells everyone about Dadi. He asks all of the family members to come fast. They all rush and see Dadi saying she is going to her husband. Raghav takes care of her.
She says she will have food when Raghav's proposal is fixed. Raghav says that will happen, have food. Dadi gets up as the phone rings. She asks Shaurya to give the girl's call to Raghav. Shaurya asks Raghav to talk to his would be wife.
Raghav answers Naina's call. He says look we have requirements. She says I have all papers. He says what papers, you will need to meet my family. She says I will send bio data. He says we have to say your tuning with family. She asks what about heart. He asks heart later, first practical. She says its about heart,it can stop anytime. He asks did you like my photo so much. She says wait and checks pics. She does not see pic and says i m sure its nice. He says thanks, what about heart. She says its weak, we showed doctor. He asks her to see his pic which he sent, then see if hearts are meeting, can they marry. She asks what marriage…. Dadi comes with other phone and pulls Shaurya's ears. Raghav says Shaurya should have told me. Raghav tells Naina that its confusion, sorry.
Naina says you run a trust, my mum has heart problem, operation is needed. He asks her to fill application on website. She cries and says many people would come to you, everyone would have big illness, my mum does not have strength to stand in line, please give me donation, you can save my life too along with my mum. He says okay, I will call you back soon. She smiles. FB ends.
Lady says you got donation, what about your fiance. FB shows Naina tells Amit that she got donation for mum's operation, I have to take care of her for atleast six months, how can I leave mum and go Austria. He asks her what is she saying, they got separated before because of the same reason.
She cries and says my mum gave me this life, how to leave her back, I know about our relation joining after two years, I can break my heart for her heart, I don't know how to live without you, I m sorry.
He says how will I live without you, I will wait for you. She smiles. FB ends. Lady says then…. Naina says then separation started, I big bye to my love and stood with my tears, Amit went away, three months passed and mum started getting fine.
FB shows Naina taking care of her mum. Naina's mum says I can't travel with you, you are my stress. Naina gets annoyed. Her mum asks her to listen. She says how will I feel if my life comes against your, will you start living after I die, every mum has a work to raise child and let her go ahead, its a rule, even I have a life, I can enjoy my life with friend, when you are not here.
Naina asks shall I go Austria for this. They cry. Naina hugs her mum. FB ends. Naina says I came here to free my heart at this airport, so I m going to marry my love, my fiance, this got possible because of a stranger, I did not see him, I just know his name, Raghav Mehra, he is angel for me. Raghav talks to media. He tells about his good fate.
Raghav sees his brother coming home and goes to hold him. He asks Veer what state is he in. Veer asks what are you doing in my room, my suit. Raghav says they were talking about you.
The man asks Veer are you Veer Mehra. Veer says yes, and this is Dada ji's charity, Dadi's fav Raghav Mehra, my Dada ji got him from Mumbai, he is with us, he is our servant. Raghav smiles and takes care of him. Veer's uncle comes and asks are you fine.
Veer says yes, I got late in party. Uncle says its fine, I will manage, I don't think you read report. Raghav says you read it yesterday Veer. Veer says that one, yes I read. Uncle says you are great and goes. Raghav takes Veer.
Uncle thinks its good if Veer gets away, I will manage business. Raghav tells Veer about construction business report. Veer says if you were not there…. Raghav says but I m here, chill, I will get coffee.
Naina tells lady that she will leave now. Lady stops Naina and hugs her. Lady cries and says you said right, I mixed my story in yours, you are not like my daughter, Lord bless you.
Naina smiles and says my mum said I can't start my life after she dies, so I m going to live my life, I will face everything and live life to fullest. Lady says go and live your life. Naina says I m not Simran, I m Naina.
Lady says I m not Amrish puri. They laugh. Naina thinks my mum feels my fate will change by this one ring, aunty feels fate will take me there, right now fate is taking me to Austria.
Dadi hears the men talking bad of Raghav, who is just a stylish servant. Dadi/Indu Mehra gets angry and scolds the man, while defending Raghav. She says he is our far relative, but is dear, he maintains this big house's style, he thinks for the family, he has no blood relation with us, but we care for him as we care for Veer, he is wrong Mehra for world, but not for me.
Dadi sees her husband's pic and says someone should think for Raghav too, don't know who will come in his life, who will accept him, someone will be there. Naina's flight lands. She feels cold and goes out. She waits for her brother.
Content created and supplied by: akrofitv (via Opera News )
Opera News is a free to use platform and the views and opinions expressed herein are solely those of the author and do not represent, reflect or express the views of Opera News. Any/all written content and images displayed are provided by the blogger/author, appear herein as submitted by the blogger/author and are unedited by Opera News. Opera News does not consent to nor does it condone the posting of any content that violates the rights (including the copyrights) of any third party, nor content that may malign, inter alia, any religion, ethnic group, organization, gender, company, or individual. Opera News furthermore does not condone the use of our platform for the purposes encouraging/endorsing hate speech, violation of human rights and/or utterances of a defamatory nature. If the content contained herein violates any of your rights, including those of copyright, and/or violates any the above mentioned factors, you are requested to immediately notify us using via the following email address operanews-external(at)opera.com and/or report the article using the available reporting functionality built into our Platform See More