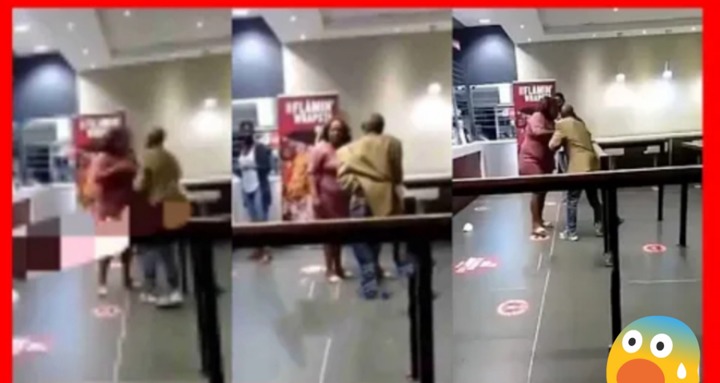 Good morning once again to our followers out there we are very grateful to have you as our Followers, and please if today is your first time viewing our article or you have, but not following. Kindly do us a favour by clicking the +Follow button that get access to all our newly published articles.
Ghana is very interesting some times, because of the matter and the issues rising day in and day out. 
The issue we are reporting today is about two married couple who went to the hotel to have some meals
Eye witnesses are saying that, this man and his wife entered the hotel neatly dressed and ordered for some food and drinks. Without hesitating, the waiter served them their heart desires. 
But the report at hand shows that, after eating, the lady prompted the man to go and pay for the bills, but the man was standing idle without telling the woman anything. So the woman was seriously disturbed of the man's action. She asked the man again, and this time around it came with 2 slaps. The woman seems to be stronger than the man, so the man didn't take any action to revenge at the spot.
The problem here is that, is it that the man was not having money or what? And if that is the case why didn't he tell the woman about what he was facing, so that should Incase the woman has any help, she can.
The matter looks very troubling, so as at now social media users are saying that, the woman didn't do the right thing and others are saying that the man is at fault. So what do you also have to say?
We will be very glad when you follow us to get access to more trending news and stories, your comments are warmly welcomed. Kindly drop your idea about this news in the comments section.
Thanks for reading our article. Please do us a favor by clicking on the +Follow button in order to get access to all our newly published articles.
Like
Share
Follow
Comment
Content created and supplied by: Davidographix (via Opera News )