For many years now, two of Ghana's biggest dancehall musicians are at each other's throats. We investigate the incidents that have shaped this because the back and forth draw to a full circle.
At the bottom of music, sit partnership and collaborations. Unarguably, great things happen from these. But also, from these, do complications arise, particularly if the main actors are music stars who, albeit wrongly, believe there's space for only one 'king' on the scene. The metaphorical kingdom.
Shatta Wale and Stonebwoy, Ghana's biggest dancehall musicians. the previous, ever since 2012 when he changed his name from Bandana, to what it currently is, has enjoyed commercial and important success. If you ever doubted the facility during a name, Shatta Wale seems to be a bodily resistance to the question.
His sort of music appeals to an outsized fan base, listeners across the genres of Afro Pop and dancehall. His risque themes engage the machismo of the most important section of his fan base; his voice, it should be said, drives his songs to a T, leaving most listeners in awe of his talent. Stonebwoy on the opposite hand may be a different quiet dancehall artiste. He comes across because more versatile.
The artiste, born Livingstone Etse Satekla, made his big debut in 2012, and in about three years, he'd clinched the BET Award for Best International Act. This brought him popularity previously unseen. Ghana-organized awards, during a bid to concretize his genius, gave him awards, many of which were under the genre of dancehall which he alongside another artiste like Samini (Stonebwoy's mentor) and Shatta Wale.
Stonebwoy has released a new song "we move " and Shata Wale is promoting the song on his page.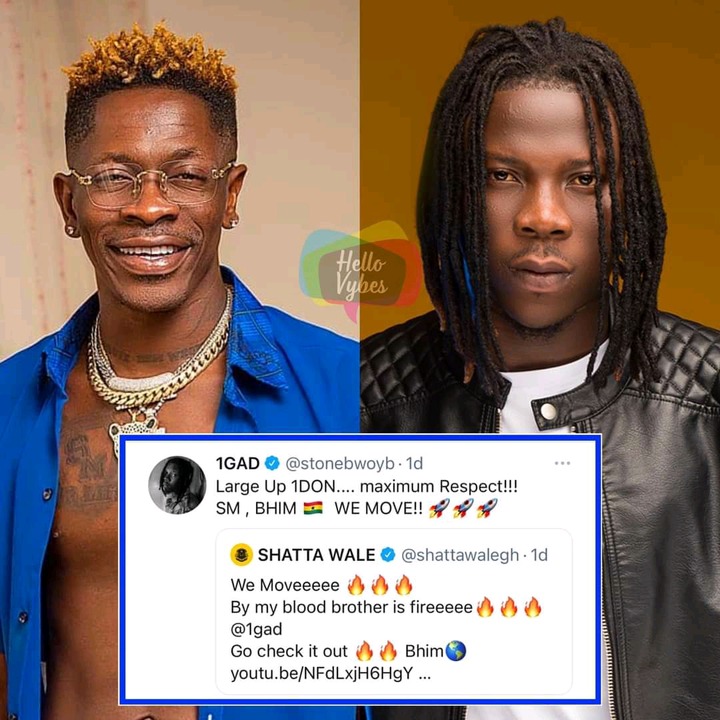 Content created and supplied by: Buzztvgh (via Opera News )