The Episode starts with Naina rushing to leave for club for her duty. Chanchal asks her to see baby shopping. Naina says I have to work hard and earn more money, I have cooked food and did all the work.
Dadi calls Naina. Dadi asks her to go on date with Veer and know each other. She convinces Naina. Naina agrees and ends call. Naina tells Chanchal what Dadi said.
Chanchal says leave overtime, this is more imp, get ready fast and go to meet Veer. Dadi makes Veer ready and compliments him. Naina gets ready. Asha sees her on video call and asks her to wear contrast color chunni.
Asha asks her to wear shawl. Naina tries and says I look aunty in this, I will wear jacket. Dadi combs Veer's hair and says you are going on date with would be wife for the first time, you have to become gentleman. He says I will manage on own.
She says you will always be a kid for me. Naina wears the accessories. Asha compliments her. Raghav asks Sudha to choose the return gifts for guests. Sudha says not now, I will think and say. He says its fun, its function in our family.
She says don't know. He says I will get designer suit in Veer's marriage, as its happening because of me, I told Dadi that Naina is the best, now Dadi also feels the same, I m such, Raghav the great, just I could find the perfect girl for Veer. He goes. Sudha and Pam get angry on Raghav.
Veer comes. Sudha and Pam talk to him. Ira asks him to take a selfie. Raghav says I will also come in family pic. Sudha says its family pic. She asks Raghav to take good pic of them. Raghav clicks their pics and smiles. Raghav and Veer leave in the car.
They reach the place. Raghav asks Veer to go and get Naina. Veer says she will come on her own. Chanchal says Veer has come, wow, what a car, Mehras have tashan. She asks Naina to come fast. Naina comes. Raghav smiles seeing her.
Veer greets her. She sits in the car and greets them. Raghav says I m at your service, I will drive and not hear your conversation. He drives. Veer says we will know each other and spend some time. Naina says yes. He thinks you have to share my life, come I will make you share my life that you will remember. Naina plays with water and smiles.
Veer shows the club and says I come here always, the three year membership is for 14 crores. He boasts of his richness and taunts her that everyone can't afford such costly clubs. He asks what do you do when you get tired of work. She says I have a glass of warm milk and sleep.
Raghav hears her and smiles. Veer takes her to his office. He says this is head office of Mehra company, you feel like you are on top of the world, we wanted to show our status to everyone, we are the Mehra, the biggest business family.
He tells the cost of the three floors. He taunts her on salaries and asks about Rajeev. She says Rajeev has an interview today. He says I hope you have seen my life now. She says you have given me much time, I m honored. He says there is one more place to go, come. He smiles and they leave.
Veer gets Naina to the nightclub She says this is my fav club, best music and best wine, what's life without enjoyment. Raghav says but this club. Veer says don't spoil my mood, come. They go. John says you are late Naina. She says sorry, I will be on time from now. Veer says so sorry Naina, I did not know you work here.
She says its okay, like you showed your life, I should show my life, I work here as waitress to support my family financially, I m late and have two hours left, can I go. Veer says sure, I will wait for you. She says thanks and goes. Raghav says it won't look good that she serves on table and you drink it.
Veer says its her job, don't worry, go and get drinks for me. He says I will see how will Dadi let a waitress enter home, she will never let Naina become her bahu now. He calls Sudha and asks her take Dadi to club, he has to show something important .
Pam and Sudha convincing Dadi to come with me. They ask Dadi to come to club with them. Dadi agrees. Raghav smiles seeing Naina working. Raghav tells her that you work a lot, you are already fit, I m serious, this is not easy job. She says yes, I wanted such job that I don't need to workout, I can get a job for you too. He says offer is tempting.
He turns and sees Dadi and all the ladies of Mehra house. Dadi says we can also dance a bit. They all smile. Sudha says Veer is here. Dadi says then Naina will be around, we will party together. Ira taunts Sanjana to be a guest. Sanjana goes.
Raghav goes to Naina and stops her, saying Mehra ladies are here in the club. She asks so? He asks are you not scared. She says no, they know I'm from middle class family and need earning, so I 'm doing this job, I don't have to hide anything.
He says okay. She asks him to move. Dadi surprises Veer and asks about the date. He says it was good. She asks shall I fix the roka date. He says what shall I say. She asks where is Naina. He says she will be around, come. Dadi says I had first peg when I was in college. Naina comes to take their order. Veer smiles.
Pam says you here like this, we did not know, sorry. Veer says Naina works here as a waitress. Sanjana comes and orders vodka. Pam smiles. Sanjana says Naina, I m really sorry, I did not wish to give you order. John says you are the one who created drama that day, drink in limits, chill, no more drama today, Naina keep an eye on her.
Dadi and everyone look at Sanjana. Naina says its good this cleared today, Dadi I did not wish to hide or lie, I work as waitress here, sorry. Dadi says why sorry, work is work. Veer, Pam and Sudha get suprised.
Raghav smiles. Dadi says your Dada ji also worked for small jobs before, you are working to support family, not to impress any rich guy, great, I will also drink today. Veer says whats happening, Naina did magic on Dadi, Dadi is impressed for everything, I would have married Sanjana instead.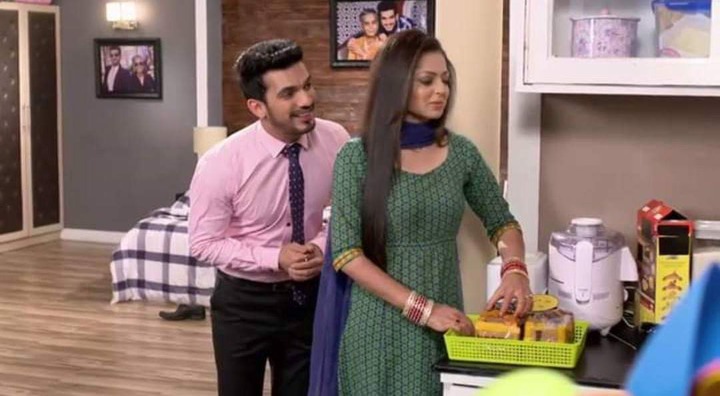 Sudha asks him to relax. Dadi says its surprise seeing Sudha and Pam getting friendly. Pam and Sudha talk of making sure Naina does not become their bahu. Dadi and everyone drink.
Later, Dadi calls Naina and tells her to have the prasad she has sent for her. She blesses Naina. Pam and Sanjana hear her. Sanjana gets angry. Pam takes her to room. Sanjana drinks.
Pam says just one card can change this game, our servant, Raghav, you will do this work, Raghav runs the entire house, he is ready to dance on fingers, you have to use your charm and control him, he has got Naina home and is supporting her.
Sanjana says its impossible, I framed him in my rape blame, I can't get friendly with him, I can't bear him. Pam says fine, then see Veer and Naina's marriage. Sanjana says no. Pam says you can impress Raghav in a minute, just do it. Sanjana goes.
Veer says whats happening, I have to do something. He gets angry and cuts wood. Raghav asks why are you angry, Dadi has sent prasad for you, its special prasad, she has sent to Naina as well, you are very lucky to get a girl like Naina, I knew it she is special.
I told Dadi to leave from club, I asked Naina to leave, but she said she will not lie, she is true and pure, if you want to thank me, you can give me your last year's white shirt. Veer says something is hurting my foot. Raghav says I will see and makes Raghav removes his shoes. Veer drops the prasad. Raghav picks it and gives him. Veer asks are you mad, will I eat fallen thing.
Raghav says its clean, its special prasad. Veer says it fell down, go and throw it. He gets angry. Raghav does not throw it and eats. Veer thinks Raghav has no self respect and is happy, I will break his happiness. He reads some news and tells about the blast, even your sister stays in that area, think of the people who became orphans and homeless. He taunts Raghav.
Raghav cries. He calls someone and could not connect. Naina eats the prasad and calls Raghav. She asks did I disturb you, I got the prasad, thank Dadi, does Dadi have any problem with my waitress job. He says no, she likes you a lot. She asks are you okay.
He cries and says I don't understand, I heard of blast in the area where my sister lives, phone is not connecting, if anything happens to her. She says no, think good, nothing will happen. He says no, I m going India. She says wait, and checks on internet.
She says there is no loss of lives in that accident. He thanks her. She says good happens with good people, I did not like it when you cried. He says I also felt bad when you cried that day, I just cried thrice, today, and when once Dadi stopped talking to me, and when she refused me. She says she will regret to refuse a guy like you. He smiles. Kal ho na ho plays.
Precap:
Naina asks Raghav about Veer's stories. Rajeev shouts seeing Veer with a foreigner and asks who is this girl, whats going on.
Content created and supplied by: akrofitv (via Opera News )
Opera News is a free to use platform and the views and opinions expressed herein are solely those of the author and do not represent, reflect or express the views of Opera News. Any/all written content and images displayed are provided by the blogger/author, appear herein as submitted by the blogger/author and are unedited by Opera News. Opera News does not consent to nor does it condone the posting of any content that violates the rights (including the copyrights) of any third party, nor content that may malign, inter alia, any religion, ethnic group, organization, gender, company, or individual. Opera News furthermore does not condone the use of our platform for the purposes encouraging/endorsing hate speech, violation of human rights and/or utterances of a defamatory nature. If the content contained herein violates any of your rights, including those of copyright, and/or violates any the above mentioned factors, you are requested to immediately notify us using via the following email address operanews-external(at)opera.com and/or report the article using the available reporting functionality built into our Platform See More