Man stops his only daughter from getting married at Aputuogya, Kumasi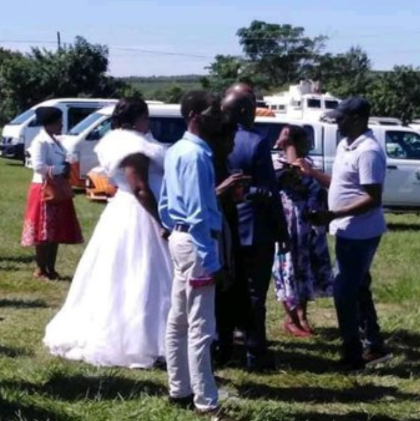 Georgina Marfoaa, the only surviving daughter of Mr. Marfo has been stopped from getting married to her man, over allegations that father failed to prove. Georgina who was to get married to Rockson Akomea could not go ahead with the process, when the father stopped her from getting married yesterday, just few minutes to the exchanging of rings. Mr. Marfo, who was a CID with the Kumasi Regional Police Command before his retirement last year, was one of the men from the Biretuo family, who has endured the most fatalities in his life. Marfo after getting admitted to the police in the sixties, got married to his wife who sponsored him to the police, that gave him a job. 
They had a set of twins within the first year of their marriage, but all the twins died before their one year anniversary, and the couple couldn't control their emotions. They were blessed with another one, two years later and this time, they were all girls. Their first twins which was all boys, died before they attained one year, whiles the second twins, which was all girls, did not touch down to earth before one died during the delivery. The second boy died five days later, after the wife was discharged from the clinic. Their hopes of having children, became a real issue for them, as they could never understood the predicament they were going through. 
They had tried all their sources for answers, but no one was willing to give them some. They relocated from their town when Mr. Marfo worked to get transfer to Kumasi, so they can start all again. They were given another chance to be parents, and this time it was a boy and a girl twin. That was their third time of giving birth to twins, and they were protective of themselves to see their future mature into glory, without any of them dying. Mr. Marfo was at work in 1995, when he got a call that his wife had an accident. The boy, and the wife did not make it, but the twin girl of the boy made it from the accident, and that changed the world for him. 
He cried and cried, but no help came for him. He refused to get married again, so he can work and protect his only girl. He was there in 1997, two years after the death of his wife and twin son, when another woman brought him two children, who were also twins, that they were his. He thanked his stars, and made sure nothing came against them. He married that woman, for his courageous efforts, in bringing him his children before his death. The woman and Mr. Marfo has a past together, so the news wasn't debated and was well received. The children were all boys, and were identical just as his girl. Both the boys and his twin girl from his married wife, were the same, that if someone did not tell you, you will assume they were triplets from the same woman. 
He has since devoted his time and resources, for the children knowing well, that is the only future he has. All three were given the same preferential treatment, and they all attended the same school. They are all Degree and Masters holders, in their respective fields. The only daughter of Mr. Marfo, was renamed after his first wife who died in accident. The child Beatrice, was renamed Georgina Marfoaa, so Mr. Marfo can still have his first wife within them. Whiles the twins boys was named Kent Marfo I Sr. and Kent Marfo II Jr. He just named them after himself, to speak of himself wherever they may end up. 
Georgina has been struggling with marriage, because of her degree in the working class. Many thought it was because of her capacity in a high office, they won't be lucky with her, and has never approached her for talks. Georgina can walk throughout the streets, and all men will be afraid to talk to her. Her father intervened in her single state, and why men were afraid to approach her, and took many things from her. She was forced to rent a chamber and hall and moved out from her own four bedroom house. She abandoned most of her things including a car, so she could gain the attention of a normal man who might be interested in her. 
Georgina took home Rockson Akomea, who introduced himself to the family as a British man. Rockson has been living and working in Southampton for over ten years, and met Georgina when she went for a program at London. The two became familiar and Rockson decided to come and settle in Ghana, so they can get married one day. Rockson from all indications, was having three children already with his wedded wife, but failed to tell Georgina and that was after the father, Mr. Marfo made his investigations about him. Rockson did not also come from Southampton freely, but he was deported to Ghana, and he again failed to tell the truth to them. 
Mr. Marfo has no problem outside that, but his main focus was Rockson been a bad man and a woman beater. Mr. Marfo got to know through his investigations that, Rockson was deported from UK over his countless beatings to his wife who was a white woman, and that forced his deportation. But he never told any of this to Georgina, and neither was he willing to come clean. Few minutes to the exchange of the rings at the Methodist Church, was when Mr. Marfo received a call from his investigators, who told him all the news on the phone, just few minutes before the wedding couples were about to wear their rings. 
Mr. Marfo called his twin men, Kent I and Kent II, and together with them, they stopped the pastors from blessing the wedding. He took the microphone from the pastor, and said he was not in support of the wedding again. They were all surprised, but whether the information which the investigators gave on the phone was true or not, Mr. Marfo stopped the wedding that, his daughter will be happy single alive than been beaten by a liar in a wedding. Georgina was forced out of the wedding by her twin brothers, when she objected to leaving her wedding ceremony. Rockson was not given a room to explain himself of all the allegations against him, and Mr. Marfo happily stopped the wedding that his daughter, was the only thing he had to his sons, and he wont let any man come kill her for him. Georgina who was in shock, did not comment on the issue whiles been forced away by her father and twin brothers.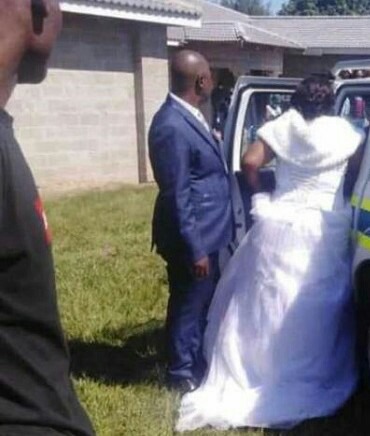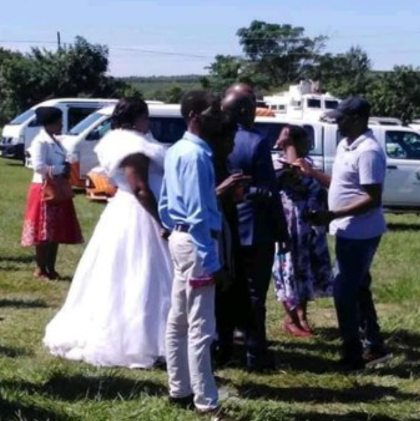 Content created and supplied by: RockyJDJones (via Opera News )