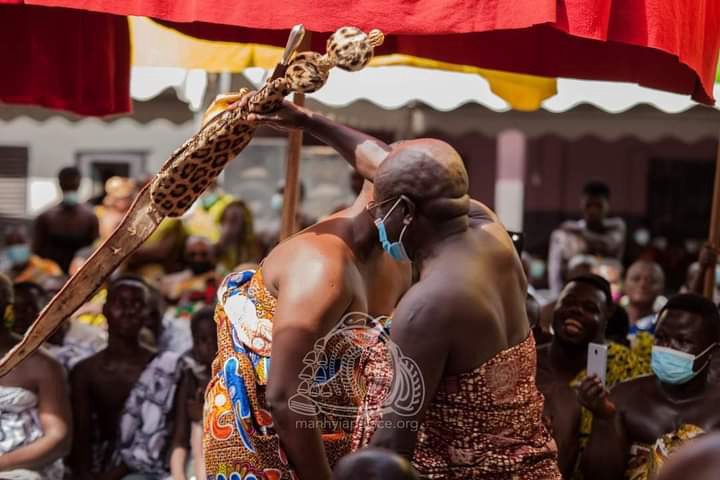 An Ashanti axe, Golden Axe (sika akuma) is a large iron blade attached to a wooden handle with baluster-shaped sections and a pointed end, both covered in leopard skin; the handle with two gold bands with lunette-shaped decoration and one plain band. The axe-head applied with a beaten gold shell-shaped ornament with latticework.
it is one of the most important regalia attached to the Golden Stool (Sika Dwa Kofi). It is used in diplomatic missions by Asantehene's court officials Ɛsɛn and Akyeame) as a symbole of peace.
Though, it is neither a linguist staff nor a sword, yet it is used as a leading Official Linguist Staff or a leading Official Sword of Office at the final stage of the last of a series of negotiations that aims at peace.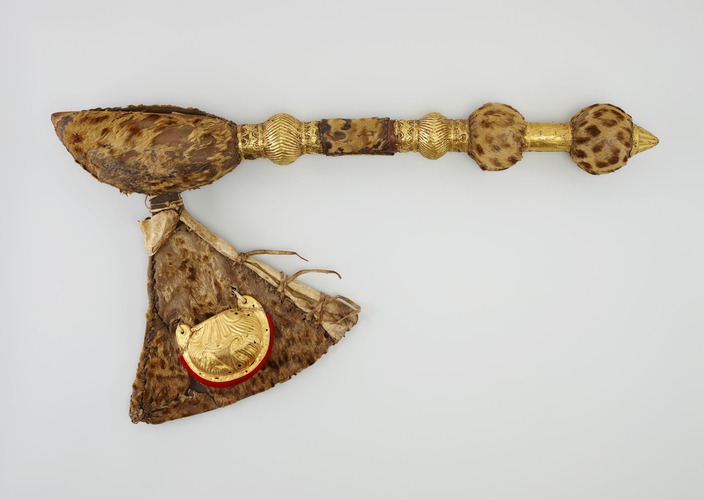 The Golden Axe, which was made in the days of Asantehene Kofi Karikari (Ofibriti Akyɛmpɔ) 1867-1874, is said to possess spiritual power of peace; capable of turning a conflict situation into a peaceful one .
When the Golden Axe leads a negotiation team and the negotiation fails, the Asantes shall have no alternative but return home to be battle ready.
In the late 19th Century, Asantehene Kofi Karikari demonstrated to the British that the Asante nation was and stilli is for peace and NOT war.
On January 1881, this axe was carried by messengers demanding that the Governor of the Gold Coast, William Brandford Griffith, hand over an outlawed chief who had fled to the British for protection.
The axe's arrival caused considerable confusion among British officials, since it was unclear to them whether it signified aggression or simply decisive action.
In fact, the axe had a two-fold meaning, indicating both determination to cut through any obstacle to peace, and the potential destructive force of the Ashanti army should diplomacy fail.
Following a period of uncertainty, in which the British made preparations against a possible attack, Mensa Bonsu insisted his desire was only for peace. To resolve matters he requested the axe be sent to the Queen as everlasting proof of his friendship
Queen Victoria recorded in her Journal, as follows upon receipt. 'Received Capt: Barrow, whom Sir H. Ponsonby presented. He brought me the golden axe of the King of Ashanti, as an everlasting pledge of good will. It is curious & handsome.' Displayed at the South Kensington Museum ('Collection of Gold and Other Objects from Ashanti', 1874) and at the Royal Military Exhibition in Chelsea, London, 1890 (no.1196).
It is said that Asantehene Kofi Karikari, later  replaced the Golden Axe to avoid the vacuum he created among the Ashante regalia.
Below is the replaced version of the Golden axe at Manhyia Palace.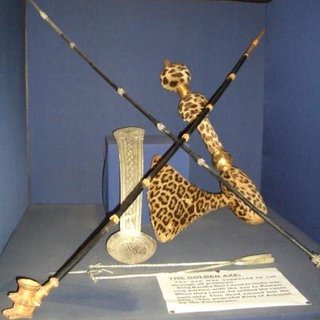 It is for this reason that the Golden Axe in the British Museum of Mankind appear different in size and shape from what is in the Manhyia Palace  Museum.
References: Nana Osei Bonsu Sarfo Kantanka, Manhyia & Royal Collection Trust, UK.
Content created and supplied by: daniel54 (via Opera News )