Top 10 Richest DJs In The World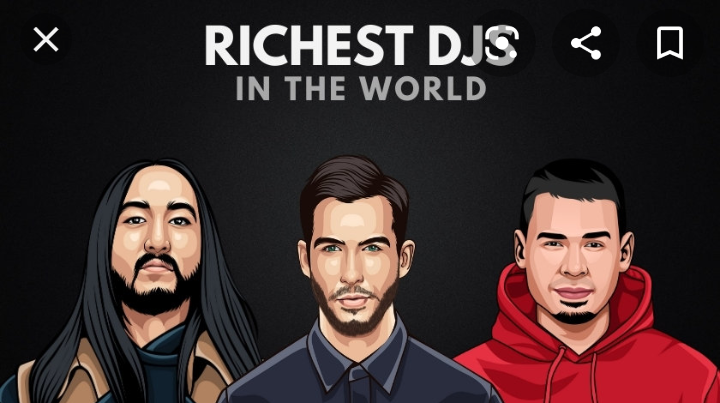 World renown DJs are the celebrities we as fans can get closest to in a club, festival or event. Among clubbers, some of the DJs we have listed below are like friends, having partied with them to their music. These DJs are also some of the world's richest.
Net Worth: $55 million
Armin van Buuren has a weekly radio show since 2001 called A State of Tranche.
This is broadcast to nearly 40 million listeners in 84 countries on over 100 FM radio stations. According to DJs and Festivals, "the radio show propelled him to stardom and helped cultivate an interest in trance music around the world.
Van Buuren has won a number of accolades. He has been ranked the number one DJ by DJ Mag a record of five times, four years in a row. He was ranked fourth on the DJ Mag Top 100 DJs list in 2015, 2016, and 2019, and third in 2017. In 2014, he was nominated for a Grammy Award for Best Dance Recording for his single "This Is What It Feels Like" featuring Trevor Guthrie, which makes him the fourth trance artist ever to receive a Grammy Award nomination. In the United States, he holds the record for most entries, twenty-one, on the BillboardDance/Electronic Albums chart.
He currently occupies the number 2 spot on the 10K top Global DJs as ranked by The Official Global DJ Rankings.
Born 25 December 1976, Armin van Buuren is estimated to have a personal fortune of some $55 million.
9. Paul van Dyk
Net Worth: $60 million
One of the truly world renown DJs, van Dyk has really played all over the world, headlining clubs from Los Angeles to Bangkok.
Born Matthias Paul on 16 December 197, van Dyk is a German DJ, record producer, and musician. Paul van Dyk was the first artist to receive a Grammy Award nomination in the newly added category of Best Dance/Electronic album for his 2003 release Reflections.
He was named the World's number one DJ in both 2005 and 2006, something few DJs have ever achieved. He was the first-ever DJ to be named number one by Mixmag in 2005. By 2008, he had sold over 3 million albums worldwide.
A trance producer starting in the early 1990s, van Dyk quickly achieved popularity with his remix of "Love Stimulation" by Humate on the record label MFS in 1993 and with his hit single "For An Angel" and still an avid trance lover.
Van Dyk is currently the radio host of "Vonyc Sessions with Paul" on Dash Radio. He has published under Vandit, Armada, Armind, A State of Trance, Black Hole Recordings, Mainstage Music, Spinnin', Ultra, Deviant, Magik Muzik, Mute, Perfecto Records, MFS, Who's Afraid of 138?! And Universal Music
This almost legendary DJ is estimated to have a net worth of $60 million.
8. AfroJack
Net Worth: $60 million
Nick van de Wall is Afrojack on the stage. He is a Dutch DJ, record producer, and remixer from Spijkenisse. In 2007, he founded the record label Wall Recordings. Nick released his debut album Forget the World in 2014. Afrojack regularly features as one of the ten best artists in the Top 100 DJs published by DJ Mag. He is also the CEO of LDH Europe.
In March 2020, Afrojack announced that he will perform at the Eurovision Song Contest 2020 in Rotterdam; however, the contest was canceled due to the COVID-19 pandemic.
Van De Wall has won a Grammy for the Best Remixed Recording, Non-Classical in 2011 for his track Revolver, produced with David Guetta. He has also been nominated 10 times for an MTV Europe Music Award and won one in 2012.
His music genres include Dutch House, minimal house, electro house, progressive house, big room house, future house, dance pop, trap, future bass and moombahton. He has published under Wall, Armada, Island, Def Jam, Spinnin, Revealed and LDH.
Born September 9, 1987, he is estimated to be worth $60 million.
7. Paul Oakenfold
Net Worth: $65 million
Paul Oakenfold is an English record producer and trance DJ. He has three Grammy Awards and two World Music Awards to his name. He was voted the No. 1 DJ in the World twice in 1998 and 1999 by DJ Magazine. Oakenfold has provided over 100 remixes for over 100 artists including U2, Moby, Madonna, Britney Spears, Massive Attack, The Cure, New Order, The Rolling Stones, The Stone Roses, and Michael Jackson.
Oakenfold's best-known gig was on Monday nights at Heaven in Charing Cross London where it started in 1987 and played for many years until it was dissolved. Since that early success, he toured the UK and the US and since May 2015, Paul has headed the department of DJs and EDM vocalist at Isina, a worldwide talent search and development mentorship program.
Oakenfold won Best Techno DJ of the DJ Awards for both 1999 and 2000 and was on the number one spot for the World's Top 100 DJs for 1998 and 1999. He has also been nominated for two Grammys in 2007 and 2010 for Best Electronic /Dance Album and the Best Dance Album.
Paul Oakenfold is estimated to have a personal net worth of some $65 million. He was born August 30, 1963.
6. Guy-Manuel de Homem-Christo
Net Worth: $70 million
Guillaume Emmanuel "Guy-Manuel" de Homem-Christo is a French musician, record producer, singer, songwriter, DJ, and film director. He is one half of the French house music duo Daft Punk. His partner is Thomas Bangalter. The Daft Punk Duo apparently made their stunning debut album Homework (1997) from practically nothing. The duo produced the tracks without any plans to release an album. Homework's success brought worldwide success and attention for the French house duo, charting in 14 countries and peaking at the number 3 spot on the French Album Chart, number 150 on the United States Billboard 200 and at number 8 on the UK Album Chart. The album has sold more than 2million copies some two years later. The album has also been certified gold and platinum.
Homem-Christo is also a co-founder of the group Le Knight Club, along with Éric Chedeville from Pumpking Records. They are the founders of the record label Crydamoure,
The Daft Punk duo's music is comprises House, electronic, dance, and disco. Born February 8, 1974, Homem-Christo is thought to be worth together with his partner Thomas Bangalter some $70 million.
4. David Guetta
Net Worth: $70 million
The genre of music DJ Pierre David Guetta is famous for is widely regarded to be electronic dance music (EDM) although he also plays house, progressive house, electro house, and dance-pop. The labels that he's published under are What a Music, Big Beat, Atlantic, EMI, and Capitol.
His biggest and international breakthrough album was One Love, released August 2009, with its first single When Love Takes Overtopping at #1 on the UK Singles Chart and on also many other countries worldwide. The album One Love was also named the Best Electronic/Dance Album at the 52nd Annual Grammy Awards. Revolver (2009) won the Grammy Award for Best Remixed Recording, Non-Classical category at the 53rd Grammy Awards.
Guetta is also a record producer and songwriter, having produced albums for top singers, like Black Eyed Peas, Rihanna, and Lady Gaga.
Born 7 November 1967, Guetta has sold over nine million albums and thirty million singles worldwide. Guetta was voted the number one DJ in the DJ Mag Top 100 DJs poll in 2011 and crowned his album "When Love Takes Over" as the number one dance-pop collaboration of all time.
Although he started at the Broad Club in Paris in 1984, Guetta is still going strong and was recently in 2019 named by DJ Mag Top 100 DJs poll the number 3 DJ in the world.
David Guetta is estimated to have a personal wealth of $70 million.
5. Steve Aoki
Net Worth: $75 million
Aoki has collaborated with artists like with artists such as will.i.am, Afrojack, LMFAO, Linkin Park, Iggy Azalea, Lil Jon, blink-182, Laidback Luke, BTS, Monsta X, Louis Tomlinson, Backstreet Boys, Rise Against, Vini Vici, Lauren Jauregui, and Fall Out Boy.
In 2012, Pollstar designated Aoki as the highest-grossing dance artist in North America from tours. In 2013, his Wonderland was nominated for Grammy Award for Best Dance/Electronica Album.
Steve is still active and has published under labels Dim Mak, Ultra, Spinnin, and Ministry of Sound. Recently on September 9, 2019, Aoki released "Let It Be Me", a collaboration with Backstreet Boys. On May 8, 2020, he performed in the Fortnite Party Royale Premiere with Dillon Francis and Deadmau5. Steve Aoki was born November 30, 1977, is an American entertainer, DJ, record producer, and music executive. He is thought to be also worth $75 million.
3. Avicii
Net Worth: $85 million
Tim Bergling was born in Sweden and was a DJ, remixer, record producer, musician, and songwriter.
He rose to prominence in 2011 with his single "Levels". His debut studio album, True (2013), mixed up electronic music with strains from numerous other genres which received generally positive reviews. It peaked in the top ten in more than fifteen countries and topped international charts; the lead single, "Wake Me Up", topped most music markets in Europe and reached number four in the United States.
Bergling was nominated for a Grammy Award for his work on "Sunshine" with David Guetta in 2012 and "Levels" in 2013. Several music publications credit Bergling as among the DJs who pushed electronic music into the Top 40 radio in the early 2010s.
Bergling retired from touring in 2016, suffering from stress and poor mental health for several years. On 20 April 2018, he committed suicide in Muscat Oman. His posthumous third album, Tim, was released in 2019.
Despite his sad ending, Bergling was worth an estimated $85 million at his death.
2. DJ Tiesto
Net Worth: $150 million
DJ Tiesto has been named the Greatest DJ of All Time by Mix magazine in a poll of fans. In 2013, he was voted by DJ Mag readers as the best DJ of the last 20 years. He is also widely acknowledged as the godfather of EDM.
Tiesto also has the rare distinction of playing live on stage at an Olympics – the 2004 Athens Summer Olympics opening.
In April 2007 Tiësto launched his radio show Tiesto's Club Life in Netherlands' Radio 538 and released his third studio album Elements of Life. The album reached number one on the Belgian album chart as well on Billboard Top Electronic Albums in the U.S. receiving a nomination for a Grammy Award in 2008. His fourth studio album Kaleidoscope was released in October 2009, followed by A Town Called Paradise in June 2014. He won the Grammy Award for Best Remixed Recording, Non-Classical for his remixed version of John Legend's hit "All of Me" at the 57th Annual Grammy Awards.
DJ Tiesto's genre of music ranges from Dance-pop and Bass house, electro house and deep house and progressive trance to trance. He has published under Musical Freedom, AFTR-HRS, Spinnin, PM:AM, Universal, PIAS, Ultra, Black Hole, and Nettwek.
He is estimated to have built a personal wealth of $150 million.
1. Calvin Harris
Net Worth: $190 million
Born as Adam Richard Wiles in Scotland on January 17, 1984, this Scottish DJ, known professionally as Calvin Harris became an international success after he collaborated with Rihanna on We Found Love (2011) which topped the US Billboard Hot 100. He also produced Where Have You Been for Rihanna.
In October 2014, he became the first artist to have three songs simultaneously on the top 10 of Billboard's Dance/Electronic Songs chart. He was also the first British solo artist to reach more than one billion streams on Spotify. Harris has received twelve Brit Award nominations–winning British Producer of the Year in 2019, and four Grammy nominations–winning Best Music Video in 2013. In 2013 he also received the Ivor Novello Award for Songwriter of the Year from the British Academy of Songwriters, Composers, and Authors, and was named the Top Dance/Electronic Artist at the 2015 Billboard Music Awards. He has also topped Forbes' list of the world's highest-paid DJs for six consecutive years from 2013 to 2018.
Harris's genres include EDM, electro-house, electro-pop, dance-pop, and nu-disco. He has published under Fly Eye, Columbia, Ministry of Sound, Ultra, Roc Nation, and Deconstruction labels.
Harris is at the top of our list with his $190 million fortune.
Content created and supplied by: KkCabobo (via Opera News )