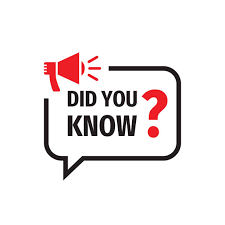 1. The most searched for tutorial video on YouTube is 'how to kiss'.
2. In 2019, Jennifer Aniston became the fastest person to reach 1 million followers on Instagram, in just 5 hours and 16 minutes
3. "London Bridge is DOWN" is the broadcasting code for when the Queen passes away.
4. A study has found that Snapchat provokes more jealousy in relationships than Facebook
5. Mortimer Mouse was the original name for Mickey Mouse. Walt Disney's wife was the who convinced him to change it
6. In the first Dumb & Dumber movie, Jeff Daniels made just $50,000, while Jim Carrey was paid $7 million.
7. Olympic gold medallist, George Foreman, has five sons who are all called George.
8. Brad Pitt tore his Achilles tendon while playing the role of Achilles in the movie Troy
9. In 2013, Mark Zuckerberg spend 30 million dollars buying four houses that surround his own home to ensure he had privacy.
10. At the 2020 Grammy Awards Billie Eilish became the youngest person ever to win the main four awards. Previously, Taylor Swift held the record.
Content created and supplied by: Amazing_facts (via Opera News )