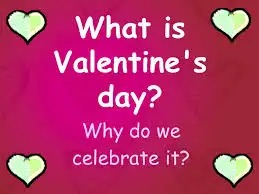 Saint Valentine known as Saint Valentine of Rome was a widely recognized 3rd-century Roman saint commemorated in Christianity on February 14. From the High Middle Ages, his Saints' Day has been associated with a tradition of courtly love. He is also a patron saint of epilepsy.
Saint Valentine was a clergyman – either a priest or a bishop – in the Roman Empire who ministered to persecuted Christians. He was martyred and his body buried at a Christian cemetery on the Via Flaminia close to the Ponte Milvio to the north of Rome, on February 14, which has been observed as the Feast of Saint Valentine (Saint Valentine's Day) since 496 AD.
It wasn't until more than 200 years later that 14 February was proclaimed St Valentine's Day. By this time Rome had become Christian and the Catholic Church was determined to stamp out any remaining paganism. A pagan fertility ritual was held in February each year and the Pope abolished this festival and proclaimed 14 February Saint Valentine's Day, thus establishing this feast day on the Catholic Calendar of Saints.
The poet Chaucer in the Middle Ages was the first to link St Valentine with romantic love. This was the beginning of the tradition of courtly love, a ritual of expressing love and admiration, usually in secret. This custom spread throughout Europe and stories grew about a High Court of Love where female judges would rule on issues related to love on 14 February each year. Historians believe that these meetings were in fact gatherings where people read love poetry and played games of flirtation.
The practice of sending love messages developed into people sending special cards expressing their affection. These cards were beautiful creations handmade by the sender and individually designed to show how much they loved the recipient. Cards would usually contain sentimental verse, proclaiming the beauty of the receiver and how much they were loved. Valentine's day is about spreading love but not having sex as many has been misinterpreted.
Please follow, like, comment and share.
Content created and supplied by: Pascal90 (via Opera News )