Mr James Amoah Kokobeng, popularly known as Opanyin Amoah, is a 96year old man who lives in the vicinity of Obuasi in the Ashanti region of Ghana. One several occasions, he gathers the youths and advice them on how good and bad life can sometimes be and the need for preparation. 
One Saturday night, he called his children and children's children together to give them a word of advice. He said it has been on his heart for quite a long time to share it.
" Many young people have been coming to me ever since it was announced that I am the oldest man in Obuasi. Some come with their problems, seeking for solution, some come with their plans seeking for approvals or a go ahead, and some also come, especially those I'm their mid 30s asking for the secret to long life. The last category of people believe in the notion that life begins at 40 and so, since they are about starting, they deem it necessary to be prepared for life before they reach that phase. 
I thought about this for sometime and came to a conclusion that, knowing this truth is not age dependent. Its about how matured you are and how far you want to go in life. Now let's go back to the question, what is the secret to long life?"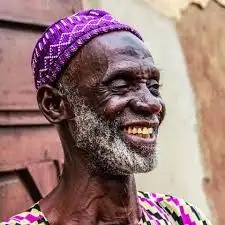 The place was silent as the question was posed. The people were amazed by the words that preceded from him. They weren't expecting anything other than a complex dos and don'ts set of rules. The old man just said these two words, "Fear God"
" I say this because, when you fear God and fear him well, all other good things will emanate from it. You get wisdom, for the fear of the Lord is the beginning of wisdom. When you fear God, you will have the heart of love, a heart not to hurt your fellow man and when you fear God, you will make sure you maximize your potential and become all that you were meant to be."
"To have long life is a gift and it is in the hands of the life giver to give it out. It comes with a simple instruction, which is obedience. But what is long life without happiness? My sons and daughters gathered here, take my words and hide them in your hearts. Not only will you have long life, you will also live a fulfilled life."
Content created and supplied by: @NanaKwame (via Opera News )