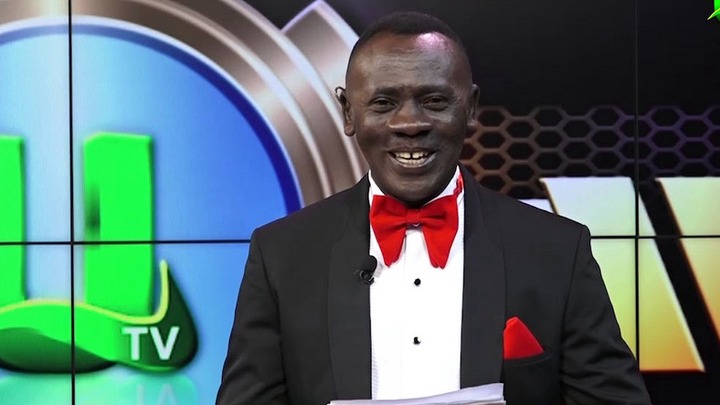 Akwasi Boadi, best known as Akrobeto has expressed his intention to do acting till he meets his eventual death. Akrobeto, a household name in the movie industry is known for his best acts and serious comic stunts. In an interview with Abeiku Santana on ''Atuu'', Akrobeto was asked if he would do any other job apart from the movie.
He replied by saying he doesn't intend to switch career or jobs. He will act till he dies.  
He has very light command over the Queen's language -English. Currently, he holds a programme on UTV called ''Real News''. On the show, he reads the news in English and you can only imagine the kind of words that come out of his mouth. The show is filled with loads of laughter when one sits behind the TV set to watch Akrobeto.
He was recently interviewed by a Spanish TV station to mention names of their players. The mission was clearly to laugh how he mentions the names of their players for them to have a good laugh.
Akrobeto was born on 18 November 1962 at Ayirebi in the Ofoase Ayirebi constituency in the Eastern region of Ghana.
He is the tenth son among 11 children born by his parent of whom 10 are deceased. He did not have any formal education just like the rest of his siblings. But that didn't deter him from making it in life.
He joined the Kristo Asafo Concert party and transitioned from there to main TV acting. He is among the group of actors that promoted the Kumahood industry.
He is loved by all and very humble. His acting is purely natural and genuinely attractive. Loved by all, he makes his presence everywhere a memorable one.
He became internationally popular thanks to YouTube in November 2020. Clips of him reading sports results from European football exaggeratedly and enthusiastically became viral.
Content created and supplied by: Folkxhub (via Opera News )