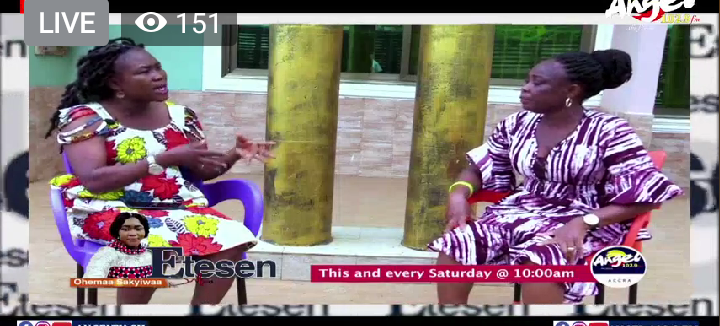 Etesen is one of the popular television radio programs which is shown on Angel TV every Saturday between the hours of 10 am to 11 am.
This morning on the show, a woman was hosted by one of the female news broadcasters on Angel TV.
The woman goes by the name Pat, which could be called Patricia.
According to the woman, they live in Accra Kasoa and she has been through a lot of challenges which made her nearly take away her life on several occasions.
"I was childless and the husband was a Soldier by profession and I went through a lot of trauma and difficulties. I said to my self I am without use since I can not produce so I wanted to kill myself. It all failed on several occasions and I decided to know the true nature of my husband. I made poison and I pretended I took it and laid on the bed. At the glance of my husband he said " Stupid, you should have drunk all and I will call your family members to come and pick up your corpse from my house" - Madam Pat started live on Angel TV this morning.
"As a result of this trauma and how my husband does not like me, I got a mental problem and my family members reported to the Doctor that, I was mad. However, the Doctor said it was over thinking and not madness" - Madam Pat Stated again.
Madam Pat shared sad 😭 moment on Angel TV and this saddens the heart of Ghanaians as they share the pains she went through in live.
https://www.facebook.com/AngelFM102.9/videos/501124671260301/
Content created and supplied by: All_Is_For_God (via Opera News )