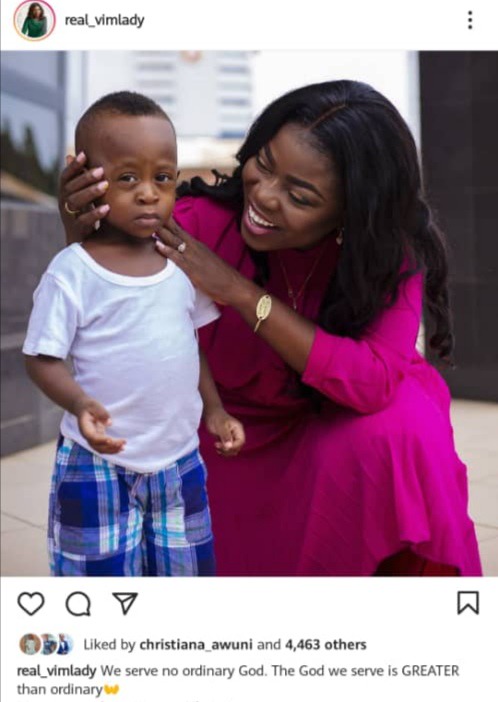 Most female celebrities in Ghana are single. Some are happily married with kids. 
There are several of them who are also single mothers. Probably they got married and divorced, or gave birth with thier partners refusing to marry them afterwards.
The usual myth has been that, men are scared to approach these female celebrities and even gather the caurage to ask their hands in marriage. 
One female celebrity in Ghana whose marital status is unkwown publicly is United Television (UTV) star, Afia Pokua who is popularly known as Vm Lady.
She is mostly on television with no physical trace of pregnancy.
However, Afia Pokua Vim Lady has been spotted in an image with a young boy whose complexion and looks are similar to her's.
In the picture which has since gone viral, Vim Lady is seen holding the young boy with passion and smile.
Donned in white top with a blue checked short, the young boy whose name has been given as Kwame Nyira is seen eyeing the lens of the camera as if it was his first time seeing one.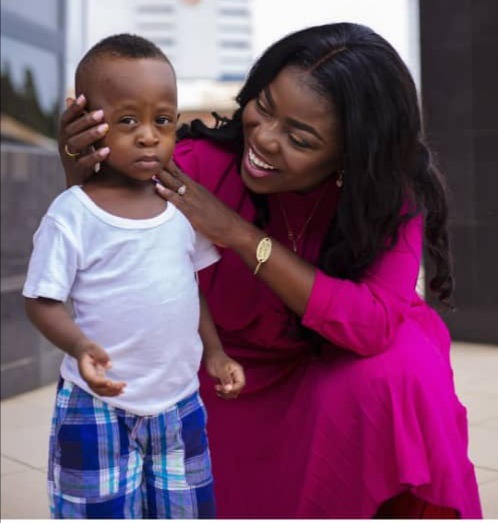 Afia Pokua Vim Lady on the other hand has a long hair on a pink straight dress with a cheerful smile looking in the eyes of little Kwame Nyira.
It is unkwown if Afia Pokua Vim Lady is the biological mother of the young boy but the two look alike. 
Most Ghanaians are asking questions on when Vim Lady got pregnant to have such a handsome son.
There are several others who are of the opinion that it could be her biological son but was being hidden. 
However, it is turning out that the young boy is indeed a nephew of Afia Pokua Vim Lady.
Content created and supplied by: BeaNana (via Opera News )