Reading from the letter  of the press release.
 On Wednesday day 10th February 2021 I was invited on the HITZ FM morning show which was hosted by celebrated Ghanaian media personality ANDY DOSTY
The program details communicated that I had to be at the studios of hitz fm at 7:30 am on Wednesday 10th February 2021.
I had challenges navigating to the radio station due to the heavy traffic in Accra and I had to notify the producers of the show about the challenges through a phone call.
The producers of the show extended the time to 8:15 am which was very considerate.
After going through the mandatory COVID-19 protocols, I then headed to the studio where I met three other people together with ANDY DOSTY and used hand gestures to greet them. 
The happenings which led to me been asked to leave the studio was as a result of miscommunication and wrongful interpretation on my side and my big brother ANDY DOSTY.
I bear no grudges and I have spoken with ANDY DOSTY in the aftermath of this and we have both apologized to each other.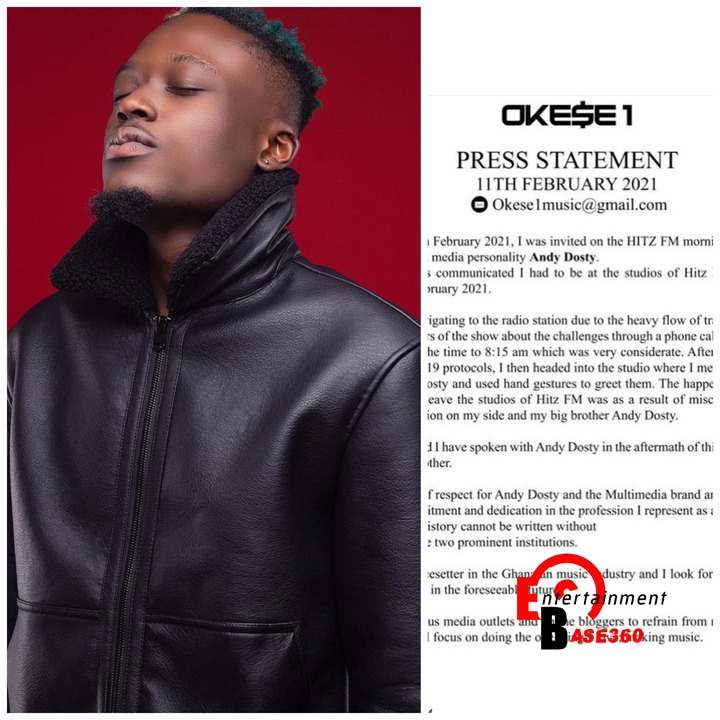 Content created and supplied by: Entertainmentbase360 (via Opera News )