Natasha Soultanova-Corwin is the wife of American Conservationist, biologist, and executive producer, Jeffrey Corwin. He was born in Norwell, Massachusetts, the United States of America on July 11, 1967. His real name is Jeffrey Samuel Corwin.
In 1996, Natasha Soultanova and Jeffrey Corwin came across each other at a shopping Mall in Havard Square in Cambridge, United Kingdom. Natasha Soultanova is a Russian but she was raised in Germany by her parents. She moved to Massachusetts, United States of America to further her tertiary education. 
Natasha Soultanova holds a Bachelor's degree from Brandeis University in Waltham, USA. She also enrolled in a graduate program after her first degree.
Following the fact that she met her future husband, Jeffrey Corwin, Natasha Soultanova moved to Deerfield, Massachusetts with the perspective to be closer to him.
The two individuals ended up tieing the knot after some period of dating each other. Jeffrey wrote in one of his books that, Natasha Soultanova is a very special woman.
The couple has two daughters. Natasha and Jeffrey welcomed their first daughter, Maya Rose Corwin on July 6, 2003. Marina Corwin is the name of their second daughter. She was born on September 11, 2008.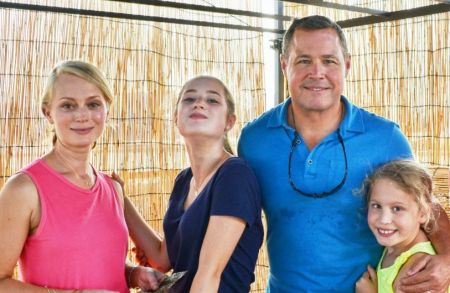 -
Content created and supplied by: Ayertey (via Opera News )