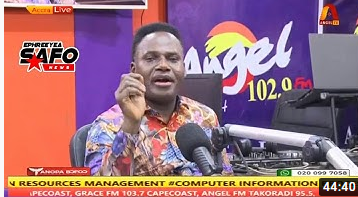 Popular Ghanaian prophet who is widely known as Prophet Francis Amoako Atta has finally opened up on the truth that has been hiding in the Bible for long. In a live radio program on Angel FM's popular program which is called Angel Anopa Bofo, the popular man of God disclosed that the story of Lazarus in the book of Luke Chapter 16 downwards was a story which was add up to the Bible by Luke since he wasn't deep into the things of God but rather a physician. He added that the story of Lazarus in the Bible is a complete picture of slavery that existed in the days of the Brazil Lazarus.
The man of God continued by saying that the Lazarus of the Bible was an African that lived in Benin which had a lot of great possession. At the time that he was in Benin, the Europeans invaded Benin and stripped him of all his great possession and as a result of that he became poor. Since he lived in the days of slavery, the Europeans held him together with the residents of Dahomey-Togo and took them to Brazil as slaves. He became a poor man and sores were all over his body and for that matter he died in it.
When his fellow countrymen realized that he was dead, they prayed through him and asked his spirit to avenge the Europeans who had made their lives miserable. They prayed to the spirit of Lazarus to strike the Europeans with sores and it happened as they prayed. This made the Europeans left the slaves since it was only then that was being infected with sores. When the people realized that the spirit of Lazarus had answered their prayers, they worshiped and named him as a saint.
He is worshiped as a saint in Brazil and other countries and for that matter the story in the book of Luke is a scam. As am speaking to you now, Lazarus is an Idol in Brazil that is being worshiped. What do you think about what Apostle Amoako Atta Said? Kindly leave your comments, share and follow us for more updates. Thank you.
Content created and supplied by: goodnews_writer (via Opera News )