Date Rush is gaining notoriety as the place to go to find love. Largely many have been very successful, even though we are yet to be told if any of those who found love are heading the real way to tie the knot.
Trust me, that will be the icing on this cake, else if its all about the fun of going out and chatting over a cool RUSH drink, then it wont have a future soon.
Many believers are glued to it. and it is understandable, as many of these Christian brothers and sisters are single, as they barely mingle and most churches doesn't promote marriages internally.
For instance, Bishop Dag has a policy in the church, not some laid down one, but principally encourages each other members to know each other and if it results in marriages, viola, that's good news.
without such practical interventions, marriages and relationships are largely left to those who are outside the church.
Sadly, i hope DATE RUSH doesn't sack its many christian following. Today, a decent young man came on the show. He is an entrepreneur and business manager and one would have thought that, his compliments of been supportive financially would have done the trick for him, as its not common.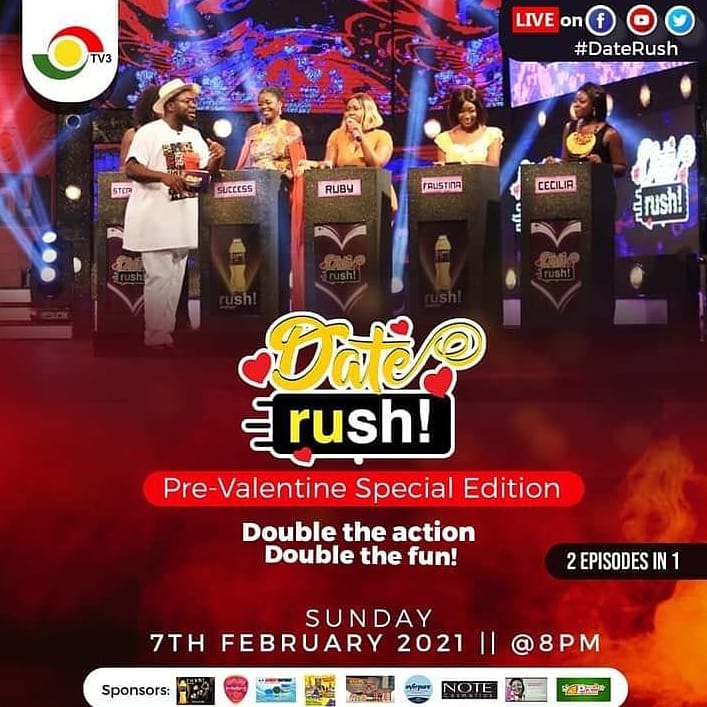 But i wasn't surprised he ended up without a RUSH. Whether the show is produced (as it, its a planned out show and its only the viewers who are in suspense) or its a show allowed to go as it may go, all i can say is that, tonight's show exposed a real negative perspective that is associated with dating believers.
One lady made the point that, she is fashionable and this young guy who loves to be a pastor maybe, cannot accommodate her? Really? Is Christianity that much of an old school stuff to such contestants or the producers?
Go to our churches, go to some of the new generation of churches popping up and see fashion, all be it decent. At least we all know by now that, fashion is not nudity or unnecessary exposure of self, but the representation of beauty in a special way to get the much needed exact view of its relevance and uniqueness.
No need to bore you with a long read, but can the producers do the needful? Get another believer on the show and get him some love!
Besides, its the believers who can get the show its first white wedding. At least we can bet on such loyalty and future purposed ending to a relationship, f they are believers.
and lastly, if all the ladies doesn't include any church typed lady, is DATE RUSH really been intentionally representative of the very society they are trying to represent?
Tweaa, Giovani and TV3, get that pastor some love! Unless you want to tell me that, the coming VALENTINE day is not for believers too! Then i will show you a long write up of mine, about the a PRIEST of love, called Pastor Valentine, who made this coming 14th, a day worth celebrating! Else, a boycout by all believer campaign, will start soon on the soft side.. lol
Good night! Da yie! lol
Content created and supplied by: MrsCelestial (via Opera News )