Adom Tv's Sapne Suhane: Tuesday updates (Lalit tries to shoot Lucky's father)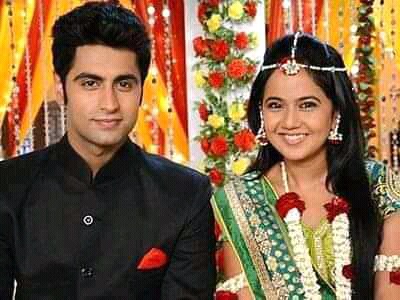 Tuesday 4th - 08
Om brings Lalit's wife with him, and the gun as well. He asks Lalit painfully, that he killed his wife. He must now end the game, as he now know what has happened. Gopal came to forbid him to take milk, Lalit's wife had brought. Om was awake and snatched the gun from his wife's hand. He points the gun at Lalit and calls that his game is finished now.
Gunjan takes Lucky, he asks where is maa. Mayank comes there, and says he couldn't find the secret door. Gopal is also speechless about it.
Lalit points at his wife to hold a nearby lying vase. She hits Om's head, the gun drops. Lalit holds the gun on Rachna's forehead. Lalit says he will be ended now, and his wife's alike will also be.
Lucky recognizes Lalit's voice, they look for the passage there. Lalit and his wife laugh. Gunjan watches the tilted painting.
Lalit says to Om, that he will engrave him near his dead wife. She is also engraved here, at this very place. Om watches Lalit painfully.
Gunjan removes the painting, they enter opening the door. Lalit points the gun at Rachna, Om calls No. The police siren rings, his wife was afraid and snatches his arm. The gun fells down, Om says he won't leave him alive. Rachna asks him to stop, but he isn't ready to hear this. The wife takes a knife to Lucky's neck, and asks him to drop the gun. Rachna and Lucky call him for help. Om throws the gun on the floor, Lucky claps and appreciates his wife, then Rachna for having a mother's heart. He laughs, and bends to pick up the gun when Om hits him. Gunjan attacks on Lalit's wife, Rachna takes Lucky. Gunjan snatches the knife off her hand and holds her. Om watches his wife's dupatta, and the bangle. He sits and crys with it, recalling the times with her. The police get there, and arrest Lalit and his wife. Rachna comes to Om, and consoles him as he cries.
Update rest para hereOm says he doesn't know how to thank them, still he says thankyou to him. Gunjan says he saved Rachna, had anything happened to Rachna she couldn't have forgive herself. Om says she was in problem because of him, he couldn't do this to Divia. Lucky asks will maa go away now. He tells him that maa has gone, a long time ago. Lucky says she is here. Om tells him that she resembles his maa, but isn't his maa. Rachna cries watching him. Gunjan brings Lucky to herself, and tells him that his maa has gone to God. Those who are really good are called by God and are turned into stars. Lucky says how she knows. Gunjan says her maa has also gone there, and smiles at her and her papa. Rachna promises that she will come to meet him daily. She hugs him.
They come out, Mayank and Gunjan quiet. Rachna tells them to solve their past problems, and leaves.
Gunjan recalls their fight and cries. Mayank takes her hand and says sorry. She must forgive him for what happened. It was his mistake, he allowed her to go away from his life. He got selfish, and did a lot of mistakes. He says life has given him a new chance, he promises her to make it all well. Will she give him another chance. Gunjan hugs him. He tells her that he has missed her in these six months. Gunjan says that the memory of these past days is blurred and tells her the stories.
She says that the relationship, will now bring them closer. She laughs. He puts his arms around her neck and says she will have to give a big fine of this all. She asks what she will have to do. He says it is road here. She laughs that he hasn't changed a bit and is a coward.....
Gunjan comes back home, everyone welcomes her and they head to temple for prayer. Shayl asks Bindia to give aarti to everyone. Seema says Gunjan is back home, she will give aarti to everyone. Seema asks Bindia to bring some water in a pot, Bindia thinks will she be left a servant.
Shayl says that Gunjan and Mayank should be married once again. Seema says she has thought, till they get married the boy's family get separated. Shayl asks Gunjan to join her, Rachna is sandwiched between the two. Rachna says she is her sister's party. Dayal sides Gunjan while Prabhu says he hasn't any choice but to stay with his wife. Golu says he is both's party. Rachna asks Binida where she will stay, Seema says she is their party. Seema tells Gunjan that Bindia helped them, making them one. Shayl also says that Bindia is a part of their family. Rachna asks for a family photo. Gunjan asks her to take a family photo. Bindia says she wanted to be a part of it, but never mind. As she takes the photo, she thinks she must do something really soon, or she will have to go.
Gunjan stands on the terrace, smiling. Bindia comes and asks the reason. Gunjan says she doesn't know when was the last time, that she was so happy. Gunjan thanks her for doing all that she did, and asks where does she live, her family must be missing her. Bindia asks she means feed, drape, and then leave. Gunjan says she didn't mean it, it is just that Bindia must have her life and she has caught here. She asks she is an actress, right. She will asks Mayank to extra pay her, at pack up. She tells Gunjan Rachna is calling her, when Gunjan leaves. Bindia says she isn't going anywhere.
Rachna and Gunjan enjoy the bed time, Mayank calls Gunjan. Rachna snatches the phone and they must not talk to each other right now. Mayank thinks he is a hero, and will becomes so if Rachna wants to be a villain. He switches the bulb on and off. Gunjan watches this and smiles recalling the past times.
Bindia asks Aadi to think about something, not to let Gunjan be their daughter in law no.
Gunjan heads to leave, Rachna asks where she is going. Gunjan smiles that she will be back in a while and is going to washroom. Rachna wonders she had just gone there. Mayank waits for her in the terrace, Gunjan comes there and asks he wanted to see she remembers this or not. He say he wants to tell her she is even more beautiful. He watches her, and before they could get cozy with each other, Seema and Shayl come there taunting each other and ultimately Gunjan and Mayank have to go.
Bindia says to Aadi that will he get another girl, he must get Gunjan caught. Aadi asks Bindia for an idea. Bindia discusses one.
Gunjan was going to take water, when Bindia enters the house with cat's feet. She goes upstairs, and enters Gunjan's room. Confirming, that Rachna is asleep she heads forward and hits the bed. Rachna turns, but Bindia is careful and opens the wardrobe. SHe takes some clothes from the cupboard. Gunjan turns to come back, and as she enters the room she is shocked to see the cupboard open. Bindia hid behind the sofa, Gunjan closes the door of wardrobe, and locks the door. Bindia leaves the room carefully.
The next day, Shayl shows Gunjan the wedding dress Rachna has designed for her. Gunjan labels her the best designer in Banaras, and says KT's shop will be closed. She apologizes Rachna for saying so. Rachna says she has moved on. Gunjan asks they must be in much pain, due to her memory loss. Seema comes and says they have done a lot for her, and wants her to lock her both hands. She hands her two bangles, which she gifted her when she first came here as a bride. Gunjan assures she will always stay here. Bindia peeks through the door, and says this won't end much. Bindia gets a call, Aadi tells her to wait for the door bell. She says Seema should only get the parcel.
PRECAP: Aadi had sent Gunjan's night wears in the parcel, saying she had left them to his home as it was hers as well, then. Bindia gives the parcel to Seema....
Like ▪ Share ▪ Follow ▪ Comment
Content created and supplied by: Oalenews (via Opera News )
Opera News is a free to use platform and the views and opinions expressed herein are solely those of the author and do not represent, reflect or express the views of Opera News. Any/all written content and images displayed are provided by the blogger/author, appear herein as submitted by the blogger/author and are unedited by Opera News. Opera News does not consent to nor does it condone the posting of any content that violates the rights (including the copyrights) of any third party, nor content that may malign, inter alia, any religion, ethnic group, organization, gender, company, or individual. Opera News furthermore does not condone the use of our platform for the purposes encouraging/endorsing hate speech, violation of human rights and/or utterances of a defamatory nature. If the content contained herein violates any of your rights, including those of copyright, and/or violates any the above mentioned factors, you are requested to immediately notify us using via the following email address operanews-external(at)opera.com and/or report the article using the available reporting functionality built into our Platform See More