Hello everyone! We are glad to announce that Opera News Ghana has introduced a new community feature known as Squad, which is on the 3rd tab on the bottom of Opera News app.
This exciting feature allows you to grow your followers, meet new friends and build a community with people who share similar interests with you across the country. You can also post videos, texts, photos, links (share to Opera News) and start a vote.
To enjoy this feature, you would need an upgrade. You can download the latest version of Opera News from here: https://www.opera.com/OperaNews7.6Version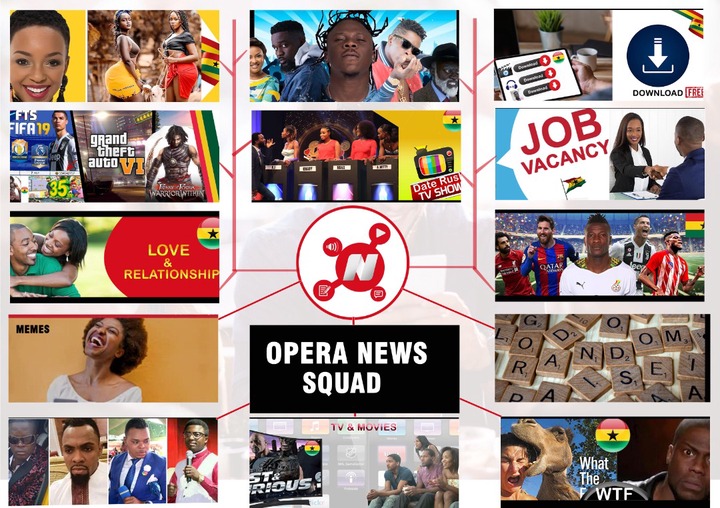 Here are some squads to get you started, and we will follow your ideas to open more squads in the future.
* Love & Relationship 🥰❤️😍 - For those hoping to find true friendship and love
*Memes God😂- For jokes, funny pictures and videos on, we encourage posting jokes of any kind 🤩
*TV and Movies Squad - For Movie and TV Addicts
*⚽Football Is Life - For Die-Hard football fans
*WTF - For shocking moments
If you don't choose any of the squads above, your post will be in "Random" which contains a catalogue of unclassified posts for you to dig through!
How to Join
* To create a post, simply click the "Write" symbol. Doing this will move you into the "Post" step.
Now you choose which kind of post you want.
If its a text post you click on text
The above process can be used if you want to post text or pictures, video and vote.
* Select the video you want to upload from your gallery and add an interesting title to it while also adding the group you want the video to go to.
* Once done, you will have to choose the group you want your post to be. There are about 10 groups you can choose from. If you don't choose a group, it will go to the random group. See photo below for groups
When you are done Click on "Post" and your video, picture, text or vote goes straight to the app after review. 
For now, please join any squad that appeals to you, share your posts and interact with like minds to grow your followers. Also don't forget to like and comment under others' posts you love.
We sincerely hope you guys love this new feature and gain joyful experiences (and fans) here!
Content created and supplied by: OperaNewsGhanaOfficial (via Opera News )