Valentine's Day occurs every February 14. around the world and candy, flowers and gifts are exchanged between loved ones, all in the name of St. Valentine. Unfortunately, sex is also exchanged and in most instances, all in the fading sensation of the moments, only to be regretted just afterwards.
But this can save every singly lady out there from stressing in this season of love, making mistakes. So here is the advice to all single daughters from the legend, Uncle Ebo Whyte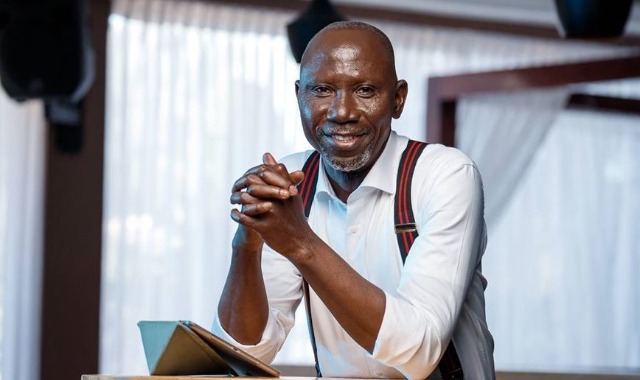 Uncle Ebo Whyte - Pics taken from his Facebook page
1. You must learn to live first before you marry. Love yourself so you can receive love ; and grow to become the better version of you.
Self-love is a state of appreciation for oneself that grows from actions that support our physical, psychological and spiritual growth. Self-love means having a high regard for your own well-being and happiness. Self-love means taking care of your own needs and not sacrificing your well-being to please others. Self-love means not settling for less than you deserve.
Self-love can mean something different for each person because we all have many different ways to take care of ourselves. Figuring out what self-love looks like for you as an individual is an important part of your mental health.
What does self-love mean to you?
For starters, it can mean: Talking to and about yourself with love, Prioritizing yourself, Giving yourself a break from self-judgement, Trusting yourself, Being true to yourself, Being nice to yourself, Setting healthy boundaries, Forgiving yourself when you aren't being true or nice to yourself
2. Remember that you are complete without a man
I don't need a man to carry my things or attempt to help me when I'm lifting something heavy. I have two hands, and I am much stronger than I look. I don't need a man to call me when I want to express my emotions. I've got my sisters and a blank Word document for that.
I don't need a man to put together chairs, hang mirrors or do any of my housework, for that matter. I'm perfectly capable of figuring it out for myself. I don't need a man to pay for my purses, clothes, adventures or fine dinning. I enjoy spoiling myself in this way, but even so, I am content without having such luxuries to begin with.
I don't need a man to serenade me. I already have an iPhone full of Drake for that.Let go of all your reasons for latching on to the next douche bag who places his hand on your back, and buy your own damn drinks. Pay for your own subscription to Netflix. Learn to pick yourself up from lying in bed all day. Take yourself to the movies, to dinner, to a club. You don't need a partner to live life fully. If anything, being without one is what makes the experiences you have more enriching and thrilling.
There is not as much worry. There is no contemplating whether or not you could potentially hurt this person who has become such a huge part in your life. Relationships are beautiful. But if you think you need one to be fulfilled, you will desperately continue seeking out another person, instead of focusing on the most important one in your life: you.
3. Stop looking for the right person and be the right person
4. Take time understand men
5. Learn to cope with loneliness. Marriage doesn't cure loneliness just as it doesn't cure lust.
6. Be realistic in your expectations
7. Be selfish in choosing a life partner so you can be selfless in marriage
8. Understand that people will give you what they know you'll take
9. Learn to communicate better
10. Never stop living, even after you marry. Never stop. Find a hobby, find a passion, don't lose your dreams.
WHERE YOU BLESSED BY THIS?
SHARE TO A FRIEND!
Content created and supplied by: TommyO'Dell (via Opera News )