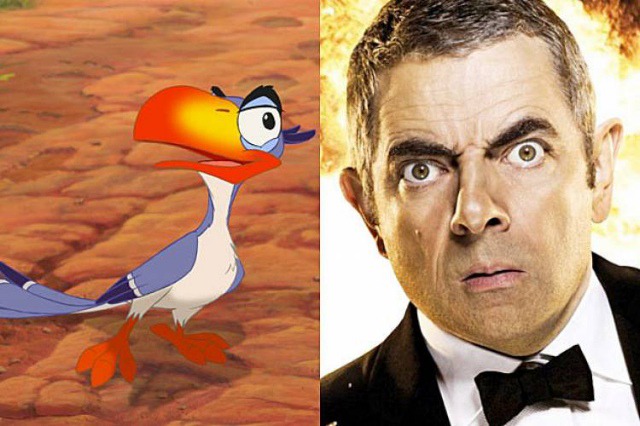 The world of voice acting is pretty diverse and some roles are so unexpected. The great thing about it is that it doesn't matter what the actor behind the screen looks like. You'll be surprised at how many celebrities voice our favorite characters and you'll be stunned when you see them.
We couldn't think of anybody more appropriate to voice Emily The Corpse Bride than Helena Bonham Carter. One of the lead characters in Tim Burton's Corpse Bride, Emily is a young zombie who loves to sing and dance. Given her apparent preference for playing dark, moody, yet often misunderstood women, this one suited Bonham Carter to a tee.
While we know her best as Marla Singer in Fight Club and Bellatrix Lestrange in the Harry Potter film series, others may recognize her from Hamlet, Mighty Aphrodite, Terminator Salvation, Great Expectations, Les Misérables, Cinderella, Planet of the Apes, Charlie and the Chocolate Factory, and Alice Through the Looking Glass. A surprising fact about Bonham Carter is that she had no formal acting training - it's all just pure, raw talent and energy that we see on the screen.
2. Mark Hamill = The Joker
Who could forget the iconic animated 90s Batman series? The legendary Mark Hamill, also known for his role as Luke Skywalker, voiced everyone's favorite villain: The Joker. Here's a fun fact for you: the role of The Joker was initially supposed to go to Tim Curry, but producers thought his performance was a little too unhinged, which is why Mark Hamill was chosen instead.
Though he appeared on screen as an actor and also did a lot of voice work projects, too, he eventually ended up doing more voice work as his career went on. This was mostly due to being involved in a major car accident. Hamill had to undergo dramatic plastic surgery on his face after the accident and got significantly fewer film roles afterwards. His voice talent really saved him in the end.
3.Ellen DeGeneres = Dory
Finding Nemo would never have succeeded if Ellen DeGeneres didn't voice Marlin's forgetful and slightly annoying friend, Dory. Let's be real, she was the star of the whole film and had us in stitches the entire time. Who could for get her classic tune, "just keep swimming, just keep swimming"? It's no wonder they decided to give Dory her very own sequel - Ellen was a major hit.
DeGeneres is another one with seemingly endless talents. She's a comedian, actress, producer, writer, and talk show host. In addition to this, she does very important work as an LGBT activist. Most people know her from her talk show, The Ellen DeGeneres Show, which has been running successfully since 2003. In fact, she's so successful that she has won a whopping thirty Emmy Awards and twenty People's Choice Awards.
4.Tom Hanks = Woody
If there was one film that really captured the imaginations of children all over the world, it had to be Toy Story. Nothing was more exciting than thinking your toys might really be walking and talking while your back is turned. We think every kid probably started trying to spy on their toys after seeing Toy Story for the first time. The film was so successful, it spawned multiple sequels, Toy Story 2, 3, and 4.
Who better to play the leading man than everybody's favorite, Tom Hanks? Best-known for his work onscreen in films such as Turner & Hooch, Saving Private Ryan, Apollo 13, You've Got Mail, The Green Mile, Castaway, and so many more, Hanks is one of those actors that everybody just loves. He has won two Oscars, four Golden Globes, seven Emmys, and two SAG Awards.
5.Jaleel White = Sonic The Hedgehog
Famous for his iconic role as Steve Urkel on hit '90s sitcom, Family Matters, most people don't know that Jaleel White also voiced Sonic the Hedgehog in the original animated series, as well as the Sonic Underground animated series. Though White is not exactly a household name anymore, he continued his acting career and has enjoyed steady success.
He starred in the 2006 film, Dreamgirls, and he has appeared on television shows including Boston Legal, House, and Psych. He was even a contestant on the 2012 series of Dancing with The Stars, but was unfortunately voted off earlier on in the show, leaving him finishing in seventh place. White began his career at the age of three and almost scored a role on The Cosby Show, before the character he auditioned for was removed from the series.
6.James Avery = The Shredder
Who doesn't remember James Avery as the strict yet loveable Uncle Phil on The Fresh Prince of Bel-Air? It feels like so many afternoons went by watching Avery and Will Smith clash on screen in the most hilarious ways. Though you might be familiar with Avery as Uncle Phil, not many people know him as The Shredder from the animated series of Teenage Mutant Ninja Turtles. From the late '80s through to early '90s, Avery voiced the famous villain we all came to fear.
Avery began his career as a poet and script writer, and worked for PBS, where he won an Emmy for production. His other voice acting work includes James Rhodes in Iron Man, Junkyard Dog in Hulk Hogan's Rock 'n' Wrestling, Turbo in Rambo and The Forces of Freedom, and Haroud Hazi Bin in Aladdin.
7.Vin Diesel = The Iron Giant
Who knew that Vin Diesel was an accomplished voice actor? Okay, maybe we're going a bit too far there, but hey, he successfully starred in The Iron Giant as the iron giant, which is pretty cool. Though he only says a few words throughout the whole film, it's still a nice little piece of work for Diesel's portfolio. Most people know Vin Diesel from his high-profile appearances on screen, rather than his voice work.
Probably his best-known work is as Dominic Toretto in the Fast and the Furious film series. We're sure they're up to about number seventeen by now? Just kidding, there have actually only been eight Fast and the Furious films released, which is still quite a lot! Diesel is also known for his leading roles in The Pacifier and Find Me Guilty.
8.LeVar Burton = Kwame
Here we have yet another star from Captain Planet and the Planeteers. You've got to remember Kwame, the Planeteer from Ghana with the power of Earth. All you have to do is think of the theme song: "Earth, fire, wind, water, heart...go planet!" and the memories will all start flooding back. Like much of the Captain Planet cast, LeVar Burton went on to become much more famous for other things, particularly his onscreen work.
He used to host the PBS series, Reading Rainbow and he also starred in ABC's miniseries, Roots. His most well-known work was portraying Lt. Commander Geordi La Forge in Star Trek: The Next Generation. Most people don't know that LeVar Burton is also an author and director - he even directed multiple television episodes for the Star Trek franchise. What a man.
9.Robin Williams = Genie
Please name a Disney character more funny or full of life than Aladdin's Genie. Played by the late Robin Williams, this role will go down in history as one of the best Disney has ever seen. Here's a little something you might not know about the film. Williams only made the deal to play the Genie if Disney promised to not use his Genie voice in advertising or merchandise. He was taking a significant pay cut for the film, about a tenth of his going rate at the time.
Williams is also famous for his work in films such as Mrs. Doubtfire, Good Will Hunting, Good Morning Vietnam, One Hour Photo, Dead Poet's Society, and Jumanji. Throughout his career he won an Oscar, seven Golden Globes, two Emmys, two Screen Actors Guild Awards, and four Grammy Awards.
10. Rowan Atkinson = Zazu
Another star from The Lion King that truly made the film great is Rowan Atkinson. Known for his more comedic roles, it was unusual to see him play Zazu the red-billed hornbill, Simba's uptight babysitter and Mufasa's most trusted assistant and confidante. He does certainly remain the butt of many jokes in the film, which we suppose is very much the way things go in some other Atkinson classics.
Atkinson is best-known for British television classics, Blackadder and Mr. Bean. He was also a scene stealer in one of the best films of the '90s, Four Weddings and a Funeral, where he plays a clumsy vicar. Johnny English and Love Actually are two of his other blockbuster roles. Constantly listed as one of the funniest British actors of all time, Atkinson genuinely deserves the praise.
Content created and supplied by: Benjamin19 (via Opera News )
Opera News is a free to use platform and the views and opinions expressed herein are solely those of the author and do not represent, reflect or express the views of Opera News. Any/all written content and images displayed are provided by the blogger/author, appear herein as submitted by the blogger/author and are unedited by Opera News. Opera News does not consent to nor does it condone the posting of any content that violates the rights (including the copyrights) of any third party, nor content that may malign, inter alia, any religion, ethnic group, organization, gender, company, or individual. Opera News furthermore does not condone the use of our platform for the purposes encouraging/endorsing hate speech, violation of human rights and/or utterances of a defamatory nature. If the content contained herein violates any of your rights, including those of copyright, and/or violates any the above mentioned factors, you are requested to immediately notify us using via the following email address operanews-external(at)opera.com and/or report the article using the available reporting functionality built into our Platform See More