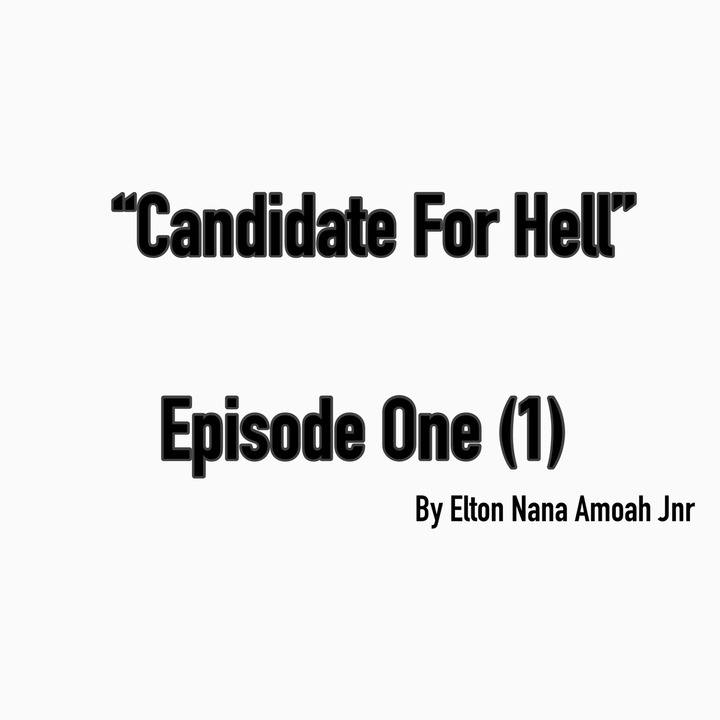 By Elton Nana Amoah Jnr 
Episode One (1) - "The Night before Ding Dong"
The Devtraco neighborhood in Accra was usually serene and calm at night, with the exception of Fosu's apartment. Fosu and his three friends were all in partying mood, jamming to Edem's Hit track, Toto
They kept singing their favorite line aloud as the song played, "We dey hustle for her toto toto!! her toto!!" Indeed, Fosu had really hustled for the toto, for it was his last night as a bachelor.
In a few hours, Fosu would be walking down the aisle with his long term girlfriend, Enyo. His friends poured champagne on him and they all drank together to the point of intoxication. 
Throughout the festivities Fosu's phone kept ringing, but he was then too busy to pick up the call. However, the caller was a persistent one, as the calls kept coming through.
Feeling irate and anxious, Fosu headed straight down to the washroom to answer what seemed to be an important call. Though he was heavily intoxicated, Fosu was strong enough to move around. 
In a haste, Fosu washed his face and head thoroughly, with hopes that the hangover he'd later experience would not be too overwhelming. Fosu swiftly reached for his bottle of Aspirin in a small cabinet. After ingesting the tiny pills, Fosu had examined himself in the foggy mirror. 
Who would have thought Fosu of all people would decide to marry, and within such a short time too. Although he had all the means to get married and settle down, he was not ready to be tied down to one woman and be saddled with marital responsibilities. When the news about his wedding went viral, everyone considered it as a scam or a prank. For those who did believe it, they thought it was a miracle from The Man Upstairs. 
Now, it was at that point where Fosu decided to check up his phone, only to find out that his "Baby Mama" had been calling. She was his ex girlfriend, and the mother of his unborn child. As soon as he saw her missed calls, he chuckled in distress because he had been avoiding her for the longest time. 
Again, the phone kept ringing from the same caller, and he had no other option than to answer the call, despite his Baby Mama's annoying, persistent persona. 
"Yeah, what is it?" Fosu said after answering the call. 
"You know what I am capable of when you ignore me, don't you?" said Baby Mama.
"You're a married woman, and I am getting married tomorrow! What in God's name possessed you to call me at this time?! Answer me!" Fosu had barked. 
"I do not need you to remind me of my marital status, okay? You had better co-operate with me and watch your tone! Or else, you will see me at your wedding—- and you wouldn't want that, would you?" His Baby Mama said slyly. 
Frightened and sweating profusely, Fosu had decided to agree with her. He did not want to step on Jazzy's toes to the point where she would retaliate. Alas, her name matched her character—- Jezebel. However, Fosu preferred to call her Jazzy. 
"Now, Mr Bridegroom, can I talk?" Jazzy asked.
"Erm, Yes" he answered reluctantly. 
Ha. Just like a light switch, Fosu's persona had changed with a swiftness. Jazzy possessed a special talent in a sense that she could get whatever she wanted from Fosu without him thinking twice. Jazzy was proof that an ex can still have power over you if you let them—and he let her take him for a ride each time. 
"I need you. Come and see me at my place", Jazzy said. Crippled with anxiety, Fosu couldn't believe that Jazzy was making this demand right before his wedding. 
To be frank, the only reason why Fosu kept tolerating Jazzy was because she was carrying his unborn child. His bride to be, Enyo, did not know about the pregnancy. In fact, for the past few months he had been trying to hide it from her. 
Back in the days when Fosu and Jazzy were in the same university, their relationship was the talk on campus. That was until Jazzy got married to a man Fosu did not know about. 
Her marriage however, was not enough to stop their love affair. They continued to see each other frequently, until Enyo came along. Just when Fosu decided he wanted to tie the knot with Enyo, Jazzy had revealed that she was pregnant for him.
Knowing how daring Jazzy could be, Fosu kept the news of the pregnancy away from Enyo, though Enyo was aware that Jazzy was Fosu's ex-girlfriend. 
Using this pregnancy as bait, Jazzy kept using manipulative tactics to get Fosu to submit to her every need. And tonight, she was at it again. 
"No…..No…No, I can't be there. This is the most important moment of my life," Fosu boldly declined. 
"This is the time your baby inside me, needs you, Fosu", Jazzy insisted. Irate, Fosu had decided to make his way to Jazzy's apartment.
Without informing anyone, Fosu dashed out of his apartment through the back door without being noticed. In his red coloured Hyundai Santa Fe 4x4, he drove out of his compound and headed straight to Jazzy's end.
The night just began for William, whom after work went to a pub to drink to stupor. With his thoughts raging in his head, he kept drinking. At this point, William was so tipsy that he could not reason for himself. Buzzed up and hard as rock, William gave a wild gaze to the sexy bar attendant who served him throughout the night.
His eyes fixated on her transparent crop top, which exposed her firm breasts. They were suffocating in her bra, and he yearned to have a feel.
At that moment, William zoned out completely. All he desired was to have a taste of her. He thought of his wife at home: slender, petite with a poking buttocks and small breasts. She didn't have the kind of breasts he was staring at right now. Intrigued, the bar attendant noticed his stares and decided to take advantage of the moment. As a bar attendant, empty flirtations were a part of her everyday tasks if she wanted to gain a bit more money on the side. This was how she earned her living. 
Slyly leaning over, she put her chest to his face and asked, "Do you like what you see?" Upon hearing her question, William took another sip of his drink. Influenced by both alcohol and lust, he stretched his hand in an attempt to touch the bar attendant's boobs. Unfortunately for him, she beat him to the punch and hit his hand before he could touch her supple dark mounds. 
Feeling empowered, the bar attendant came around to face him. He couldn't hide his desire anymore, as he was hard as rock. His erection was as visible as daylight. Rubbing on his thigh, she leaned over and said, "You can have a feel of it.. for 200 Ghana Cedis".
Immediately, William took out his wallet and brought out the money she asked for. The bar attendant smirked, took his hand and placed them on her breasts. William began fondling them with a swiftness. 
"Hallelujah" William moaned, as he satisfied his lustful wish. He carefully massaged them, eyeing the two dark spots that shined underneath her blouse. He yearned to have a taste. He was driven by the spirit of ecstasy, but this ride was about to be cut short.
Suddenly, a man who appeared to be a regular customer at the bar struck William on his head with a beer bottle. Apparently, this was one of the many schemes the bar attendant enacted in order to swindle money from lustful customers. She always had some guys who would "stand up for her" at the bar. 
The muscled man then took out William's wallet from his right jeans pocket and drove him out of the bar.
On the other side of town, Fosu had arrived at Jazzy's apartment. From the look of things, it appeared she was entirely alone in the house, as he did not see her husband's car in the driveway. Anxiously, Fosu had left his car parked in her driveway and went to the door.
Just before he raised his finger to pressed the doorbell, Jazzy opened the door. There she was, in her short, seductive night gown. 
Jazzy suddenly met Fosu with with a deep kiss, however Fosu was reluctant and and didn't respond to her kisses. 
"Stop being hard, you're already here. You know you want me" Jazzy whispered. 
Taking him by the hand and leading him inside, Jazzy went ahead and pulled Fosu into her room. Hastily, she began unbuttoning his shirt and rubbing his chest. 
"Stop it! Stop it, Jazzy!" Fosu said. "This isn't right!" Fosu tried stopping her, but Jazzy seemed too strong to be overpowered.
To Be Continued
Content created and supplied by: Elton_Nana_Amoah (via Opera News )
Opera News is a free to use platform and the views and opinions expressed herein are solely those of the author and do not represent, reflect or express the views of Opera News. Any/all written content and images displayed are provided by the blogger/author, appear herein as submitted by the blogger/author and are unedited by Opera News. Opera News does not consent to nor does it condone the posting of any content that violates the rights (including the copyrights) of any third party, nor content that may malign, inter alia, any religion, ethnic group, organization, gender, company, or individual. Opera News furthermore does not condone the use of our platform for the purposes encouraging/endorsing hate speech, violation of human rights and/or utterances of a defamatory nature. If the content contained herein violates any of your rights, including those of copyright, and/or violates any the above mentioned factors, you are requested to immediately notify us using via the following email address operanews-external(at)opera.com and/or report the article using the available reporting functionality built into our Platform See More