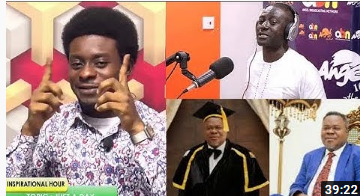 Popular Prophet who is called Prophet Prince Aborakwa has finally opened up on the secret why Captain Smart and Dr Kwaku Oteng can't be killed. In an interview with Kumasi Online TV, the popular man of God disclosed that every human being has a spirit and as a result of that, it is the spirit that serves as a protection for the flesh. He added that the day demons will manage to quench the fire of your spirit is the day they will have control over your life since demons are always afraid of true believers spirit.
The man of God continued by saying that Captain Smart and Dr Kwaku Oteng who is the CEO of Angel Group of Companies are the two people who have strong spirit making it impossible for you to bring them down in life. They are being backed with the Angels of God and for that matter they are always protected in the spiritual realms. Not only are they strong in the realms of the spirit, they have a strong altar in their life and as a result of that no juju nor gun shot can kill them. The altar they have build for God in their life is very powerful than any evil and for that matter no evil can penetrated their camp. Kindly leave your comments, share and follow us for more updates. Thank you.
Click on the link below and watch the video.
Content created and supplied by: goodnews_writer (via Opera News )