Wonders, they say, shall never end. Relationships on University campus have become the order of the day. It has even gotten to the extent that basic school children also have affairs with their various colleagues in school. It'll look nice to until it ends in tears.
At the tertiary level, students are so into the relationship that no advice could make them know that the probability of getting married to such partners is unstable. More often than not, the "ended in tears" videos go viral more than the happy moments spent.
If Ghanaians could recall, Sammy, a student of Kwame Nkrumah University of Science and Technology (KNUST) or Tech as it is mostly referred to nowadays, trended on social media to the extent that Akrobeto invited him over to his show "The Real News" to share exactly what happened after the unfortunate incident occurred between him and Nana Ama.
As continuing students of the University of Ghana are worried because they're to study what has to be studied for thirteen (13) weeks now for six (6) weeks, a fresher went to fall in love and it has ended in tears for her. Like some people are saying; "the broken heart dierr ego reach everybody". Funny enough, it has reached the turn of a female UG student. A viral video circulating on social media sees the lady weeping uncontrollably on her bed after her boyfriend whose name she kept mentioning while crying as "Bernard", broke up with her just few days to Valentine. It's quiet sad but I'm sure Bernard has his reasons.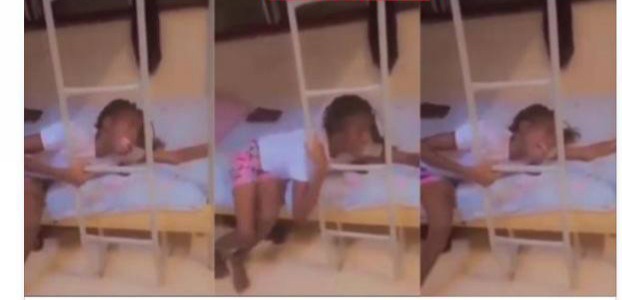 Watch video by clicking on the link below;
https://www.instagram.com/p/CLJsQsfoOgE/?utm_source=ig_web_copy_link
Do you want more updates? If yes, kindly follow my page for more updates. 
Content created and supplied by: Edoukwah (via Opera News )