Good day to you all my cherished readers. Once again am here to test your mind on Ananse in the land of idiots. Hope you remember this humorous play since your days in senior high school and those who are currently in school now. Below are some facts about the writer which you didn't know of with possible questions to crack your brain on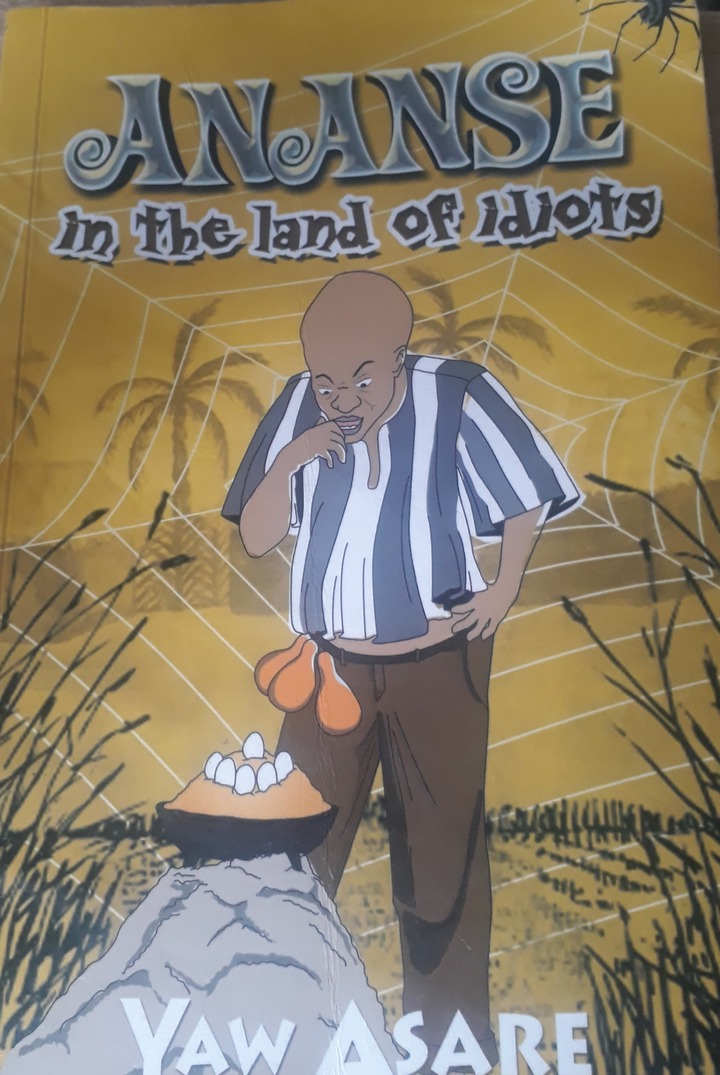 His name is Yaw Asare born in Nkonya- Tayi in the volta Region of Ghana in the year 1953 and was proclaimed deadon Thursday, 1st August 2002, at the age of 48.
He was a trained teacher who taught at several schools before entering the university of Ghana, Legon where he earned a Diploma in Theatre Studies(Dance) in 1979, a Bachelor of Arts in English and Theatre Studies in 1986 and a master of philosophy in African Studies in 1993. His outstanding achievements as a scholar and writer were recognized and has been awarded the Kwame Nkrumah prize for excellence in African Studies (1992) and playwright of the year award for 1997 by the Art critics and Reviewers Association of Ghana. He was among the the most versatile and accomplished people active in the Ghana Theatre.
Here are some of the questions.Try and see your stand.
1. Kweku Ananse says he has lost..........where he is.
A.confidence
B.control
C.credibility
D.fame
2. Ananse's language as he travels consist of..
A.a small bundle and three gourds
B.a sack and a pot
C. A gourd and a calabash
D.a bag and a bundle
3. How many maidens are undergoing puberty rites?
A.Eight maidens
B.Five maidens
C.Seven maiden
D.Nine maidens
4. Who is the fathwr of leader of the maidens?
A.King Dosey
B.The old one
C.Pootaguo
D.Ananse
5. Ananse eating the meal of mashed-yam-in oil implies that.......
A.He will die
B.He has broken a taboo
C.He has neutralised the powers of the priestess
D.He will be bedridden
6. 'Water that stays too long in a pot stinks'. The saying illustrates
A.a proverb
B.a euphemism
C.a maxim
D.a cliché
7. Who apprehends Ananse eating the sacrificial meals?
A.Odudu
B.Mbasila
C.Pootagyiri
D.AKpala
8. What punishment does the priestess give to Ananse?
A.Death
B.Caning
C.Banishment
D.Imprisonment
9. Who orders that Ananse should be made to eat all the food before dying?
A.King Dosey
B.The queen
C.The old one
D.The priestess
10. What gifts does Ananse present to the king and his elders?
A.Honey
B.Money
C.Headbands
D.Kente
11. What is the name of the idiots Ananse requests for?
A.Odudu
B.AKpala
C.Mbasila
D.Pootagyiri
12. Why does Ananse want trhe maidens to be present while he weaves?
A.He says it is part of his creative formula
B.He wants to let them run errands
C.He wants to run away
D.He wants to woo then
13. Which of the following refuses to take a gift from Ananse?
A.The King
B.The old one
C.The queen
D.The priestess of Kompi
14. Which people does Ananse say they should not hear about his near disaster?
A.His Friends
B.His wife and children
C.His townspeople
D.His enemies
15. Who is tasked to guard Ananse an he weaves?
A.Akpala
B.Odudu
C.Mbasila
D.The maidens
Read the extract below and answer question 16 and 17.
'Just look at him! How can such a sleepy scare crow embody the watchful vigilance of an empire?
16. Who is the speaker?
A.Ananse
B.King Dosey
C.Pootagyiri
D.AKpala
17. Who is referred to as sleepy scarecrow?
A.Odudu
B.AKpala
C.Ananse
D.Mbasila
18. Dim-nyim-lira can also be called.............
A.Boyile
B.Kompi
C.Dark forest
D.The land of idiots
19. 'You go to sleep on duty, snoring like a pregnant pig'
This statement is an example of...................
A.Metonym
B.Simile
C.Personification
D.Metaphor
20. Where is Ananse's craft shop located?
A.On a hill
B.On top of a tree
C.In the forest
D.In the palace
Read the extract below and answer questions 21 and 22
I will dance the dance of my life, Agya Ananse, I assure you'.
21. Who makes the above statements?
A.Queen Fayasey
B.King Dosey
C.Prince pootagyiri
D.Princess sodziisa
22. Where does the speaker make the statement?
A.At Ananse's craft shop
B.At the palace
C.At the crossroads
D.At the marriage ceremony
23. Which of the following is not a man?
A.Mbisike
B.Mbasila
C.Odudu
D.AKpala
24. While Ananse takes princess sodziisa measurement, Odudu is on errand to.......
A.Bring Ananse's food
B.Fetch water
C.Swim in the river
D.Buy honey
25. What do Akpala and Odudu say they have never known before?
A.Honey
B.A gourd
C.Kente
D.A headband
Content created and supplied by: GanyoElisha (via Opera News )
Opera News is a free to use platform and the views and opinions expressed herein are solely those of the author and do not represent, reflect or express the views of Opera News. Any/all written content and images displayed are provided by the blogger/author, appear herein as submitted by the blogger/author and are unedited by Opera News. Opera News does not consent to nor does it condone the posting of any content that violates the rights (including the copyrights) of any third party, nor content that may malign, inter alia, any religion, ethnic group, organization, gender, company, or individual. Opera News furthermore does not condone the use of our platform for the purposes encouraging/endorsing hate speech, violation of human rights and/or utterances of a defamatory nature. If the content contained herein violates any of your rights, including those of copyright, and/or violates any the above mentioned factors, you are requested to immediately notify us using via the following email address operanews-external(at)opera.com and/or report the article using the available reporting functionality built into our Platform See More