Naturally, women are one of the best creatures that GOD created to beautify our world. They are also one the most complicating and difficult being to understand, but it is a known fact that without the existence of women in our lives, the world of men would be nothing to write home about.
Generally, women loves fashion and would do anything to look good. The type of dress they wear in the olden days, has been totally scrapped off from our modern world. But it disheartening to Note that some Ghanaian Ladies have diverted Fashion into another thing, that both GOD and some good citizens of Ghana are not in support of. And my kind of person doesn't condole some outfits of most Ghanaian Ladies.
There is a trending photos that has virtually gone viral across all social media platforms in Ghana, where some fans of Mrs Dumelo (the legal wife of John Dumelo), have taken to caution the Ghanaian blogger who shared the photos, that Mr and Mrs John Dumelo took together on his personal Instagram handle.
According to the pictures this unidentified instagram blogger shared, there is all indications that this couples are very happy in their marriage. And this made some Ghanaians to stand and defend their Favorite Celebrity.
Furthermore, the fans of Mrs Dumelo had to investigate properly to ascertain what was actually wrong with the pictures, and they were able to spot that her shoes looked as if they were about to breakdown, as was indicated using a red circled sign.
Below are the pictures: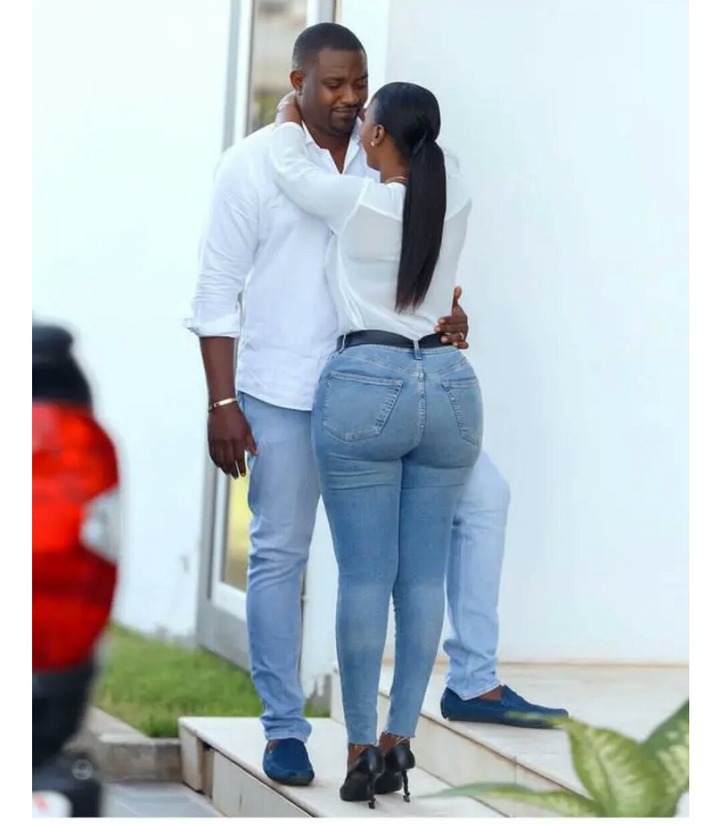 In Reacting to this pictures, a lot of Ghanaians took to the Post to state that "what could be the problem of this blogger", as this might be the design of the shoe. But some other persons said that the shoe is faulty and needs to repaired.
What is your thoughts and observations over this pictures. Could it be that the shoe is faulty, or that it is a brand new type of Fashion that is yet to trend across Ghana.
Kindly share this article let's gather the opinion of Ghanaians over this, Thanks.
Content created and supplied by: KofiLegit (via Opera News )