Woman refuses to bury her son at Bompata
The burial of Kofi Agyei has been halted, after the mother refused his burial this morning, at Bompata. Bompata which is the home of yam tubers, is a town within the Akim South District of the Asante Kingdom. It lies few kilometers away from the Accra to Kumasi highway, after Juaso junction. Kofi Agyei, the only son of Madam Esther Manu, died after been run over by a car on 28 January 2021. Kofi who was to leave for the US on 30 January 2021, couldn't do so because of the accident. Kofi who attended Prempeh College, was one of the brilliant students who completed in 2018.
Due to lack of funds, Kofi couldn't continue and kept waiting home, hoping for a brighter day. Kofi's mother, madam Esther Manu tried to save money from her Buff Loaf selling, so she can sponsor her child to the University. Kofi's father died when he was two years, and has been the toils of the mother alone, who has been taking care of him since then. Life hasn't been easy for Madam Esther as she wakes up early in the morning to fry her Buff Loaf, go from street to street to sell, in other to get ends meat. 
Through her struggles, has kept them both alive since the death of Kofi's father. Kofi is not lazy, and kept supporting his mother after completing school in 2018. He wakes up around six in the morning, to take over from the mother, whilst she goes to the street to sell. Because of Kofi's father's death, Madam Esther couldn't have another child, and has since taken Kofi to be his everything. Madam Esther was selling her Buff Loaf at a funeral on Saturday 29 February 2020, when she met a stranger. The stranger who identified himself as Enoch, bought some of the Buff Loaf with 50cedis note, and refused to take back his change. 
Madam Esther was amazed by the kind gesture of the man, and she thanked him and went away. She was back selling the Buff Loaf on the Sunday Thanksgiving of the same funeral, and the man Enoch appeared to him again. Enoch revealed himself as a long time friend of Mr. Agyei, Madam Esther's late husband. Madam Esther surprised with shock, couldn't hold on to herself, but to become burden with sorrow. Enoch approached the family in February 2020 through the funeral he went, and was told about the death of his long time friend Mr. Agyei, when he made enquiries about him. He was shown Madam Esther to be his late friend's wife, and that triggered him to approach the woman, and buy some of her Buff Loaf. 
Enoch talked about how the late Mr. Agyei helped him during their elementary school days at Bompata Presbyterian Primary School, and how indebted he was to his memory. Enoch took over the well fare of Madam Esther and Kofi, and gave them monthly allowances since March 2020. From March to date, Enoch has been the one taking care of Madam Esther and Kofi, and even went ahead to open a shop for them to operate in. 
Enoch took Kofi in, and promised to finance his medical dreams for him. Kofi who studied science at Prempeh, had 7As and 1B from his final exams. Enoch helped Kofi to secure admission into California State University, and he was even given a merit scholarship for his tuition, room and board. Kofi attended his visa interview, and got every document ready to travel on 30 January 2021, for his medical course in Anatomy. Kofi was sent to deliver items to someone at Bompata junction, near the Accra to Kumasi highway. 
Unfortunately for him, he couldn't return home in piece when a hit and run car knocked him down on 28 January, just 2 days for him to leave Ghana. He was rushed to the Juaso District Hospital, but was referred to Koforidua Regional Hospital, where he died on 1 February 2021. They never caught the hit and run driver, but the car was a black Toyota Land cruiser as eye witness said. 
Preparations were made for Kofi to be buried this morning, but his mother Esther, couldn't just allow his only son to be taken away. Madam Esther tried to control herself, but tears couldn't allow that to happen. The burial which was to take place at exactly nine in the morning, was still not done at the time of making this. Madam Esther stopped Kofi's body from been covered in coffin for burial, anytime the family tried to do so. The family haven't been able to force her out of the laying in state because, they fear she might collapse if anything is done without her permission. Kofi was still sleeping in his coffin waiting for burial, whiles the mother kept crying near it. Mr. Enoch has tried everything he can to take the woman away from the coffin, but anytime he goes near, he loses himself to tears.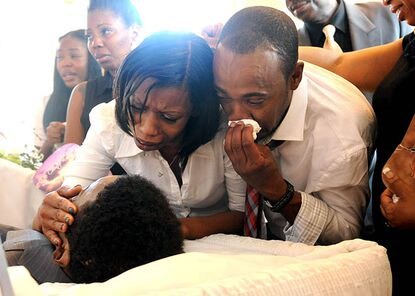 Content created and supplied by: RockyJDJones (via Opera News )