Koo Fori's Daughter Is Very Beautiful. Check Her Out
Asantewaa, Koo Fori's daughter is a glamour of beauty. She became famous with her look and style of dressing. With her fashion ideas and makeups proves a lot of flawless attributes.
Samuel Seth Kwabena Karikari a. k. a Koofori was Born in 1969, Koo Fori is 51 years old. Since he left the screens, Koo Fori's life has been relatively on the low but the comedian has given his fans a peek into his private life as he shared photos of his home in social media.
Almost five years ago, Koo Fori faced heartbreaking tragedy that he lost his young wife. In recent interview he said his wounds are yet not healed because he cannot forget the kind of love they shared. Further he said their daughter looks like her late mother.
'My daughter looks like my late wife, specially her smile. You know when I was with the mother, she had a peculiar laughter she brings out anytime I blow a joke and amusingly, my daughter also has the same thing. '
According to him, surgical tools were left in his wife's stomach after a caesarian section.
He explained that the late Mrs Karikari for days suffered severe pains which eventually led to her death.
In his post, the Efiewura actor wrote "Time really flies. Those who saw it could not spill it out, those who heard it could not believe it, it was too sudden they said. It was an extremely disturbing news that is best not described. "
His late wife was reported to have collapsed while feeding her two weeks old baby girl and died few minutes later at the Sakumono Community hospital.
Asantewaa is the first child of Koo Fori who is the popular Kumawood actor. He is famous for the Kumawood TV series he had starred in. Asantewaa has taken her dad's trait and has also jumped into the fame business. She is also one of Ghana's tik tok stars. One beautiful thing about her is that she is also a nurse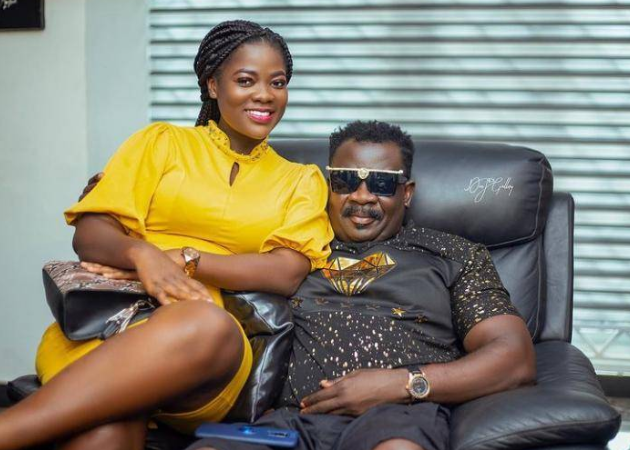 Content created and supplied by: Gh_KnowMore (via Opera News )