The Episode starts with Raghav crying and leaving from home. He goes to catch the train. He sees Veer and says Veer here at this time. He calls out Veer. Veer says you here. Raghav asks what are you doing here, alone, where is Naina.
Veer says I m fed up of Naina, I can't marry, I m going. Raghav says no, I can't let you go, come home. The train leaves. Veer gets angry. Raghav says you broke marriage, what did Dadi do.
Veer says no one knows it at home, I m happy about it. Raghav says Naina's marriage broke before, if it breaks now, she will shatter. Veer asks him to marry Naina, they both are same, helpless and shattered, Dadi wanted me to marry Naina and control my life, tell Dadi that Veer run away, but how will you say, you are kicked out.
Raghav says please don't go and holds him, Veer says leave me and pushes him. Veer runs. Raghav runs after him. Dadi goes to Veer's room and asks him to wear gold chain. She looks for him.
Sanjana gets a note to give to Veer. She goes to his room and thinks he is in washroom. She says I m glad I got you alone here, I hope you liked what happened yesterday, thanks for accepting me, if Dadi did not come in between then, why to delay now, come out and we will continue the work.
Dadi comes from washroom. Sanjana gets shocked. Dadi gets angry and says Veer's marriage has just one hour, you are after him, is this love, so it was your mistake, not Raghav's.
Sanjana says fine, blame me for Veer, don't link me with Raghav, I know you dislike me, think anything, I don't care, I have some standard, I don't let any servant like Raghav come close, he did not do anything, how dare he love me, I explained him well, now he won't come close.
She goes and Dadi cries and recalls beating Raghav and making him leave from home. She goes out and looks for Raghav. Pam and Sudha welcome Naina. Pam asks where is Chanchal and Rajeev.
Chanchal says don't worry, I will always appear when you think of me. Dadi comes and blesses Naina. Sudha and Pam ask Ira about Veer. Sudha tells Pam that Veer went somewhere.
Chanchal thinks whats fishy, I have to find out. Chanchal asks can I help you. Pam answers Chanchal and asks her to take Naina. Naina asks is everything fine. Chanchal says yes.
Dadi asks Chanchal to come. Chanchal says I will just take some rest and get fine, its aches happening in pregnancy. Pam says we should be alert, Chanchal hear us. Sudha says we have to find out about Veer.
Chanchal asks Naina not to worry. She goes to Rajeev and says see there, Mehra family has some problem. Dadi says no, Veer can't do this. Pam says Veer is not answering, its serious.
Chanchal asks Rajeev to find out. Rajeev says they will insult me. Chanchal asks Ira about the meeting. Ira says its regular rasam, we usually do meetings and talk. Pam tells Dadi that you forced Veer to marry, he was not willing to sohe decided and run away, children don't understand, we are in problem.
Dadi asks her to call Raghav. Pam says what will he do, he would have sat in flight. Dadi says no, he will sense my problems, he will not go, find him, I will find him. Naina is taken to the mandap.
Dadi goes and sees Asha coming. Asha is glad meeting Dadi and thanks her. She surprises Naina. Naina gets glad and hugs her. She thanks Dadi for calling Asha here and giving her surprise.
Asha says thanks is a small word, she saved my life and gave you a new life. Naina thanks Dadi and calls her an angel. Dadi asks her to show the house to Asha, the wedding still has time.
Naina smiles and thanks her. She goes with Asha. Ira calls Veer. Sudha takes her to room. Ira asks why are you troubling me, you told me not to lose temper, why are you angry. Pam smiles.
Sudha asks Pam where is Veer, Ira is not telling me. Ira says even if he told me, why will I tell you, I m not selfish, you don't care for Veer like I do. Sudha scolds Pam for encouraging Veer to run away.
Pam says I made him run away, not kidnapped him, and jokes on Sudha. Sudha drops the juice glass and taunts Pam. Raghav gets Naina's call and says what shall tell you, how to find Veer and get him for you.
Naina sees Asha happy and thinks happiness came because of Raghav, where is he, what is the work he went for, he did not tell me. Asha asks Naina not to look tense, smile or get shy, how is Veer.
Naina says he is the best, his thinking and words won my heart, I was not going to marry him by first impression, I misunderstood him, I did not like him, but whatever is happening now is because of Raghav.
Raghav knows people well, when you meet Raghav, you will also like him, he was my first friend here, he is not here, when he comes, I will make you meet him, I felt Veer will not agree for this marriage. She praises Raghav who made her agree for marriage.
She sends a voice message to Raghav and asks where did he go, when he says he is her best friend. She says Dadi gave me big gift, my mum is here for my marriage, I m happy and finding you, I will give all updates till evening, when you land, you will get more voice messages, come back soon, you know when I get confused.
I read Veer's messages, I feel all is okay, you are responsible for this, thanks for showing me right way. She blesses him that he gets all happiness of the world, someone who loves him and respects him, as he deserves the best girl, I miss you, come soon.
Raghav hears her message and cries. Kal ho na ho plays. Pam seeing Naina's family. She gets shocked seeing Dadi getting Raghav. She says Raghav always comes where he should not, don't know if he will spoil my game now. Veer is on the way and gets a call.
He answers his dad's call. He says why don't you all leave me. His dad asks him why did he do this, even I did not wish to marry your mum and run away, where would I run, there is no better world, there is money and privileges here, you wont get this lifestyle easily, its small compromise, money means a lot, if you are not Veer Mehra, you are no one.
Veer says calm down, I m not like you, I m capable, I know Dadi is annoyed and will call me back home. His dad says its not good, I know my mum, Sudha and I have to bear for this, and warns him. Veer says 
I don't want to talk. His dad says you have to pay for this Veer. He ends call and calls police station. Pam goes and hears Raghav. Raghav says Dadi, I did everything but Veer has run away. Pam smiles and says will Dadi faint or scream now, Naina's groom has run away.
Chanchal shows the pics to Asha. Asha asks her to show Veer's pics. Pam comes and greets them. Pam says I m Veer's aunt. She compliments Asha and says I hard you want to meet the groom, please come.
Chanchal acts like Pam whiles Naina and Rajeev laugh. Dadi asks what will I answer, what did Veer do. Raghav asks her to sit and calm down. Pam asks Asha to go and see her groom, he is there with Dadi.
Asha thanks her. She goes and sees Raghav with Dadi. She smiles seeing Raghav caring for Dadi and giving her medicines. Asha gets glad and thinks I have no worries now, like he cares for his Dadi, he will care for Naina too.
She blesses him and goes. Veer gets arrested by police and asks what are you doing, I m Veer Mehra, I need to call up my home. Veer calls his dad. His dad scolds him. Sudha asks Veer to please come back and cries.
His dad says come back and marry Naina. Veer refuses. His dad says don't make me helpless, you don't know what I can do. Veer is taken by taken.
Sudha asks Dadi not to worry, Veer is coming home, Madan and I explained him, he will come and marry Naina. Dadi says its marriage, its a responsibility, Veer is not responsible, he will leave Naina and hurt her heart, what will we do, I did not force him.
He said yes for greed of property, but he refused now, Naina's mum is a heart patient, how will she bear it. Veer did not get mature, his ego and pride got high, he did not have any emotions, its all business, then lets talk business.
I took the decision and now I will pay for it, I will not hurt Naina's heart by this marriage, now I will decide, break this marriage, Naina will not marry Veer. They get mesmerized
Dadi says go and tell Veer's doings and apologize to Asha. Go and get her curse. Sudha and Madan go to Asha. Sudha says I can't do this Madan. He sends her. Sudha asks Asha to talk to her.
Sudha gets hesitant. Madan says our son has run away and does not want to do this marriage. Asha gets suprised and sees Naina. She says tell this is a lie. Dadi comes smiling and says we are joking, stop it now Sudha. Asha gets relieved.
Dadi says come downstairs son. They all get shocked seeing the groom in sehra. Dadi asks Raghav to come. They don't know its Raghav in sehra. Dadi takes him to mandap and makes him sit.
She recalls how she convinced Raghav. She says I wanted to bring Naina in this house, as I needed her, but Naina will not come now. She cries. Raghav says don't take stress, I m always with you.
She asks will you help me in uniting my family, Veer snatched everything, will you give me. He says yes, you always gave me everything, you are asking today, I will give you anything. She asks promise.
He says yes, ask me. She says Naina, marry Naina Raghav. He gets surprised. FB ends, Raghav and Naina exchange the garlands. They sit in the mandap. Chanchal and Rajeev do the ghatbandhan.
Chanchal gets dizzy. Rajeev holds her and takes her. He asks are you okay. Naina and Raghav take wedding rounds. Asha happily smiles. Raghav takes mangalsutra and makes Naina wear it.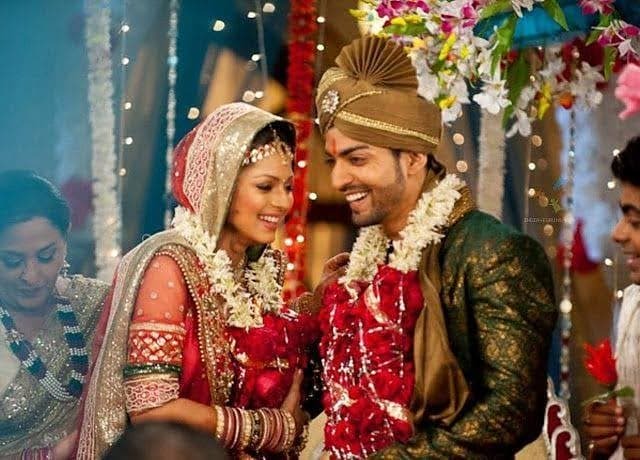 He fills sindoor in her maang and bends other way. Naina gets surprised seeing Raghav through the sehra. He turns back to her. She says Raghav as he removes the sehra. Everyone gets surprised seeing Raghav.
Asha hugs Naina and says my prayers got fulfilled, bless you both. She smiles and Naina thinks is this marriage or a joke, mumma is happy, if she knows then, she can't bear this surprise so I have to think something to explain her.
Thank you for reading, like, share and leave your suggestions in the comments section.
Content created and supplied by: akrofitv (via Opera News )
Opera News is a free to use platform and the views and opinions expressed herein are solely those of the author and do not represent, reflect or express the views of Opera News. Any/all written content and images displayed are provided by the blogger/author, appear herein as submitted by the blogger/author and are unedited by Opera News. Opera News does not consent to nor does it condone the posting of any content that violates the rights (including the copyrights) of any third party, nor content that may malign, inter alia, any religion, ethnic group, organization, gender, company, or individual. Opera News furthermore does not condone the use of our platform for the purposes encouraging/endorsing hate speech, violation of human rights and/or utterances of a defamatory nature. If the content contained herein violates any of your rights, including those of copyright, and/or violates any the above mentioned factors, you are requested to immediately notify us using via the following email address operanews-external(at)opera.com and/or report the article using the available reporting functionality built into our Platform See More