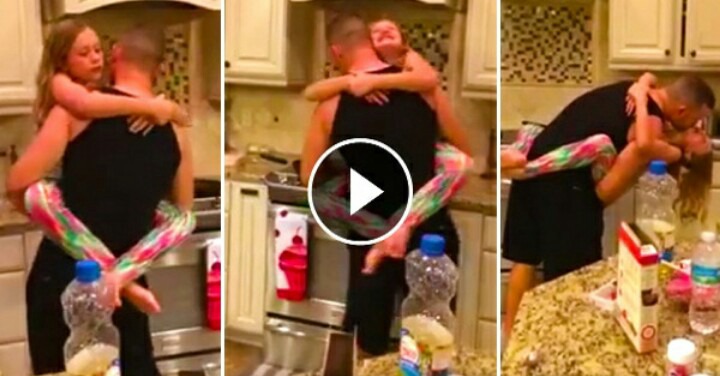 Sometimes we are short of words when we see certain things in the world today, some of them just melt our hearts to the point where we drop I tears. Exactly what happened in this family, where a mother woke up in the morning and decided her husband should make them some pancakes, but their little girl decided to join her father in the kitchen, the poor girl thought it was going to be fun learning how to make pancakes from her dad, but little did she know that the man had something else in mind.
It was over 30mins and the pancakes were not ready, so the mother came down to know what exactly is holding the pancakes, but she got the shock of her life when she entered the kitchen. Her husband had their little girl wrapped around his body while he held her hands and danced in slow motion! He was teaching the little girl how to dance and the mother just broke down in tears to see how much her husband treasured little fun moments with their daughter.
She had to record the dance and posted it online for father's around the world to know just how important it is spend time with their children and make them feel loved.
Do you like dancing?
Content created and supplied by: KwameYa (via Opera News )