If you were to choose between these gorgeous ladies — Serwaa Amihere, TV presenter and host; Sister Debbie, Musician and Model; and Hajia4Real, socialite and entrepreneur — who would you rather opt for.
Take a pick as we pitch them against each other in the photos below.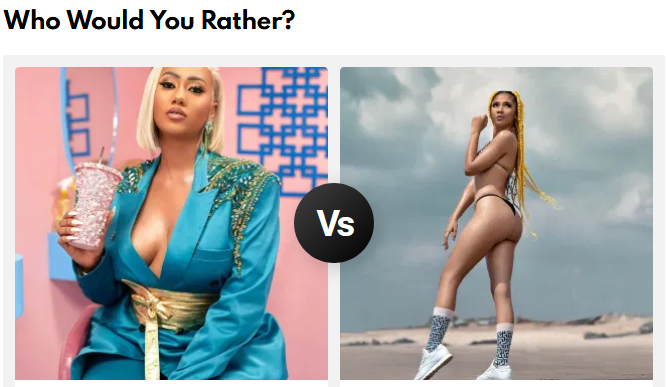 Deborah Vanessa Owusu-Bonsu was born on 25 August 1984, to an Ashanti father and a Romanian mother. Both of her parents were collectors of world music and art. She is a television show host, model, musician, academic and graphic artist.Owusu-Bonsu is the sister of popular hiplife musician Wanlov the Kubolor who starred in the film Coz Ov Moni. Owusu-Bonsu attended Christ the King International School, then Wesley Girls' High School. Owusu-Bonsu graduated with a Bachelor's Degree in Publishing Studies from the Kwame Nkrumah University of Science and Technology followed by a Master Degree in Book/Journal Publishing from the University of the Arts London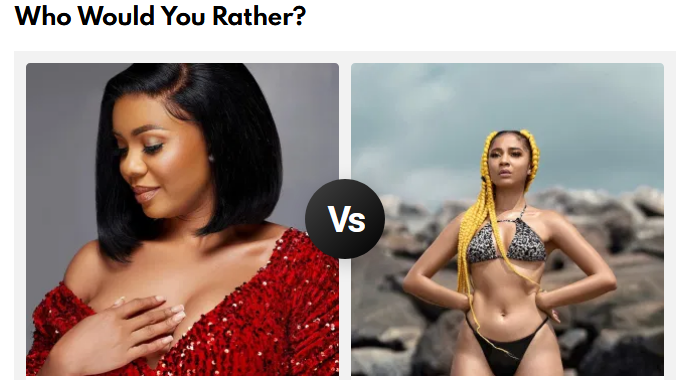 Serwaa Amihere is a Ghanaian broadcast journalist and news presenter who currently works with GHOne TV. She won the Television Female Newscaster of the Year Award at the 2018 Radio and Television Personality Awards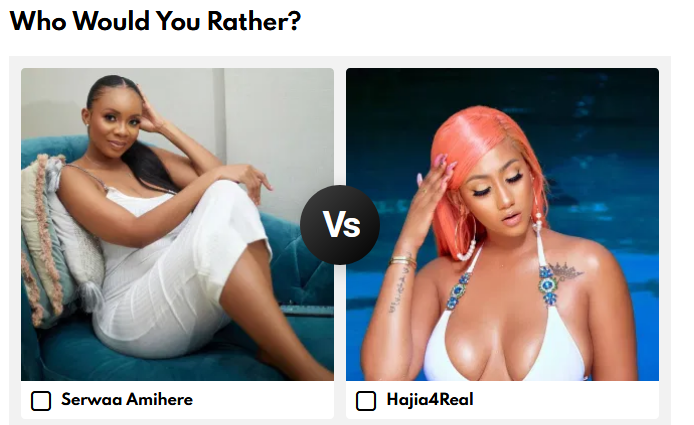 Born Mona Faiz Montrage but usually referred to as Hajia4Reall, she is a fashionista extraordinaire, an influencer, an entrepreneur, a socialite, and a mother among others.
Content created and supplied by: GHBase (via Opera News )