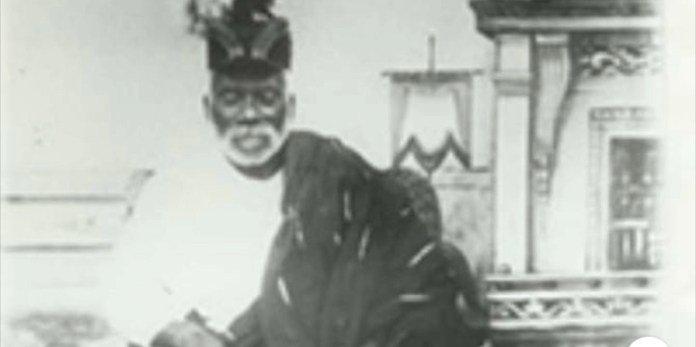 Togbe Tsali, a legend of the poeple of Anlos. Togbe Tsali was a great man who had several super spiritual powers. He belonged to the tsiame Royal clan. During his time on Earth, the reigning king of the Anlo was known as King Agorkoli. He was known to be a very wicked person, due to the king's wicked nature, many of his subject decided to ran away including Togbe Tsali. Togbe Tsali because of his super natural powers turned into a flying spirit to survey the new location they wanted to move in which was known as 'Eweland'.
Togbe Tsali then managed to convince the people who also had the same thought to ran away from the wicked king that the land was good. Late into the night, they people sprinkled water on the ground with the intention of making it dust free. This was done so that their footsteps will not show. On their way Togbe Tsali advised them to turn and walk backwards to confuse the king. The next day when the King realize that they were gone he sent his guards to go after them but then the guards could not figure out the direction they took. In other accounts some say Togbe Tsali himself turned into a mouse to change the direction of the people running away himself.
When Togbe Tsali and the other people with him got to 'Eweland' , they settled and Togbe Tsali went into farming and hunting as well. He got for himself a big piece of land which he used for the farming. It is believed maize and harvested it on that same day. He then caused rain to fall on his land. And since the rain hardly fell on the farm of others in forced the inhabitants to buy from his place always. This made the people upset as they believed he was using his powers for his selfish gain.
The decided to annihilated him so they captured and buried him but he was seen after 3 days walking around in his compound. He was later captured again and this time they cut his body into two and with a stone tied to his body he was thrown into a river. He was seen riding to the shore on the back of a Crocodile. He then inform them that no one born by a woman can kill him. He then went ahead to used his super power for the good of his people. While he was about to die he instructed his people to set up two shrines in his name so that they may call on him when he needs help.
The two shrines still exists in the Volta region.
Content created and supplied by: marioo (via Opera News )