The famous Lake Natron in Tanzania is one of the most serene lakes in Africa, but it is also the source of some of the most beautiful photographs ever captured. Beautiful images that look as though living animals had turned to stone.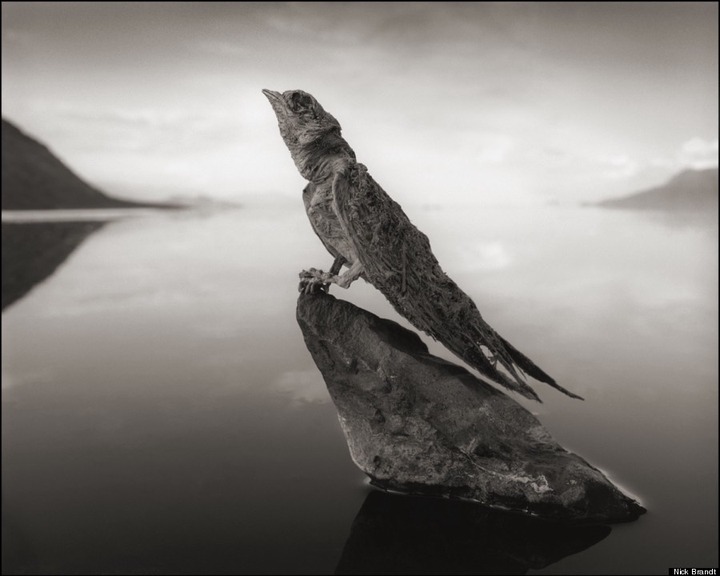 The alkaline water in the Lake has a pH as high as 10. 5 and is so caustic that it can burn the skin and eyes of animals that are not very adapted to it. The lake' s alkalinity comes from the sodium carbonate and other rich minerals that flow into the lake from the surrounding hills. And residues of sodium carbonate which was used in Egyptian mummification and also acts as a preservative for those animals unlucky enough to perish in the waters of Lake Natron.
Despite some media accounts, the animals didn' t just turn to stone and die after coming into contact with the lake. In reality, Lake Natron' s alkaline waters support a prosperous ecosystem of salt marshes, flamingos, and other wetland birds, tilapia, and the algae on which large flocks of flamingos feed. It is the alkaline nature of the lake that turn the animals to stone.
During the breeding season, more than 2. 1 million flamingos use the shallow lake as their major breeding ground in Africa. The flamingos' nests are created on small islands that form in the lake during the dry season.
The deadly Lake Natron is one of two alkaline lakes in that area of East Africa. The other is Lake Bahi. Both lakes are terminal lakes that do not drain out to any river or sea; they are sustained by hot springs and small rivers. As shallow lakes in a hot climate, their water climates can reach as high as 41 degrees Celsius.
Please like, share, and tap the follow button at the top of this page to receive news updates and other facts. Remember to also share your thoughts with us by leaving a comment in the comment section below. You can also share a topic which you want us to write on in the comment section below.
Content created and supplied by: Motif (via Opera News )