Swan Dies From A "Broken Heart" After Vandals Destroy Her Eggs With Bricks.
The incident, which took place at a Manchester park. The incident, which took place has angered a lot of citizens.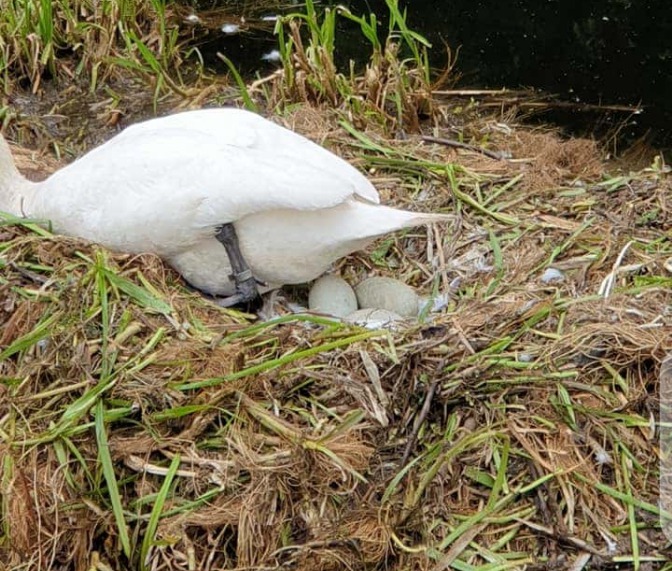 Trigger Warning: The story has details of animal cruelty that readers may find disturbing.
Humans behave like they own the earth and treat its other inhabitants with total disregard. And we're not just talking about how we've led numerous wildlife species to the brink of extinction. Even in daily settings - such as going to the park or taking a walk we can't help but show our cruelty towards other creatures. Take this example of a lone swan who was guarding its eggs in a UK park. Her partner had run away. And to its sheer bad luck, she caught the attention of a group of teenage boys. These delinquents threw bricks on the nest of the poor bird, resulting in almost all of them getting destroyed. While the swan survived the bricks and stones, it could not live through the sorrow of seeing its yet-to-be-born children destroyed. She died of a "broken heart", according to authorities.
The swan had laid six eggs at a Manchester park, of which some were destroyed by the vandals. Her presence in the park also ruffled the features of other birds who regularly badgered her. While she did her best to fend off the other birds for a while, the actions of the cruel teens proved to be the last straw. Park authorities are on the lookout for the vandals who ran away soon after their cruel act. The story came into the limelight when a wildlife enthusiast wrote about the incident on a Facebook group. The man named Michael James Mason had seen the swan for a while in the park and was monitoring its progress. The person wrote: I really don't want to do this post today because it comes with great sadness.
Mason added: I have tried to keep you updated on this. Swan who laid six eggs, three were destroyed by youths, she was then harrassed by dogs jumping in and harassed by a Duck and Moorhen and two more eggs were lost leaving her with one egg. Her mate left her on her own and sadly i was informed this morning she was found slumped in her nest dead. Just feel like crying as i have followed her progress for about 12 weeks. Many people reacted to the news with anger.
The Royal Society for the Prevention of Cruelty to Animals have been carrying out an investigation into the incident, reports Manchester Evening News. 
The Swan Lifeline, a rescue center for swans, stated it had cases where swans died of a broken heart if they lost their partners as swans mate for life. 
Animals like humans too have feelings and as such needed to be treated right, at least if you don't want to care for them just let them be.
Content created and supplied by: YoungDapper (via Opera News )