It is sunrise on the Serengeti Plain of Africa. In the cool morning air, they sit in their Land Rover and watch a pride of lionesses with their cubs. Their tawny coats are sleek and golden, blending beautifully with the long, dry grass. The young cubs are boisterous and full of energy. They spring and play around the large bodies of the females, who seem to take little notice of their clownish antics.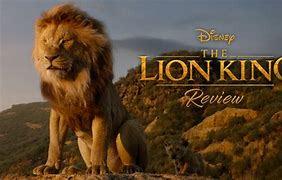 Suddenly the pride freeze. All eyes turn, staring into the distance. From their elevated viewpoint, they follow the line of their gaze and discover the object of their attention. The dawn light reveals the magnificent form of a huge male lion. Their eyes meet his as he stares at them. They feel their bodies shiver, not from the morning chill, but from the realization that they are the object of his glare. He is fearsome, yet beautiful, in appearance. A great golden mane streaked with black frames his massive head. His large eyes are amber in color and alert. However, his family draws his attention, and slowly he turns his gaze to them and moves in their direction.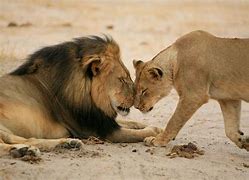 His stride is stately, even regal. Without giving them a second glance, he passes directly in front of their vehicle and approaches the females and their cubs. They all rise to meet him and one by one press their faces against his rugged muzzle in a typical feline cheek-rub greeting. Moving into the midst of the pride, the male flops down as if exhausted by his stroll and rolls onto his back. His lethargy is contagious, and soon the whole pride sleep lightly in the first rays of the warm morning sun. They see before them a picture of peace and contentment framed within the golden, windblown grasses of the open plain.
Perhaps no animal has excited the imagination of man more than the lion. Long ago, African artists adorned rock faces with painted images of lions hunting their prey. Ancient palaces and temples were ornamented with huge stone statues of full-maned lions. Today, people flock to zoos to see these fascinating cats. The lion has been lionized in books and films, such as The Lion-King, an account of a crown-prince lion cub Simba who ran away from home and later came to set the kingdom free. And the lion has been villainized in stories—part fable, part fact—as a malicious man-eater. No wonder the lion remains a creature of intrigue and fascination!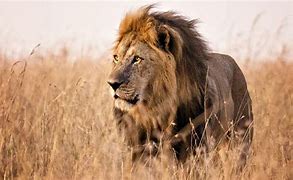 Lions can be extremely fierce and, occasionally, as gentle and playful as kittens. They purr quietly when contented yet can utter a mighty roar that is audible for five miles [8 km]. At times they seem to be lazy and lethargic, but they have the ability to move with surprising speed. Man has immortalized the lion for its courage, and a brave person is said to be lionhearted.
Long ago the majestic lion roamed the entire African continent and some parts of Asia, Europe, India, and Palestine. Being a hunter, it lives in competition with man. Threatening livestock and harming people, the lion became a creature to be shot on sight. Exploding human populations have greatly reduced the lion's habitat. Outside Africa, there are only a few hundred lions surviving in the wild today. Now lions are safe from man only within the bounds of protected areas and wildlife parks.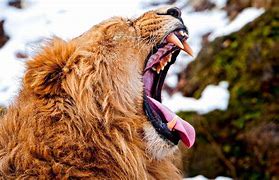 Happily, there are changes in store for this magnificent beast but until that time comes, the Lion will continue to rule.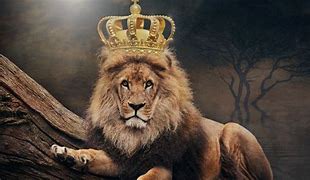 Content created and supplied by: WesstPatty (via Opera News )