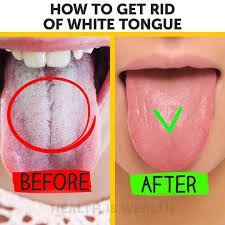 We all know that seeing people who have white tongue is a big turn off and not pleasant for all of us and having one yourself is not very good.Having a white tongue can lower one's confidence and also be a sign of health problems,so here is a simple remedy to treat white tongue.things you will need are lemon juice,baking soda and sea salt.first lemon is rich in vitamin c which helps fight bacterias and also baking soda also a great antioxidant which helps in detoxification of the toughest stains on the tongue and teeth.
Ingredients
2 tbs lemon juice
1tbs baking soda
1/4tbs sea salt
Direction
Put all ingredients in a bowl together.Now dip your toothbrush in and scrub your tongue.You will see results in a few minutes.
Brush your teeth twice daily and keep doing this remedy for at least once a week.
Note:use fresh sea salt and fresh lemon juice, using of manufactured sea salt might not work because it has diluted with other substances.
Content created and supplied by: Pz44t (via Opera News )