Belts are men's wear and also women's wear. Belts on men counts a lot because your belt must match with your shoe to look trilling. If your belt is absolutely bad, then your dressing is ruined.
A man was going for a job interview and wanted to look trilling. He took his bath, brush and floss his teeth. Put on deodorant and body lotion. The dressing procedure went on and finally he wore his dress with his jeans but he couldn't find his belt.
He searched for it and after lots of search, he found it under the cupboard. He pulled it but it was stuck because the cupboard was on it. He pulled it gently and it was coming out, it was coming no more so he pulled it with force and the turning hook broke.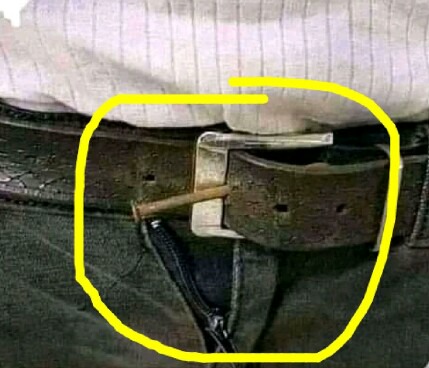 He replaced it with a nail and rushed for the interview. He met lots of people well dressed and he knew he has dressed well too. It was time for his, the boss was about to ask his questions and saw the nail in his belt, she gently said please there is no vacancy.
The man knew the reason why he was rejected, this day was suppose to be great but his belt changed everything. He suddenly went home and bought a new belt and returned to the interview. When the boss recognized him, she said the same thing, the man pleaded but still.
Why was he rejected again?
Please like, share, comment and follow.
Content created and supplied by: agyemanb75 (via Opera News )